2014 Carlos R. Quintanilla Distinguished Latino Alumni Award Recipient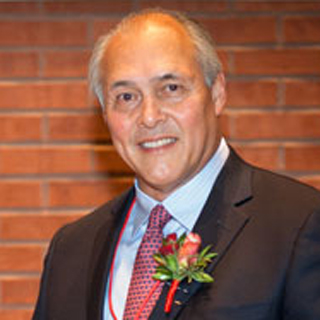 From playing football as an undergraduate at the University of Notre Dame to studying accounting and finance as an MBA candidate at Johnson, Joseph Alvarado says he learned that "The essence of success is teamwork among diverging interests. If there is no cohesive work ethic and understanding of one another's roles, it is hard for an organization to move forward."
Alvarado, now CEO, president, and chairman of Commercial Metals Company, was honored with the 2014 Carlos Quintanilla Distinguished Alumni Award at Johnson's Diversity Awards gala, held Oct. 24 in the Sage Hall atrium as part of Johnson's 5th Annual Diversity Symposium. The Carlos Quintanilla Distinguished Alumni Award, formerly the Distinguished Latino Alumni Award, was renamed this year in honor of Diversity Alumni Awards Programs benefactor Carlos Quintanilla, MBA '80, who was himself honored with that award in 2011. This award recognizes alumni for their professional and social achievements and contributions, for their demonstrated commitment to Johnson, and for promoting the advancement of Latinos in the business world. The Diversity Symposium, the school's largest diversity-related event, brings together members of the Johnson community as well as outside professionals to discuss a variety of business topics.
Alvarado first gained exposure to the metals industry through his father, who worked for Inland Steel, a Chicago-based company where Alvarado interned both as an undergraduate and during the summer between his first and second years as an MBA student. After graduating, he worked there as a cost accountant before moving into other areas. Alvarado describes his journey through ten different jobs and several companies as "a lot of fun because there have been a lot of challenges."
His firm belief in the importance of teamwork helped Alvarado achieve what he says has been his most rewarding accomplishment: turning the company around. When he joined Commercial Metals almost five years ago, the company was experiencing difficulties due to the global financial crisis, especially having just made significant investments in capital and technology. Efforts to implement these nearly drained the company's cash reserves, putting it at risk. In response, Alvarado stabilized the balance sheet, reined in operations, and successfully reestablished a relationship with customers who again came to see Commercial Metals as credible suppliers. Now, his vision has moved beyond stability to focus on growth: "The challenge of the future is growing the business."
An important component of this growth is Commercial Metals' social and community impact, especially in the United States and Poland, homes to the largest concentrations of Commercial Metals employees. "Wherever we operate, we have always been a responsible corporate citizen," Alvarado says. Examples include working with Habitat for Humanity and helping to build homes for war veterans.
Commercial Metals also promotes community within the company. As part of its corporate responsibility effort, for instance, Commercial Metals offers annual stipends to employees who have children in school, providing the students maintain a certain grade point average.
Heading an international workforce, 61 percent of whom are representatives of diverse, underrepresented minorities, "forces me to have an awareness of who we are and what our makeup is like," Alvarado says. A key knot to untangle, however, involves preparing management to become more diverse. "And that's not easy to do." Under Alvarado's leadership, Commercial Metals has launched leadership development programs and hired human resources professionals to address this imbalance.
Alvarado, a second-generation Mexican-American, also believes he has a responsibility to be "a standard-bearer for all people of diversity, but particularly Latinos." To that end, he participates in events like a panel discussion at the United States Hispanic Chamber of Commerce National Convention held in September 2014.
For Alvarado, studying at Johnson provided a solid foundation for success. Although he started out thinking he would become a banker, his internships and experiences with the metals industry convinced him to choose manufacturing instead. The international nature of banking had appealed to him at the time, but since the manufacturing business has changed and become much more international, Alvarado's career has taken him to countries in Latin America, the Caribbean, Western Europe, and East and Southeast Asia.
Coming back to Johnson as a guest lecturer over the past few years, Alvarado has been struck by just how much the school has changed. "Looking around the classrooms, the environment is much more diverse," he says. When he was an MBA student, only "a handful" of students hailed from diverse backgrounds. He believes the great diversity he sees in classrooms today, including a strong international presence, provides all students a stronger academic experience. Having the chance to meet so many people from across the globe facilitates cross-cultural interactions in international business.
Alvarado, who recently joined the Johnson Advisory Council, says he feels "honored to have been asked to participate. I hope I can contribute in many positive ways."
Patrick Braga '16 is an intern in Marketing and Communications at Johnson.