Kyung-Bae Suh, MBA '87, President and CEO OF AmorePacific and recipient of the L. Joseph Thomas Leadership Award, shares his vision: "Transforming the world through beauty"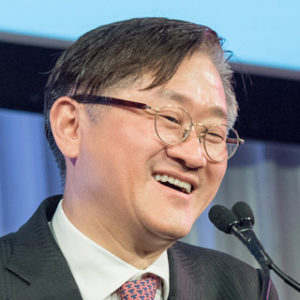 Kyung-Bae Suh, MBA '87, has established a name for himself as the leader of one of Asia's biggest cosmetics corporations. Taking the helm of AmorePacific from his father, Suh Sung-Whan, in 1997, he launched a massive restructuring of the foundering company to refocus on its core business – health and beauty products – and divested all noncore businesses (then ranging from insurance and securities to a pro baseball team). Suh's bold move is credited with bringing AmorePacific back from the brink of bankruptcy and turning it around to become the world's 11th-largest skin-care products company (Euromonitor International) with net income of $197 million in 2014 (Bloomberg).
But the man who accepted the L. Joseph Thomas Leadership Award was surprisingly humble and grateful, expressing deep thanks to the "many wonderful mentors who shaped my insight into the world, opened doors for new opportunities, and inspired my life." He also disarmed his listeners by poking fun at himself. "When I first learned I was receiving this award, I got some bad news: I would have to give my speech in English," said Suh. "A friend asked: 'Why are you so nervous? Your Korean public speaking skills aren't really that impressive, either,'" he added. "At least I'm consistent!"
As he continued, Suh showed his listeners a glimpse of the business acumen and adherence to discipline that have made him an Asian business powerhouse. It's difficult to imagine a leader who so completely "lives one's brand." For example; Suh uses all of his company's products every day (except mascara, which makes his eyes itch), and has his wife and two daughters (both Cornellians) test them out, as well.
AmorePacific has been a family tradition for generations. His grandmother, Yun Dok-Jeong, extracted camellia oil in her kitchen to sell to wealthy women as a hair treatment in the 1930s. The brand was established: "In her kitchen, my grandma made the best products for the customer. At AmorePacific, our highest priority is to make the best quality products for the health and beauty of our customers," said Suh.
Suh's father, Suh Sung-Whan, transformed his mother's business into a modern enterprise, founding the company in 1945 as Taepyungyang (Pacific). The brand promise remained the same: beauty and health products based on indigenous Korean botanicals (first ginseng, then green tea). "We are ancient beauty creators, and we wish to spread Asian beauty across the world," said Suh.
Suh has relied on three business principles throughout his career:
The customer stands at the center of every business decision. AmorePacific invests heavily in research and development, "because the best products come from the best ingredients," said Suh. "If you don't do that, the customer may buy, but won't come back."
Concentrate on what you do best. It served as a key guidepost throughout the AmorePacific restructuring. In the 1980s and 1990s, in addition to over-diversifying, the company had become complacent about its number-one position in Korean beauty. "We weren't making changes, innovating, listening to the voice of our customers," said Suh. "So, we went back to the drawing board and focused on what we did best, what we loved the most. I had learned that at Johnson."
Keep communications open and maintain mutual trust with all stakeholders. "My grandma would always have extra food on hand for unexpected visitors," said Suh, explaining that the country was starving in the 1930s. "The happiness of sharing is a value that runs through my family and our company, and leads to mutual growth with employees, partners, customers, society," he added. "Each transaction is an exchange of trust between the company and the customer. True business happens in small increments.
"I have been asked what kind of entrepreneur I want to be remembered as, and my answer is someone who made a small change but helped the world become more beautiful and happy," said Suh. "I strive to make my community a happier, more beautiful place."