Kimberly S. Stevenson, MBA '01
Robert J. Swieringa Young Alumni Service Award Recipient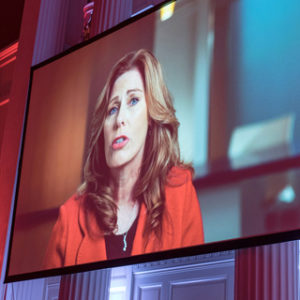 In the business world, Kimberly (Kim) S. Stevenson, MBA '01, chief information officer and vice president at Intel, has made a splash by being the kind of transformational leader that exemplifies a Johnson MBA. Now known for raising IT's profile at Intel, she has elevated it to become an integral part of the business rather than simply a support capability.
At the same time, Stevenson has been giving back to Johnson — through both funding and time — since she graduated. A contributor at the Tower Club or Dean's Circle Level annually, she served on the Johnson Advisory Council, 2009-2013. She was selected to receive the Robert J. Swieringa Young Alumni Service Award in recognition of her leadership and alumni engagement. Unable to attend the Alumni Awards gala in New York City to receive her award in person, Stevenson sent her thanks and a brief address to the Johnson community via prerecorded video, in which she said: "I'm honored and humbled to receive this award."
Upon her promotion in 2012 from VP and general manager of IT operations and services to CIO at Intel, Stevenson set about upgrading IT's role by deploying advanced machine-learning software to analyze operating and business metrics, and used the findings to recommend new procedures for sales, pricing, and inventory.
Within a year, Stevenson's contributions to the bottom line were apparent to any shareholder looking at Intel's 2014 annual report: IT was responsible for generating more than $351 million in revenue. (See articles in Forbes, Intel CIO Shakes Up IT's Culture In First 100 Days, and the Wall Street Journal, How Intel's CIO Helped the Company Make $351 Million).
"Information technology has become not only the foundation of how companies run, but in many cases the source of competitive advantage," said Stevenson. As CIO, she added, she has a top-level view of what works and what doesn't, at a distance that allows for analysis and reflection. "This creates a unique ability to drive operational improvements in the company that are challenging to implement, but rewarding when done," she noted. And, as CIO of an organization that itself develops IT products, Stevenson says: "I am able to see five to ten years in the future in terms of what technology will be created — which is exciting!"
Stevenson says that her Johnson background has helped her considerably throughout the course of her career. After graduating from Johnson, she joined Hewlett-Packard's EDS as a vice-president (she had worked as a vice president at IBM before starting her MBA). She moved to Intel in 2009. "The broad general-management skills I learned at Johnson — such as marketing, finance, strategy, supply-chain operations — are enormously helpful in my role," said Stevenson.
That knowledge and those skills set the stage for her recent breakthrough performance at Intel. "As the CIO, you have to have a reasonable understanding of all business functions of the company if you're going to help them transform," Stevenson said. "The foundation for this understanding was built at Johnson."
Stevenson has remained ever-appreciative of the Johnson community. She makes an ongoing effort to stay connected — speaking to faculty, networking with alumni, and helping students advance in their careers. Staying in touch with the community, she says, helps her in her everyday endeavors. "I have found that often the best way to solve a problem is to look through a different lens — and your professional colleagues often have the same lens as you," Stevenson explained. "Having access to the Johnson faculty, research, and alumni make finding a different lens easy.
"To me, learning is a lifelong process," she added. "By staying connected to the school, you're exposed to different topics and debates through leadership that you will not run into in your daily routine. This is a form of learning that creates a unique perspective and allows you to excel in your professional goals."