Lisa Bonk, MBA '11, and Dana Price, MBA '11
On behalf of the Johnson Club of New York City, Club Co-Presidents Lisa Bonk and Dana Price receive the Henry P. Renard '54, MBA '55 Regional Alumni Club of the Year Award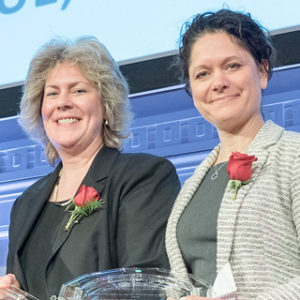 President Obama's visits. Religious holidays. Anything around September 11. These are some of the times to avoid when scheduling alumni events in New York City.
According to Lisa Bonk and Dana Price, co-presidents of the Johnson Club of New York City, the Big Apple has its own peculiar advantages and drawbacks when it comes to planning events. On the one hand, you have access to a strong community of resident Cornellians numbering in the tens of thousands and to thought leaders in a variety of industries. On the other, you are trying to reach busy, professional alumni with dozens of events — from the Mets to the Met, from Billy Joel to Broadway — competing for their limited time.
Bonk, a manager at Deloitte Consulting, and Price, VP of M&A at McGraw-Hill Education, became close friends as classmates at Johnson, and have remained friends ever since. They were looking for ways to get more involved in the community when they decided to take on the leadership of the Johnson Club of New York City in 2013. Both are very modest about their accomplishments, but the numbers from their year of leadership speak volumes: 714 alumni engaged (146 percent more than the previous year), 10 events (an increase of 40 percent over the previous year), three sold-out events, a joint event with the Cornell Entrepreneurship Network, and 245 guests at the city's inaugural Predictions dinner.
After listening closely to suggestions from alumni, Price and Bonk launched the Thought Leader Series, events that feature Johnson faculty who are leading business scholars and business leaders who are Cornell alumni, providing a forum for them to share their research and expertise on pressing issues confronting business today with Johnson and Cornell alumni in the New York metropolitan area. The series also offers alumni an opportunity to discuss the issues and network with one another.
"Alumni can come out to an environment or venue where they can interact with other alumni to discuss personal or business needs," says Price. "At the same time, these events provide thought leadership by showcasing experts discussing topics that are relevant in the market, economy, or environment."
The series kicked off in September 2014 with Mark Milstein, director of Johnson's Center for Sustainable Global Enterprise and clinical professor of management, who spoke on "Finance and Sustainability: The Final Frontier?" Subsequent speakers and topics included Professor David BenDaniel leading a panel discussion on private equity; Professor Bob Frank leading a panel discussion on the security, ethics, and future of healthcare technology; Senior Lecturer Risa Mish on nonprofit leadership; Zach Shulman '87, JD '90, director of Entrepreneurship at Cornell, leading a panel of Cornell entrepreneurs on the world of startups; Professor Maureen O'Hara on high-frequency trading; and a panel of Cornell alumni and industry experts on "The Internet of Things."
Bonk and Price have made a point of reaching out to current and prospective Johnson students and to all Cornell Tech students. They also welcome alumni to bring guests, who can enrich the discussions. And they keep in touch with Alumni Affairs and other staff at Johnson, as well. "There is a concerted effort and cross-collaboration in promoting events within Johnson as well as across the wider Cornell network," says Price.
Price and Bonk say that while they are happy to see events and attendance numbers grow, their real goal is to increase engagement. So, the more they hear enthusiastic feedback on club events, the happier they are. "It's a testament that people can interact with fellow alumni and understand, 'What can I learn during an hour or two of my evening or morning?'" says Price. They are also looking to partner more with other Cornell units, including the Weill Cornell Medical College ("only a couple avenues away!") and Cornell Tech.
The energy that Bonk and Price have put into their volunteer leadership stems from their appreciation of the Johnson and Cornell communities. "If you reach out to an alum even via cold call or e-mail, you usually get a response because our alumni are that engaged," says Bonk. "They're an outstanding source for information and assistance, and it's one of the benefits that comes with the Johnson degree. What Dana and I have tried to do is build that engagement in the New York City club."