Leading through transformative times
Felipe de Jesus Garza Medina, MBA '80, was honored with the Carlos R. Quintanilla Distinguished Latino Alumni Award.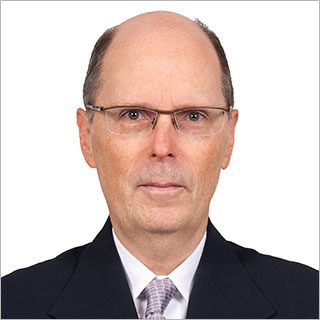 Felipe de Jesus Garza Medina was honored with the 2015 Carlos Quintanilla Distinguished Latino Alumni Award at Johnson's Diversity Awards dinner, held Nov. 6 in the Statler Hotel ballroom as part of Johnson's 6th Annual Diversity Symposium. Since he was unable to attend, Jorge Garcia, MBA '16, president of the Hispanic American Business Leaders Association, accepted the award on Garza's behalf.
Initially trained as a chemical engineer, Garza is president of the PTA business unit at Alpek, part of the ALFA Group, a Mexican conglomerate. PTA (purified terephtalic acid) is a petroleum derivative that is used as a raw material for the production of PET resins and polyester fibers. In a recent interview, Garza highlighted his experiences as a leader during times of macroeconomic change, the high value he places on Alpek's workers, and the importance of being flexible and open to new ideas in order to succeed as a business leader.
Garza, who serves on the Emerging Markets Institute's Advisory Group, has witnessed significant change in the Mexican economy: "When I started working 35 years ago, the company didn't have any assets outside of Mexico," he explained. Now, ALFA has a significant presence in the United States, Europe, and Asia – a development that typifies the internationalization of Mexico's economy. "It is a transformation of an economy which was initially very regional, to become a world leader in different industries," he says.
The opening of the North American Free Trade Agreement (NAFTA) increased foreign direct investment in Mexico, providing Garza with new opportunities for leadership and project management. Garza took part in the negotiation to form four joint-venture partnerships to create new companies within ALFA. As a result, the conglomerate grew "from being a small, local company to a company with a lot of credibility in the international markets," he said. He did face an initial challenge in convincing American companies to invest in Mexico; some were skeptical about the reliability and quality control in the supply of raw materials in Mexico. By successfully meeting business partners' supply chain and quality assurance needs, Garza helped ALFA to adapt to the changing business environment.
Garza places great importance on the moments when he helped to lead the company through difficult times. "It was very interesting to work in a company with a lot of financial stress [in the 1980s], when ALFA was forced to sell some companies," he said. "But it was an experience that helped me grow and understand the value of things that, if you work in a very stable company all your life, you won't experience." Among these, he explained, is the human side of business; Garza learned how important it is to push and motivate a workforce to expand their skill sets during times of crisis. "Leading through [a time of] transformation at ALFA was an opportunity to grow, to understand, to negotiate."
Garza also learned how important it is to keep workers motivated throughout times of change. "Since change is a constant in the business world, the human part is more necessary now as organizations become more complex." He added, "It's very important and rewarding to really push people to grow. That, for me, provides a big motivation." He stressed the importance of looking beyond profitability to understand business performance and workers' results. Part of his company's investment in its workers is funding them to study MBAs or technical careers at American universities.
Garza attested to the marked increase in Latino students on campus since his own student days at Cornell: "The Latino or Latino-American community in the U.S. has grown a lot as compared to twenty, thirty years ago." He also noted the growing numbers of Latino Americans throughout the U.S.
Garza definitely sees increased diversity as a strength that has become essential to the workplace: "Diversity is a needed component of what we do," he said, adding that the ability to think about how other people might approach a problem "really gives you a big growth opportunity." Johnson's ready access to a diverse set of classmates and professors, he argues, can help business students understand how to grow a local business into a multinational one. "The diversity at Cornell lets you have the expertise to tackle those kinds of problems."