Helping others to do well
John Bonhomme, MBA '07, was named recipient of Johnson's 2015 Wilbur Parker Distinguished Alumni Award for outstanding professional achievement and commitment to his community.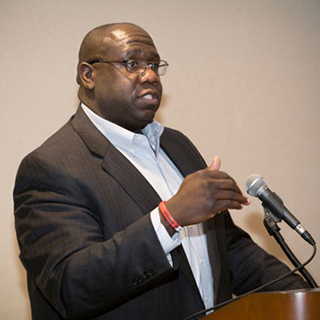 John Bonhomme has dedicated himself to promoting diversity and inclusion both in his career and volunteer work. "Diversity is huge to me. In age, gender, sexual orientation, race, socioeconomic status, background. Diversity of thought is fundamental to success in the classroom and in business," he said.
Bonhomme, an executive director in global strategic markets at JP Morgan, also owns a social impact real estate development company called Thorobird, which works to create affordable housing. He sponsors, mentors, and advises students through A Better Chance, an organization that provides educational opportunities to young people of color in inner cities. He serves on the board of First State Community Loan Fund, a lending organization that works to educate and empower small business owners and entrepreneurs in low-income communities. His goal in his work and beyond is "to provide opportunity for folks who want to do well."
Bonhomme began his career on Wall Street in 1998 at JP Morgan's leverage finance department, moved to Goldman Sachs to work as a derivative trader, then came to Johnson in 2005 to pursue his MBA. He has remained an active alumnus ever since, and is especially involved in Johnson's Office of Diversity and Inclusion (ODI), through which he mentors students, gives lecture series, and teaches a private equity course in the entrepreneurship immersion for Professor David BenDaniel.
"I've come back probably once a year since I graduated in 2007," said Bonhomme. "That's helped me show the members of the ODI that someone who looks like you can do it, too. My family didn't come from means, but you can boost yourself up and really make it happen."
The fact that Bonhomme met Wilbur Parker '50, MBA '50, Johnson's first African American graduate and the diversity award's namesake, adds special significance for him on being named recipient of this award. "Wilbur drove to Ithaca at ages 80, 85 on his own from New Jersey, every year" to attend the Diversity Awards dinner at Diversity Symposium at Johnson, Bonhomme said during his acceptance speech at the awards ceremony. "Every year, he would get the students of color and put us in a room and tell us what he's been through. He would tell us, 'Focus on what you want to do, focus on education.' He would tell us to have integrity. He said to all of us, 'Save your money, give back.'
"Bon Homme in French is 'good man,'" Bonhomme added. "He used to pull me aside and say, 'Are you living up to your name?'"
Bonhomme praised Johnson for its commitment to fostering a diverse environment, while emphasizing the importance of continuing to work toward improvement. "We're doing incredible things across the university and across the school," he said. "But we can't forget what we are here for, who we are here to serve, and making sure we give back.
"We leave a legacy for the next generation," he added. "We've got to bring in more people of color, more women, more underrepresented groups. Every leader should have diversity in their DNA."
Katie O'Brien '16 is an intern in Marketing and Communications at Johnson