George Gellert '60, MBA '62, JD '63, to be honored with the 2016 L. Joseph Thomas Leadership Award
This year's recipient of the L. Joseph Thomas Leadership Award, George Gellert, is a generous and dedicated "triple red" who credits Cornell with providing a great foundation for life.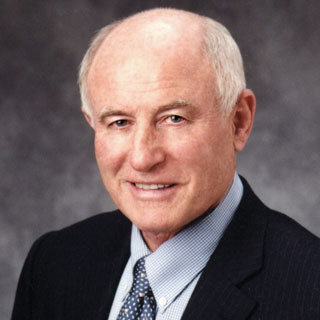 By Jeffrey Gangemi, MBA '09
George Gellert '60, MBA '62, JD '63, chairman and CEO ofthe Gellert Global Group, the largest privately owned food importer in the UnitedStates, has been selected to receive the 2016 L. Joseph Thomas LeadershipAward, Johnson's highest honor. The award recognizes alumni for theirexceptional demonstration of vision and leadership, sound business sense, andcommitment to community.
Members of Johnson's leadership team and the JohnsonAdvisory Council selected Gellert "for his longevity, success, and dedicationto ethical business practices, and for his unfailing commitment to Johnson andthe broader Cornell community. He sets an inspiring example that all business peoplecan emulate," said Johnson Dean Soumitra Dutta.
Gellert is a "triple-red" who earned his bachelor's,master's, and JD degrees from Cornell in an impressive seven years. In thattime, he ran several on-campus businesses and also completed Cornell's ROTCprogram. In addition, Gellert ran track and played football for Big Red. AfterCornell, he took his background in law and finance to a job at the U.S.Securities and Exchange Commission and from there on to the Pentagon. Duringthat time, Gellert's father-in-law Leon Rubin, who had started Atalanta TradingCorporation in 1945, approached the up-and-comer to come work for him. Gellerteventually accepted the job.
When Gellert took the helm, Atalanta primarily importedcanned hams from Poland. In 1971, Gellert convinced Rubin to take the companypublic to spur growth. Since 1976, Gellert has been running the company, whichis now comprised of 10 separate operating companies with a combined $1 billionin revenue. He took the company private again in 1980, enabling him to buildone of the most successful family-owned businesses in the country.
Atalanta is still the flagship brand, but the group hasmoved far beyond ham into specialty cheeses and groceries, including seafood,nuts, and dried fruits as well as canned and frozen fruits and vegetables. The group's activities also include restaurantoperations and real estate investments. Growth – both organic and throughacquisition – has been consistent throughout the years since Gellert took overfrom his father-in-law. He says one of his biggest breaks came about 16 yearsago, when he bought two companies from ConAgra Foods and sealed the company'sstatus as a market leader.
Gellert says his Cornell education "was a great foundationfor my life," and that the business school had some amazing professors, many ofwhom he remembers by name and credits with helping him grow his business. "Someof the things that they ingrained in our heads I still remember. I think ofCornell every day," Gellert says.
With so many of his family members affiliated withCornell, that is no small wonder.
Gellert and his three brothers earned Cornell degrees andhis own three children are alumni, as are eight nieces and nephews. "If you cutany of us, we all bleed Cornell red," says Andy Gellert '89, George's son and presidentof the Gellert Global Group. Andy joined the family business shortly aftergraduating and now oversees several of the operating companies, as does hisbrother, Tom Gellert '94, MBA '99, JD '00. "Everyone really appreciates Cornelland has gotten a lot out of it," Andy says.
The Gellerts' relationship with Cornell extends far beyondtheir student days. George Gellert has served on the Cornell Trustee Counciland continues to serve as a Presidential Councilor and on Johnson's PersonalEnterprise Task Force and Management Oversight Council. In addition, George andhis sons have been actively involved with the Entrepreneurship Program and theCollege of Agriculture and Life Sciences. In 2010, the Gellert Family endowed theGellert Family Professorship of Applied Science and Management. In 2015, theGellert Global Group endowed a food science research chair in the Department ofFood Science. Andy serves on the Food Science Advisory Board, and Tom serves ona CALS advisory board and is a member emeritus of the Dyson School AdvisoryCouncil.
The Johnson community will honor George Gellert and presenthim with the L. Joseph Thomas Leadership Award at Party on Park onMay 16 in New York City.