Building sustainability into the supply chain
Agata Kostecka, MBA '11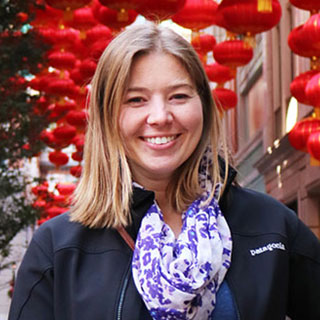 Agata Kostecka is helping to make sustainability a way of life for stakeholders at Gap Inc.
After working on the firm's supply-chain strategy team in San Francisco for a couple of years, Kostecka, a Park Fellow, collaborated with her boss to create a new role for herself as senior manager for sustainability sourcing strategy in Hong Kong, one of Gap's key sourcing hubs. Kostecka now links the corporate sustainability team in San Francisco with the managers who are sourcing production in Hong Kong and elsewhere, and also with Gap's suppliers of garments and fabrics throughout Asia.
She's a team of only one, but welcomes the challenge. "I have the opportunity to define and set a long-term sustainability strategy within our supply chain and with our stakeholders," Kostecka says.
Gap holds vendors to its sustainability code of conduct, which specifies labor standards, such as working hours and compensation; working conditions, such as health and safety; and environmental protection, such as management of water, chemicals, and energy. "If a supplier violates major pieces of our code, it could be a no-go," explains Kostecka. "But when we find issues, we work with our suppliers so they understand how to address the issues and make sure they follow through. The supply chain is moving towards a partnership model, where we work with suppliers on innovation, new fabrics, and new ways of doing things."
Making sure a new product has a high sustainability quotient requires "looking at the design of a garment you're proposing and considering the sustainability options up front," says Kostecka, as well as determining "which suppliers can give the lowest cost and highest quality, while including the sustainability component."
Kostecka loves Hong Kong. "You're in the middle of a major metropolis," she says, "but it's a 20-minute bus ride to a beach or beautiful green hillside." She stays in touch with Johnson classmates located all over the world, especially those with whom she did the Sustainable Global Enterprise immersion. "We're a tight cohort and we keep close."