Bringing Beauty to the World, Inside and Out
Suh Kyung-Bae, MBA '87, CEO of South Korean cosmetics firm AmorePacific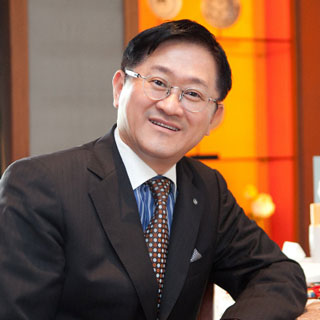 Beauty. Harmony. Balance. Happiness.
These are not words that you'd typically hear from the CEO of a multibillion-dollar global company. But for Suh Kyung-Bae, CEO of South Korean cosmetics firm AmorePacific, they are not only everyday terms; they are core tenets that symbolize the brand and the man himself.
Pairing beauty with happiness has deep roots in Suh's family and in AmorePacific, a company that has been a household name to generations of Korean consumers. Founded in 1945 by Suh's father, Suh Sung-Whan, AmorePacific boasts high-quality, high-ticket product lines for skin care, cosmetics, health care, and personal care. The company's decades-old brand is based on native botanical ingredients and a focus on women's well-being. "The most rewarding aspect of the beauty industry," says Suh, "is that it presents beautiful changes to people and makes them happy."
Suh spends just as much time listening as he does speaking, and carefully balances thought with action. That has proved a wise path in today's business landscape, where authenticity is highly valued, gimmicky products and unsubstantiated claims can be unmasked across the globe in seconds, and a strategic misstep can cost millions of dollars. Suh's attentiveness to consumers' and employees' needs and wants, together with his strategic planning and loving stewardship of the family legacy, have led to sustained, steady growth in sales and a growing customer base worldwide.
"The company's goal needs to be as ambitious as possible, but the job should be done thoroughly with attention to every detail," says Choi Jae-Chun, professor at Ewha Woman's University and board member of the AmorePacific Foundation. "Suh Kyung-Bae examines both the details and the big picture well and never underestimates any of them."
Stewardship through trying times
When Suh joined the company in 1987, AmorePacific was facing a crisis. Although it was the top cosmetics firm in Korea, it was experiencing serious internal and external pressures. Rival brands from overseas were ratcheting up the competitive pressure, threatening to dethrone AmorePacific in the Korean market. Internally, the company's corporate structure had become unwieldy through runaway growth into ancillary businesses, and management was fighting fires in the form of ongoing labor disputes.
Suh's leadership during the 1990s was instrumental in shepherding the company through its growing pains to remain the undisputed champion in Korean cosmetics and a heavyweight contender in the international market. "I have no doubt that Suh Kyung-Bae's strategic insight and inspirational leadership have played a crucial role in turning AmorePacific into an excellent company after overcoming the danger of going bankrupt in the 1990s," says Song Jae-Young, professor at Seoul National University's College of Business Administration, who first met Suh when serving as a consultant to AmorePacific in 2003 and later became a non-executive director.
Since 1997, when Suh took the helm as president and CEO, AmorePacific has chalked up growth of approximately 10 percent per year and grown to employ about 9,000. In 2012, the company posted sales of 3.43 trillion won (more than $3.17 billion).
Rooted in tradition; growing through innovation
Restructuring the company in the '90s, says Suh, was the biggest challenge he's faced as a leader. "Shortly after I joined AmorePacific, the company underwent major changes following the decision to sell off various businesses, with the exceptions of beauty and health, so as to better focus our core capabilities on them," he says. Businesses that were sold included the company's brokerage arm, sports teams, and fashion division. "I went back to basics and decided to concentrate on what we could do best and what I personally enjoy the most: the beauty business," says Suh.
That focus allowed AmorePacific to build solidly upon its established brand: cosmetics created from the natural properties of native plants. The brand legacy extends back to the 1930s, when Suh's grandmother, Yun Dok-Jeong, first hit upon the idea of selling camellia oil as a beauty treatment.
Suh's father expanded on this theme after establishing the company in 1945, cultivating native plant ingredients and investing heavily in research into botanicals and dermatology. Believing that a solid grounding in science and technology is essential to competing in the global arena, he established Korea's first cosmetics R&D center in 1954; it is now the biggest R&D center in the Korean cosmetics industry. The firm continues along that path today, striving to develop products that not only take advantage of the latest findings in botany and healthcare, but that can be processed with the least impact on the environment.
That strategy is working. AmorePacific has developed a wide range of product lines designed to promote health and beauty for women all over the world, and now reaches customers in 101 countries with a total of 13 global brands. The company has put down roots in the form of R&D centers, administrative offices, and retail outlets in numerous strategic locations in the U.S., Europe, and East Asia. Its flagship cosmetics lines — AmorePacific, Sulwhasoo, Laneige, Mamonde, Innisfree, and Etude House — target consumer segments broken down by cultural background, age, and income bracket. It has also expanded its international market footprint and product offerings through its fragrance brands Lolita Lempicka and Annick Goutal.
When Suh enrolled at Johnson, he was determined to make AmorePacific successful in the global arena, and eager to gain the knowledge he needed to do so. "I believed that 'Asian beauty' was our point of difference and worthy of being loved by customers around the world," says Suh. "So, I chose Johnson, where I could study with students from all over the world, under the guidance of the world's greatest scholars in business management." He remembers his Johnson days fondly, and continues to serve as president of the Johnson Club in Korea. In 2010, he established the AmorePacific Professorship at Johnson to help today's students gain a global perspective on business practices.
Promoting women's well-being
Simultaneously leveraging AmorePacific's emphasis on women's welfare and building the brand's identity, Suh established three nonprofit foundations: the Korea Breast Cancer Foundation, the AmorePacific Welfare Foundation, and the AmorePacific Foundation. The company also provides microcredit programs for single mothers, assistance for immigrant women, career support for female scientists, and financial and social support for breast-cancer patients.
"Kyung-Bae Suh always takes an interest in various areas of the society and promotes corporate social responsibility," says Noh Dong- Young, director of Seoul National University Cancer Center Hospital and chairman of the Korea Breast Cancer Foundation. "It is in line with AmorePacific's values and philosophy because AmorePacific works for women's beauty and health and supports financial independence of women and AmorePacific customers."
AmorePacific also founded the "Make Up Your Life" campaign, which provides makeup and styling guidance to cancer patients. "It helps patients who feel depressed and have lost their confidence [due] to the changes in their appearance," says Suh. "The campaign affects not only the patients, but also AmorePacific beauty counselors — sales staff who participate in the campaign. Many have been deeply touched and overjoyed by the positive way in which patients have changed.
Leading by listening
Suh continues to carefully cultivate AmorePacific's growth: "Our goal is to grow beyond being number one in Korea to become number one in Asia, and one of the world's top seven cosmetics companies by 2020," he says. He pinpoints three essential elements to achieving that: a world-class product line, research and expertise regarding Asian ingredients, and clear communication with customers, experts, and staff.
AmorePacific strives to implement a customer-centric way of thinking, Suh says, by soliciting customer input through surveys and other means. "We try to constantly observe and study, and communicate closely with customers. Understanding the skin types of customers around the world and their use of cosmetics is important — yet comprehending the culture of each country is just as important," says Suh. "I visit our stores, both domestic and international, and listen to the voices of our clients and partners as much as possible."
In addition, Suh meets with experts from diverse fields — professors, consultants, artists, photographers — to profit from their experience and guidance. "I gain a new insight into business management through talking with them, as they often see the world from different points of view," he says.
Suh is also deeply committed to communicating with his staff, in monthly meetings and via the company's intranet. He bonds with staff on hikes, and at company-sponsored public events, such as the Pink Ribbon Love Marathon, part of a campaign to prevent breast cancer. He believes that everyone in the company should be thinking about and preparing for the future, and he challenges them to do so, says Daniel Cavil, a French consultant to AmorePacific. "He once asked employees to give serious thought to innovation," Cavil recalls. Within a few days, meetings were held to discuss their ideas. "The most impressive part for me was the power that his message exerted over the whole organization," says Cavil. "There was an atmosphere of mutual trust."
"Suh Kyung-Bae listens humbly, yet sincerely, to the voices of people in and outside the company, and he does so with an open mind," says Song. "His leadership by listening is what distinguishes him from other CEOs I have met."
The company's website describes AmorePacific's brand, in part, as: "a perfect harmony of contrasting qualities: inner beauty with outer beauty; traditions with the future; emotion with reason; and nature with science." It's no coincidence that this also describes Suh's leadership.