Jim Goldman, MBA '85, President and CEO , Godiva Chocolatier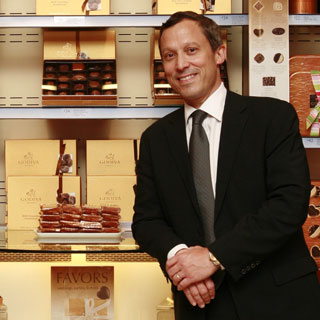 Like many successful leaders, Jim Goldman thinks outside the box. For the aptly-named Goldman, the box in question is a 14-carat icon — Godiva Chocolatier's gold-toned ballotin.
As one of the world's best-known packages, that box confers a strong advantage, says Goldman, president and chief executive officer of New York-based Godiva. But it's also a gilded cage.
"We are saddled a bit with the consumer perception that Godiva is only for special occasions — great for Valentine's Day and maybe for Christmas, but too expensive, too luxurious for more regular consumption," Goldman says. That perception, he adds, needs to change.
These days, Godiva is breaking out of the golden box in a big way, seeking to connect with consumers in many more places and on many more occasions. "Godiva needs to be relevant 12 months a year," Goldman says.
The push to make Godiva a brand for all seasons goes back at least to 2004, when the Campbell Soup Company named Goldman president of its Godiva business unit. "Jim improved our competitiveness. He created a whole bevy of innovations that found their way into the Godiva stores," says Campbell's CEO Doug Conant. Theatrical touches — employees dipping strawberries in chocolate or whipping up frozen "Chocolixer" drinks — drew customers into Godiva boutiques and kept them coming back to see what the store would serve up next.
But opportunities to transform the brand really took off in 2008, when Campbell sold Godiva to Yildiz Holding, parent of the Ülker Group, a privately-held Turkish food manufacturer.
The new parent's chairman, Murat Ülker, is a savvy businessman and a visionary leader, Goldman says. "He has a much longer perspective on things, not quarter-to-quarter." Campbell gave Godiva strong support, he says, but a publicly traded firm must consider its shareholders first. "As a Fortune 500 company, Campbell could not afford to take the risks and make the investments that we're making now to realize our full potential."
With Ülker's backing, Goldman and his team are going all out to put both traditional Godiva treats and a growing assortment of new products — from ice cream parlor truffles to dipped Oreo cookies to individually wrapped Godiva "Gems" — into more and more customers' mouths. "Over the past two years, we have ramped up our innovation game to almost a dizzying level of activity," he says.
Taking on the White Space
Godiva has room to grow because the brand has plenty of what Goldman calls "white space" — market opportunities it hasn't seized in the past. Especially during a recession, he says, a maker of premium chocolate needs to serve chocolate aficionados wherever they may be.
To fill in that white space, Goldman and his executive team are pursuing three main strategies: expanding into new countries, introducing new products, and selling through new channels.
Already well-established in North America and Japan, Godiva recently arrived in China, with plans for ten boutiques in four cities by 2011. In October, it opened the world's largest Godiva store — a boutique-plus-cafÉ — in Shanghai. Godiva debuted this summer in Istanbul, Ülker Group's headquarters city, and it's expanding in Australia. The company is eyeing South Korea and aims to develop a stronger presence in the Middle East, Goldman says
With its second strategy, Godiva is encouraging consumers to reach for its products on a much broader variety of occasions. That means expanding the popular notion of Godiva chocolate as a gift.
"Godiva is great for that emotional, special gift for Valentine's Day, but maybe a little bit over the top for giving to the person who took care of your dog over the weekend," Goldman says. That's the traditional view. But Godiva's new gift baskets, baked goods or holiday treats might be just the ticket for a dog-sitting neighbor.
Godiva also has devised products for people who want to buy treats for themselves or to share with co-workers or friends. "Godiva isn't well developed in those usage occasions, and yet they're huge year-round," Goldman observes. That category includes a line of chocolate tablet bars and the Godiva Gems, which sell in four-ounce bags for $4.99.
To market products for anytime consumption, Goldman and his team have decided they can't rely solely on Godiva's traditional retail venues — department stores and Godiva boutiques. So strategy number three calls for broadening distribution. In 2009, Godiva started selling chocolate bars and Gems in pharmacies and grocery stores in the U.S.
It was a controversial decision. "It's the one that I think we, as an organization, grappled with the hardest," Goldman says. But given the presence that premium chocolates have gained on grocery and drugstore shelves, Godiva couldn't afford to hold itself aloof.
Research showed that customers in the U.S. appreciated the chance to buy more impulse-oriented products from Godiva in a broader range of outlets, Goldman says. While responding to those customers, the company also continues to cook up fresh, innovative, and customized products for sale in its own retail stores, he adds.Godiva's traditional image wasn't the only factor that made moving into the mass market a bold step, says Kris Breuer, Godiva's senior vice president of human resources. Besides challenging Godiva to maintain its aura of prestige while appealing to a broader market, the strategy demanded that the company develop new marketing and distribution skills.
"You're looking at dealing with broker networks, which we'd never done before. And you're entrusting your brand to places where you don't have control over what it looks like on the shelf," says Breuer, who first worked for Goldman when he headed Campbell's Food and Beverage division. "You have to look at how to advertise, how to keep the image alive while getting the chocolate into the mouths of everyday consumers."
Godiva's luxury gift business operates something like the fashion business, driven by the seasons and the need to build excitement, says Dave Marberger, the company's chief financial officer, who also worked for Goldman at Campbell Food and Beverage. "That's a much different approach than when you put a new product into a grocery store."
So far, Godiva's broader distribution efforts focus mainly on North America. "Our go-to-market strategy is different by country, but our desire to be relevant 12 months a years and a leader across the best of everything chocolate cuts across all markets," Goldman says.
The new strategies are paying off. "Despite the fact that economies are still sluggish in most places around the world, our business now is growing double-digits," Goldman says. "We're putting up better numbers than we've had in a long time. And we feel like we're just getting started."
Lifesavers Get a Lift
This is not the first time Goldman has made bold moves to re-energize a brand. His leadership helped to transform Nabisco's Lifesavers division, says Conant, who headed Nabisco before he moved to Campbell. As president of Lifesavers, Goldman decided that this mature, modestly-growing brand could rise to the top of the confections industry. He proved right.
"The secret was finding new ways to market traditional products while ramping up business development and creating a large portfolio of new products that leveraged what we were able to do well," Conant says.
As head of Nabisco's refrigerated foods business in the 1990s, when Nabisco acquired Parkay Margarine, Goldman bucked tradition by introducing three tiers of margarine products — premium, popular, and value-priced.
"As simple as that sounds, that was a radical step for the margarine category," says Colin Watts, then Nabisco's head of marketing for Refrigerated Foods and now chief innovation officer at Walgreens.
"We always used to joke about getting voice mails from him with his latest idea in the middle of the night and at any time of day," says Sean Connolly, president of Campbell USA, who worked for Goldman as vice president of Food Brands at Campbell. "He was always thinking about how to take the business to a whole new level."
At Godiva, some of the recent attempts to take the business to a whole new level have sparked skepticism along with excitement. In particular, Breuer cites the move into pharmacies and supermarkets. But when Goldman wants to sell a concept, his tenacity, diplomacy, and enthusiasm usually win the day, she says. "He tends to be a leader who can inspire others, whom others will take a leap of faith for."
Goldman brings tremendous energy to his role as a corporate leader, Marberger says. "When he feels strongly about something that's going to drive the business, and drive value, he is just passionate about it. And he's relentless."
A deep interest in human dynamics — an interest that goes back to his days as an undergraduate psychology major, summer camp counselor, and high school teacher — is one of the keys to his success as an executive, says Goldman. "I don't think you can be successful if you can't work with people successfully, if you can't motivate them and identify talent." He takes great pride in seeing how many of the people he has hired over the years have gone on to achieve great things, he says.
Another key to Goldman's leadership is his ability to take stock of a situation and then make a firm decision. "Over-analyzing can often lead you down the wrong path." Goldman says. "As a company, we're not going to be sitting here at the plate with the bat on our shoulders and be afraid to swing."
There will be many occasions to take decisive swings as Godiva continues to pursue its new strategies. The trick will be to choose those swings wisely.
"We have to make sure we focus in the right areas," Goldman says, "that we do it in a quality way and that we don't outstrip our ability to execute with excellence."