Fresh, new energy jump-starts a national icon
Hernan Mendez, MBA '83, President of Procafecol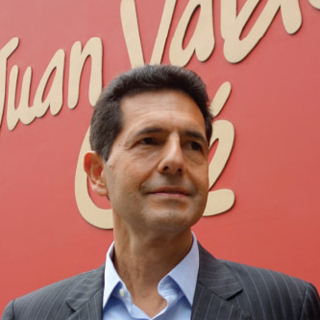 When Hernan Mendez took over as head of Colombia's Juan Valdez coffee business in 2010, the retailer was in sad straits. Parent company Procafecol was on the verge of bankruptcy and its misguided expansion plans for its chain of coffee shops had been deep-sixed. The executive corps was dispirited and the brand's mustachioed namesake, a national icon, was in serious jeopardy of losing his aura.
Mendez has since led a remarkable turnaround at the company and started it down a road of growth and profits, a success story that speaks volumes about his education, experience, and talent. Mendez's career trajectory provides a model for many young executives, particularly those whose ambitions point to international business.
The numbers tell the story. In less than four years at the helm, Mendez has nearly doubled Juan Valdez revenue and turned losses into healthy profits. Insiders say a once restive corps of executives is now united behind common objectives. The thousands of coffee growers who are the company's owners are seeing millions of dollars in annual royalties.
Juan Valdez, which has been around as a Colombian coffee trademark since 1958 but as a retail coffee chain only since 2002, will end this year with about 312 coffee shops — 207 in Colombia and 105 in 13 foreign countries (including 11 in the United States). That's almost three times the 112 total outlets open when Mendez signed on. A key to the company's newfound health has been its embrace of franchising, a business model pushed by Mendez that the company previously had resisted.
"I feel that I'm making a real difference in the lives of thousands of mostly small, humble, coffee-growing families. That's an important part of what motivates me to come here every day," said Mendez, who was interviewed in the Procafecol office in north BogotÁ.
Procafecol headquarters is in the same office tower as the Colombian Coffee Growers Federation, which represents the nation's 564,000 coffee farmers and which owns 84 percent of Procafecol's Juan Valdez brand. Another 12 percent of the company's equity is owned by the World Bank's IFC investment arm and 4 percent by a smaller group of 18,000 coffee growers.
On his arrival at Juan Valdez, Mendez was a seasoned executive with experience gleaned at several multinationals, including Dow Chemical, Exxon, and Alpina, another iconic Colombian brand of dairy products whose international expansion he guided. The once-regional Alpina now sells in South and Central America, the Caribbean, and the United States in addition to Colombia.
Mendez brought some time-tested business practices to the table. One was his insistence on "participatory" decision making. He constantly reaches out to Juan Valdez employees, from cashiers to vice presidents, to solicit suggestions as well as get feedback on his ideas for improving the company.
"He loves hearing what those who work alongside him have to say," said Eduardo Lehmann, Procafecol's vice president of manufacturing and supply chain, who has been with the Juan Valdez chain since the coffee federation opened it in 2002. "It shows his respect for people, but also that his decisions have been thoroughly evaluated from all sides."
But the turnaround took some wrenching adjustments. He put in place strict cost controls and benchmarks and reset corporate culture from a "silo" communication mode to a more transparent, consensus-seeking style. He had to raise morale that had been hammered by the closure prior to his arrival of many Juan Valdez outlets, including flagship stores in New York and Madrid.
"As a firm proponent of 'managing by walking around,' I started integrating people and getting everyone to focus on teamwork and a common purpose by defining goals and letting people know what they could do to help," said Mendez, who added that his management philosophy is founded on respect, preparation, and openness.
Pretty words, to be sure, but people who know Mendez say he lives by them. "There has been a total change in organizational climate. Before he got here, each department was looking out after its own objectives, and now we have formed a real team," said Adriana Ochoa, Procafecol's VP of commercial operations.
Mauricio Rodriguez, Mendez's former boss at Dow Chemical's Colombia unit and later ambassador to Great Britain (2009 to 2013), says Mendez's communication skills, international experience, and old-world values, added to his track record at Alpina and Juan Valdez, make him "one of Colombia's best executives."
"Hernan's way of treating people is friendly, respectful, and organized, in his personal as well as his professional life," said Rodriguez. "He is also extremely logical and systematic, and so he was a perfect complement to someone like me who is creative, visionary, and chaotic."
Mendez, who got his undergraduate degree in industrial engineering at BogotÁ's Javeriana Pontifical University, said a key factor in his career success was getting his MBA at Johnson, which he chose over other graduate schools, including Penn's Wharton School, because of its reputation and also for Ithaca's rural ambience.
"I personally feel close to nature and wanted to be in a small town instead of a big city. I feel I got a better balance of life and study," said Mendez, whose hobbies are trekking and tennis.
But his appreciation of most things American began long before he enrolled at Johnson. His father, also named Hernan, was a highlevel executive at Burroughs Corp. who moved his family around the hemisphere, including to Detroit for three years. There, Mendez attended elementary school, joined the Boy Scouts, and played Little League baseball.
"I liked and identified with the American way of doing things," Mendez said. "The U.S. was a clear choice for my higher studies. That's why I didn't apply to schools in any other country. As a family member, I had lived the life of a U.S. multinational employee. I had seen my father grow and develop, and I knew that was the path to follow."
It was no accident that his first job after getting his BS degree from Javeriana was at Exxon Colombia, where he worked in the economics and planning department. Influenced by his boss there, Mendez decided that he liked finance and that it should be his focus at Cornell.
At the same time, Mendez had deep roots in Colombia and knew at the outset it was where he wanted to live and work. So, after earning his MBA at Cornell, he returned home and landed a job with Dow Chemical as a credit analyst in the company's pharmaceuticals and agricultural products division.
For a variety of reasons, working for Dow in Colombia was an auspicious start for Mendez's career. Responsible for the creditworthiness of customers that included big city hospitals as well as coffee and rice farmers in the countryside, he got to know Colombia inside and out. Later, after being promoted to treasurer of Dow, which made him the company's principle cash manager, he forged close relations with the country's largest banks.
Next it was on to Mexico City, where Dow made him CFO for its Mexican operations. There, Mendez learned the ins and outs of currency trading, perhaps the job's biggest responsibility. That was because Dow's Mexico unit was largely a commercial and financial business, since its manufacturing for the Mexican market was virtually all done in the United States.
Learning about currency trading helped Mendez enormously in his subsequent positions because it is essential in managing a multinational business, Mendez said.
"Perhaps more important, my Dow experience taught me the value of teamwork," Mendez added. "Dow Colombia General Manager Rafael Pavia liked to hire smart people and get everybody's opinion because it led to decisions that we all felt part of. We felt we had had a chance to express our views and that our ideas had been taken into account."
In 1992, Mendez was hired as vice president of corporate development at Alpina, a respected, well-known dairy concern based near BogotÁ that had ambitions of growing beyond Colombia's borders. Over the next decade, he helped manage the consumer goods company's entry into new product lines as well as expansion into Venezuela and Ecuador.
Ivan Lopez, Alpina's VP for business development who worked with Mendez from 1998 to 2001, said Mendez's leadership style could be summed up by charisma, communication, and "emotional intelligence."
"By that I mean comporting himself in such a way that made the business function well not by organizational charts but with his listening and participatory leadership style that pulled people along because they wanted him to succeed," Lopez said.
Mendez needed his communication skills to persuade the family-controlled business to invest the millions of dollars required to modernize and expand internationally. Convincing the board to invest in a multimillion dollar Oracle IT system was especially difficult, not only for the high cost but because adopting it would require "changing the working habits of the entire company."
"Alpina wanted to make a big corporate leap. But balancing corporate needs with those of a family business is very challenging. Especially when you are talking about investment in an IT system from which shareholders wouldn't see a return for two or three years," Mendez said. Eventually, the Oracle system paid big dividends and Mendez was promoted to Alpina CEO.
In 2002, Mendez left Alpina to head one of its suppliers, Phoenix Packaging, a company with operations and stakeholders in Colombia, Venezuela, and Mexico that made plastic containers and also had big expansion plans. His international experience plus his familiarity with petrochemicals as a former Dow executive made him the ideal candidate.
Over the next seven years, Mendez put his multicultural background to work in balancing the interests of owners from three different countries. "You have to gain the confidence of your board, your customers, and suppliers and one good way of doing that in a country like Mexico, for example, is sit down, have a meal, a few tacos and shots of tequila, together. I became keen about adapting to cultural differences, and now I believe it's a strength of mine."
But the fates of Mendez and Juan Valdez seemed destined to intersect, so well-suited are CEO and company to each other. Mendez's predecessor as CEO, Catalina Crane, had done a lot of the "dirty work" in restructuring the debt and closing money-losing stores prior to leaving for a job in Colombian President Juan Manuel Santos' administration. But the company cried out for someone with Mendez's experience in managing international expansion and applying best business practices.
As for Mendez, taking over at Juan Valdez was appealing because it was "a brand close to Colombians' hearts and because it was a diamond in the rough." Nearly four years later, the company's "recovery from the abyss" is nearly complete. More franchise-led expansion is planned.
"There is a big appetite for the Juan Valdez brand, and we have hundreds of requests for franchises coming in from all over the world. So why not do it?" Mendez said.
"This is now a growing and profitable business that is benefiting Colombian coffee farmers. We now know that they are our real bosses — and that we are contributing to their welfare. That moves me and motivates all of us to work hard and keep this company moving forward."
A former foreign correspondent with the Los Angeles Times, Chris Kraul is a freelance writer based in BogotÁ, Colombia.