2015 Duke Energy in Emerging Markets Case Competition
11/23/2015
Lighting Africa: Johnson Students' Proposal to Bring Solar Systems to Africa Wins the 2015 Duke Energy in Emerging Markets Case Competition
---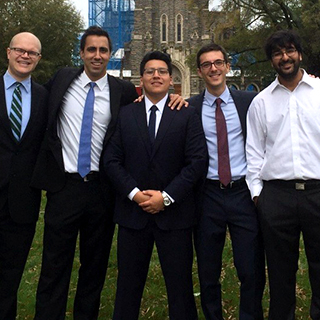 From the very first moment we signed up for the case competition we knew it was going to be an exciting experience, and the winning announcement was no less challenging than the rest of the three-week adventure. At first, it seemed as though our team from Johnson would place second among the finalists of the Duke Energy in Emerging Markets Case Competition. As the case competition organizers announced the runners-up as "Team 9 – Cornell," our team members, including Aidan Renaghan (MBA/MPA 2017), Vince Kapur (MBA 2017), Carlos Palacios Tayro (MBA 2017), Rishi Sanghvi (MBA 2016), and Riccardo Pizzi (M.Eng 2016), felt a tinge of heartbreak as we began walking toward the stage. However, we suspected the result was not totally clear.
We had been working hard for weeks preparing for the case competition, which is hosted annually by Duke University. The contest brings multi-disciplinary teams from around North America together to present innovative business solutions for improving energy access in emerging markets. This year, the case focused on Off.Grid:Electric (OGE), an American company working to provide small-scale solar systems to rural communities in Tanzania.[1] The company has designed a patented pay-as-you-go (PAYG) home power system called M-Power. Their design allows customers to make mobile payments every month for purchasing access codes to utilize the energy generated by small solar panels on their roof. The company recently closed a $25 million Series C funding round led by SolarCity and DBL Partners and has been installing roughly 15,000 systems each month.[2] OGE is now considering an expansion of its product line to offer high-end solar systems that would allow customers to use appliances such as TV and refrigerators. In addition, they are also planning to expand business into neighboring Rwanda. For the case competition, each team was allowed two weeks to prepare two solutions: a business plan to rollout high-end solar systems in Tanzania as well as a strategic plan for expansion into Rwanda.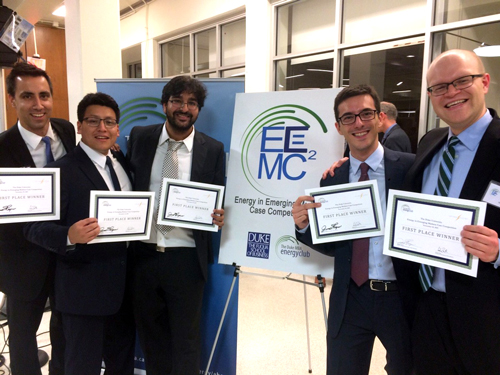 Fourteen top MBA programs from the U.S.A. and Canada competed at the event. In the morning, each team presented to a judging panel of four energy and economic development experts. Our first round judging panel included representatives from Siemens, Accenture, and First Solar, as well as Jim Rogers, who is not only former Chairman and CEO of Duke Energy but also a renowned ambassador for promoting sustainable energy for the developing world. Our focus was on economic development for rural businesses owners, using solar systems to create new sources of income such as mobile phone charging or refrigeration of fast-moving consumer goods. After lunch, we were selected as one of four finalist teams to present our expansion plans for Rwanda to the full panel of fourteen judges. Our strategy for Rwanda was to pilot a layaway program for expandable small-scale systems. We proposed to incentivize regular customer payments via a loyalty rewards program which would not only leverage regular customer interactions to generate a wealth of data on consumer preferences but would also be the first of its kind in Sub-Saharan Africa.
After a strong performance in final round, we waited patiently at the post-event reception while judges took extra time to deliberate in response to the close competition. In the meantime, we took advantage of the opportunity to network with a number of the students from other schools who were focusing on providing energy access in emerging markets. We were all mutually excited and motivated by the passion and experience of fellow MBA students in this space. Finally, the organizers emerged to present the results, and we heard the initial announcement of our second place result. Although we felt disappointed, we knew that the other finalists from Duke University, University of Michigan, and Washington University in St. Louis offered stiff competition. Something seemed amiss however, as the runner up was announced as "Team 9 – Cornell" when our team was actually Team 12! Immediately, one of the judges came up on stage to confer with the announcer and, offering apologies, they left the stage to reconfirm the result. After a few minutes of discussion, the runner-up announcement was corrected to "Team 9 – University of Michigan," followed by the declaration that "Team 12- Cornell University" was in fact the overall winner of the competition. The thrilling finale reflected the excitement and unpredictability of the previous three weeks our team had spent developing solutions to fight energy poverty in Africa.
Our team is incredibly grateful for the support provided by Johnson Graduate School of Management and Cornell University. We are especially thankful for the support provided by the Emerging Markets Institute, with particular gratitude to Roberto Cañizares ('71, MBA '74). The generous support of the Cañizares Fund at the Emerging Market Institute enabled us to proudly represent the Johnson School at this unique event for the first time. We are additionally appreciative of the advice and support of our fellow students, as well as from faculty and staff at the school. Johnson is a unique place where future leaders interested in energy issues and emerging market opportunities can come together to address seemingly intractable problems. We expect to build a new tradition of participating in this completion going forward and look forward to defending our title next year!
---
[1] http://offgrid-electric.com/#home
[2] http://www.greentechmedia.com/articles/read/Off-Grid-Electric-Raises-25M-From-DBL-Partners-and-SolarCity-for-Micro-Sol