Innovation can change the quality of life in emerging markets
02/26/2016
M-PESA is a transformative mobile phone-based platform for money transfer and financial services.
by Leandro Chique MBA'16 EMI Fellow, MJ Myungwon MBA'16 and Trisha Chang AMBA'16 EMI Fellow
---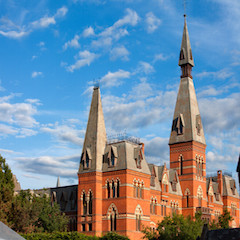 Last week we learned of a very good example regarding how innovation can change the life in emerging markets. Professor Ndunge Kiiti presented to us the significant impact M-PESA has had on Kenya since its introduction in 2007. M-PESA is a transformative mobile phone-based platform for money transfer and financial services. In the following sections, we have summarized the key advantages and the key challenges of the M-PESA system as well as the relevance to Cornell MBA students today.
The three main advantages of M-PESA that Professor Kiiti highlighted in her presentation to us were access, usage, and quality.
First, access. Due to the low technology required (i.e. a basic mobile phone), ease of use, and no required transaction minimums to receive services, M-PESA is accessible to many. Professor Kiiti noted that M-PESA has extended financial inclusion for nearly 20 million Kenyans and facilitated the creation of thousands of small businesses.
Second, usage. During the July 2015 Global Entrepreneurship Summit in Nairobi President Obama remarked that, "Millions of people send and save money with M-PESA." M-PESA has been especially impactful for two particular segments, the small and medium-sized enterprises (SMEs) and low-income individuals. For the SMEs it has been a game changer due to the fact that one of the largest constraints of growth for SMEs is the lack of capital and M-PESA solves this issue with its lending (i.e. individuals can borrow from 100 – 500,000 KShs instantly[1]) and fundraising features (i.e. individuals can utilize the "Send money home" feature to help provide funds for a wide variety of needs). For the low-income segment, it is changing the quality of life. In a 60 minutesepisode, the correspondent met with a pig farmer, Stephen Wainaina Waweru, who lived in a slum called Kanaani. Mr. Waweru told his story of how, through M-PESA's loan feature where he paid $35 upfront and then 40 cents a day for year, he was able to shift from toxic kerosene lamps to solar power for light in order for him to tend to his pigs and for his children to do their homework without putting their health at risk.[2]Through this type of empowerment, the usage of this population has grown significantly. It was noted that the percentage of people in Kenya living on less than $1.25/day who use M-PESA grew from less than 20% in 2008 to 72% by 2011.[3]
Then there is quality. First, quality of life. People no longer have to go to and bank each time they need money, which saves time and money (i.e., no need to travel, wait-in-line or pay an employee to do so) as well as reduces risks (e.g., getting robbed while carrying large sums of money). Second, quality of the transaction. People are able to verify immediately whether or not the funds were transferred for the correct amount. An example that Professor Kiiti provided us was the selling of a cow by her sister. Her sister was able to negotiate the selling price of her cow, verify the funds transferred into her account, and authorize the delivery of a cow to the buyer all within three minutes and remotely. In addition, through the introduction of M-PESA, it has eliminated a cash-only environment, reducing cash mismanagement.
Key Challenges
The three main challenges of M-PESA that Professor Kiiti highlighted in her presentation to us were its socio-economic condition, scaliability and lack of education.
First, socio-economic condition. Unfortunately, In Kenya, many people do not have a job and do not have enough money to transact. From M-PESA management's point of view, if their customers or potential customers do not have money or income at all, M-PESA businesses cannot grow as much as they want.
Second, scalability. In rural areas, very little investment happens. That makes huge difference of infrastructure between urban and rural areas. For example, in rural area, there are much less people using mobile phones compared to urban areas. It made telephone service providers invested way less in rural areas. Therefore, M-PESA cannot facilitate and customers in rural areas cannot fully use mobile money service in rural areas.
Last, lack of education. If you look at the information provided to users when they first sign up, you will notice two glaring issues. First, the information is provided in English, not the native language. Second, there is a plethora of information. Even as a native English speaker, the amount of information provided is overwhelming. Even though the 2015 literacy rate of Kenya is 87.5%,[4] literacy and financial literacy are two different things. For those that are able to read what is written, they may not be able to fully understand what they read.
Conclusion: Relevance to Cornell MBA Students
Even though Kenya is thousands of miles away from Ithaca, New York, M-PESA is very relevant to Cornell MBA students. Understanding M-PESA should open our eyes to a world of opportunities in emerging markets. M-PESA is a solid example of how we should view the world, as creative opportunities, rather than hurdles. M-PESA also highlights the importance of understanding customer needs, pain points, and capabilities in order to unlock huge potential.
---
[1] http://www.safaricom.co.ke/personal/m-pesa/do-more-with-m-pesa/kcb-m-pesa-account
[2] http://www.cbsnews.com/news/future-of-money-kenya-m-pesa-60-minutes/
[3]http://www.forbes.com/sites/danielrunde/2015/08/12/m-pesa-and-the-rise-of-the-global-mobile-money-market/#6b22149823f5
[4] http://www.indexmundi.com/kenya/literacy.html