Global Markets, Enterprises and Development Research Day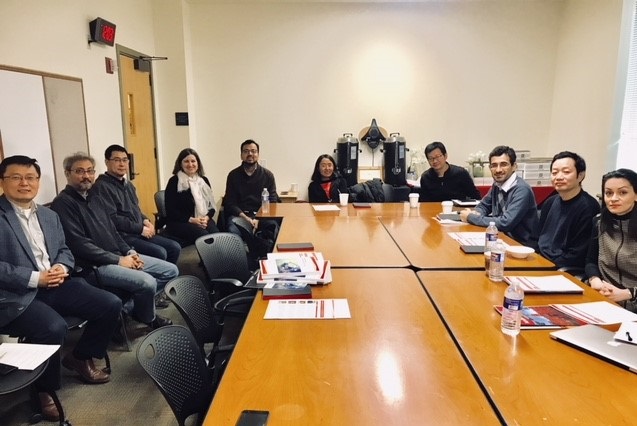 Organizers: Arnab Basu, Professor (Dyson), Lourdes Casanova, Senior Lecturer of Management (Johnson) and Sofia Kalantzi, Lecturer of Economics, (Johnson)
The Emerging Markets Institute provides thought leadership on the role of emerging markets – and emerging market multinationals – in the global economy. The institute brings together preeminent practitioners and academics from around the world to develop the next generation of global business leaders and create the premier research center on the role of emerging markets in the global economy.
The purpose of the one-day gathering was to bring together researchers, faculty, and PhD students who are interested in sharing knowledge, presenting their research and ideas, and creating a strong network in the field of Global Markets, Development and Enterprises.
Arnab Basu, Professor (Dyson)
Arnab Basu's main research interests are in the areas of labor markets in development countries, the economics of eco-and social labeling and field experiments to elicit behavioral preferences. Within labor markets, Arnab's research spans topics on the informal sector, minimum wage and enforcement, labor contracts, employment guarantee schemes, child labor and human trafficking. He has also explored the economics of statistical discrimination regarding product quality and how it impacts comparative advantage in trade between nations, how international product market shares and adoption of eco-labels by developing countries are related, and how incomplete information on labeled products impact consumer willingness to pay.
Lourdes Casanova,Senior Lecturer of Management (Johnson)
Lourdes Casanova, Senior Lecturer and Director Emerging Markets Institute, S.C. Johnson School of Management, Cornell University, formerly at INSEAD, specializes in international business with focus on emerging markets multinationals. Awarded in 2014 and 2015 one of the 50 most influential Iberoamerican intellectuals by Esglobal. Faculty Fellow at the Atkinson Center for a Sustainable Future. Fulbright Scholar with Master degree from University of Southern California and PhD from University of Barcelona. Taught, directed executive programs at INSEAD for senior managers including Telefónica, BBVA and Cemex and Brazilian Confederation of Industries.Presentation Title: Speed, Flexibility and Global Reach: The Rise of Chinese Multinationals
Miguel Gomez, Associate Professor with Kalob Williams and Sergio Puerto, Ph.D (Dyson) 
Miguel Gómez is Associate Professor at the Charles H. Dyson School of Applied Economics and Management. He is a Fellow of the David R. Atkinson Center for a Sustainable Future at Cornell University. His research program focuses on two interrelated areas under the umbrella of food marketing and distribution: Supply Chains Competitiveness and Sustainability and Retailing and Channel Relationships. The scope of his research program is domestic and international, the latter emphasizing food value chains in Latin America and the Caribbean.Presentation Title: Food Value Chains in Latin America
Maulik Jagnani, Ph.D, (Dyson-AEM)
Maulik Jagnani is a Ph.D. candidate in the Charles H. Dyson School of Applied Economics and Management at Cornell University where he specializes in Development Economics, Environmental Economics and Economics of Education. A native of Bombay, India, Maulik received his undergraduate education from University of Mumbai ('09), and attended Masters program in Economics at Tufts University ('12). Prior to beginning his graduate studies at Cornell, Maulik worked as a Senior Research Associate at IFMR Centre for Micro Finance/ MIT Poverty Action Lab (J-PAL) in Gujarat, India.Presentation Title: The Effects of Elite Public Colleges on Primary and Secondary Schooling Markets in India
Sofia Kalantzi, Lecturer of Economics, (Johnson)
Dr. Sofia Kalantzi is a Lecturer of Economics at the Samuel Curtis Johnson Graduate School of Management at Cornell University, New York. She holds a Bachelor's of Science in Economics from Aristotle University, where she graduated Summa Cum Laude and with the highest GPA in the past 30 years of the school. She received her Ph.D. in Economics from the LeBow College of Business of Drexel University where she was the recipient of the Symbolic Degree of Drexel University on behalf of all Ph.D. graduates of the LeBow College of Business. Additionally, Sofia holds a degree in Violin Performance and has participated in numerous concerts and international competitions throughout Europe.
Christina Korting, Ph.D (Dyson)
Christina Korting is a Ph.D. candidate in the Charles H. Dyson School of Applied Economics and Management at Cornell University. Her research focuses on the intersection between environmental and behavioral economics. Current projects include work on U.S. biofuels policy, the transition to electric vehicles as well as behavioral aspects of electricity contract design.Presentation Title: Who Will Pay for Increasing Biofuel Mandates? Incidence of the Renewable Fuel Standard with a Blend Wall
Baohong Li, Visiting Scholar EMI
Dr. Baohong Li is a visiting scholar at Cornell University, associate professor at School of Economics and Management, Beijing University of Posts and Telecommunications (BUPT), mainly engaged the research of innovation and standard strategy in ICT (information and communication technology)Presentation Title: The 5G Mobile Communication Innovation in China
Shanjun Li, Associate Professor (Dyson)
Shanjun Li is an Associate Professor of environmental and energy economics and sustainable enterprise in the Dyson School of Applied Economics and Management at Cornell University and a faculty research fellow at NBER. He serves as the co-director of Cornell Institute for China Economic Research. His research areas include environmental and energy economics, empirical industrial organization and Chinese economy. His research goal is to improve public policy making through understanding the impacts of public policies and efficient policy design.
Presentation Title: Air Pollution, Health Spending and Willingness to Pay for Clean Air in China
Gary Lin, Ph.D (Dyson)
Presentation Title: The Effects of Manufacturing Decline on Young Adults: Evidence from China's Accession to WTO
Sergio Puerto, Ph.D. (Dyson)
Kalob Williams, Ph.D (Dyson) 
Kalob Williams, Dyson MS '19 is Ph.D. candidate in the Charles H. Dyson School of Applied Economics and Management at Cornell University. His concentration is international and development economics. "One of my main goals for this trip, aside from aiding Mukumu Fresh Produce in their expansion efforts, was to explore the efficacy and implications of agricultural development on the large scale.
Rohit Verma, Dean of External Relations JCB
Rohit Verma is the dean of external relations for the Cornell College of Business, the executive director of the Cornell Institute for Healthy Futures (http://ihf.cornell.edu/), and the Singapore Tourism Board Distinguished Professor in Asian Hospitality Management at the Nolan School. Verma has published over 70 articles in prestigious academic journals and has also written numerous reports. He regularly presents his research, participates in invited panel discussions, and delivers keynote addresses at major industry and academic conferences around the world. He is co-author of the Operations and Supply Chain Management for the 21st Century textbook, and co-editor of Nolan School on Hospitality: Cutting Edge Thinking and Practice.Presentation Title: Emerging Global Trends in Hospitality