VALENTINE RUGWABIZA
Ambassador of Rwanda | United Nations
---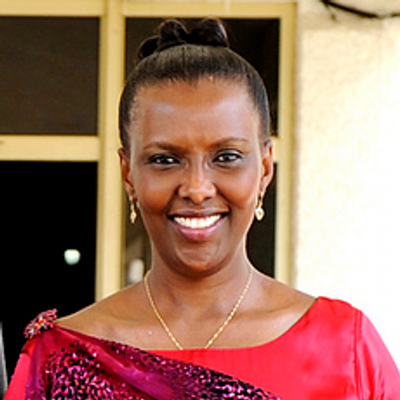 Valentine Sendanyoye Rugwabiza currently occupies the post of Deputy Director-General of the World Trade Organization. In this role, which she took up in October 2005, Mrs. Sendanyoye Rugwabiza's responsibility covers development issues and policies generally; trade policy review; trade facilitation; and training and technical cooperation. She is also responsible for the WTO work programme on Aid for Trade.
Valentine Sendanyoye Rugwabiza has extensive work experience in senior government and private sector positions. Prior to her current post, she served for three years simultaneously as Rwanda's Permanent Representative to the UN in Geneva, Head of Delegation to the WTO and Ambassador Extraordinary and Plenipotentiary to Switzerland.
Prior to this assignment she was adviser at the Council of Economic and Social Affairs in the Office of the Rwandan President in Kigali.
Mrs. Sendanyoye Rugwabiza managed her own company which she had established upon her return to Rwanda after the 1994 genocide. Previously she had worked as a senior manager with a major Swiss multinational company, first as head of its commercial development and marketing operations for Central Africa, based in Yaoundé, Cameroon, and then as its regional manager for Central and West Africa, based in Abidjan, Côte d'Ivoire.
Valentine Sendanyoye Rugwabiza is a founding member of the Rwandese Private Sector Federation, the Rwanda Women Entrepreneurs' Organization and the Rwandese Women Leaders' Caucus.
During her tenure as Rwanda's Ambassador, she was Coordinator of the African Group in the WTO and was one of the two Ambassadors representing the LDCs in the Integrated Framework Working Group. She initiated the Integrated Framework in Rwanda.