GEORGES UGEUX
Chairman & CEO | Galileo Global Advisors
---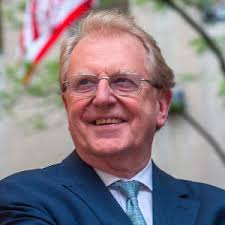 Georges Ugeux is the founder of Galileo Global Advisors, which offers CEOs, boards of directors and governments independent advice on international business development, mergers and acquisitions, and capital raising. The firm specializes in cross-border transactions to and from emerging markets. Prior to founding Galileo, Ugeux was group executive vice president of International & Research at the New York Stock Exchange, where he built and managed the exchange's international group.
Ugeux, a dual American and Belgian national, began his career at Société Générale de Banque, the leading Belgian bank, where he became general manager of the investment banking and trust division. He was the managing director of Morgan Stanley's mergers and acquisitions department in London, as well as the group finance director at Société Générale de Belgique, the leading Belgian diversified industrial and financial conglomerate. In addition, Ugeux was the president and managing director of Kidder, Peabody Europe while serving as a member of the management committee and the board of directors of Kidder, Peabody, Inc. He was in charge of the firm's global origination efforts, and was also a member of the European Corporate Executive Council of General Electric Inc.
He served as a special advisor of the Program on International Financial Systems of Harvard Law School. He is a U.S. FINRA registered representative with Series 24 and Series 62 licenses. Ugeux is honorary chairman of the Belgian American Chamber of Commerce and of the Catholic University of Louvain Foundation. He is a director of Amoeba Capital, British American Business, Inc., and the French-American Chamber of Commerce. Ugeux sits on the international advisory board of the Vlerick Leuven Gent Management School and Oxford Analytica. He is officer of the Order of Leopold.