M-Pesa and Kenya: Why Mobile Money Matters?
Most people probably don't think of Kenya as an innovation and technology hub, but it became the launching pad for M-Pesa, a transformative mobile phone-based platform for money transfer and financial services.
---
Most people probably don't think of Kenya as an innovation and technology hub, but it became the launching pad for M-Pesa, a transformative mobile phone-based platform for money transfer and financial services.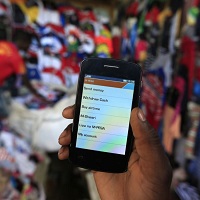 by Chao Yi, Eva Zhang, Bihan Zhu and Viviane Gomide
In the course Leaders in Emerging Markets many students were introduced to a transformative innovation and technology, a mobile based platform for money transfer and financial services. Ndunge Kiiti, visiting Professor from Houghton College, presented M-Pesa and mobile money as a process of reducing people's vulnerabilities, a way to increase their capacities and an interesting business opportunity in Emerging Markets. Within this system, M-Pesa users are given a pin-secured account on their mobile phones, which transforms their phone into a mobile wallet. M-Pesa leverages existing infrastructure, connects communities and facilitates humanitarian aid.
Safaricom, the company that developed M-Pesa, which Vodafone partially owns (40%), invested heavily in security and privacy. Currently, the majority of international agencies that operate in the country uses M-Pesa to pay their employees. Safaricom also invested massively in branding and advertisement, owning now 80% of the market share. An expansion of M-Pesa is being noticed, with the creation of other products with links to banking (e.g., M-Kesho and the Equity Bank; M-Benki and Kenya Commercial Bank; and, finally, M-Shwari and the Commercial Bank of Africa).
Professor Kiiti used M-Pesa to create a partnership between Kenyan Red Cross, Kenya Commercial Bank and Safaricom in order to raise 10 million dollars for humanitarian efforts, such as refugees camps. What makes Kenya a country in which mobile money is so much more successful? It is unique because it is where mobile money began in the first place. Indeed, the mobile money ecosystem is a particularly innovative landscape. Thus, it is perhaps not surprising that M-Pesa is considered a source of security in Kenya by fomenting rural development through easier access to financial transactions.
Another aspect of the success in Kenya is the policy environment. The government has made it possible to have a legal and regulatory framework that fosters the development of Public-Private Partnerships. Today, Kenya is a leading actor in the mobile money sector: approximately more than 26 million subscribe to the network with over 127.000 agents. Between 31% and 50% of Kenya's GDP is estimated to flow through this network, as over 50% of the population continue to be without a bank account and to rely on platforms such as M-Pesa.
As a developing country, Kenya is skyrocketing in internet developing. Chart 1 explains the internet penetration relative to other countries. We observe that Kenya has nearly equivalent internet penetration rate to that of China, who has a booming internet and fintech industry. Indeed, a high penetration rate bodes well for the development of the fintech industry.
Chart 1: Internet user percentage of population comparison in major countries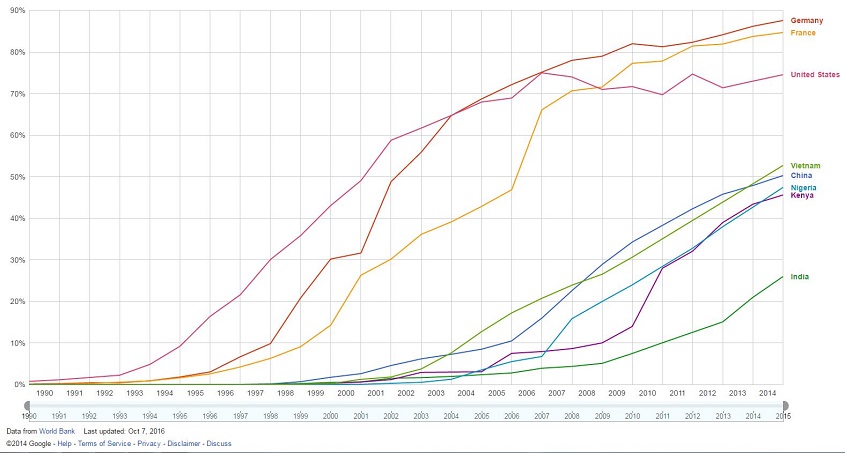 M-Pesa is also attractive because it partially meets the needs of the Kenya people with regards to security and convenience. Chart 2 for instance compares M-Pesa stores with other financial facilities in Kenya. As evidenced below, M-Pesa stores have far more presence than the traditional financial service provider, e.g. bank branches, post offices and etc. This makes Kenyan people easily accessible to fintech services. The value to the customer of a payment system depends on the number of people connected to and actively using it: the more people are on the network, the more useful it becomes. Therefore the accessibility is the foundation for M-Pesa's fast growth.
Chart 2: Comparison between M-Pesa and other Financial Facilities in Kenya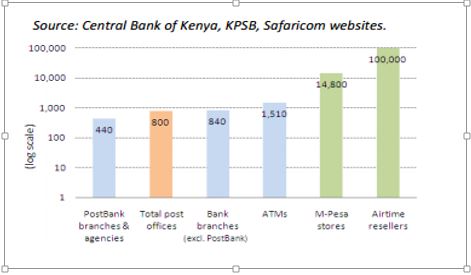 M-Pesa also creates trust between users and the company. To make customers comfortable with the reliability of the new payment system, M-Pesa aims to meet the following demands of its customers: (i) a payment system operated by a mobile operator; (ii) non-bank retail outlets to meet cash in/cash out needs, and (iii) account access and transaction services through mobile phones. From channel management to brand and to price, M-Pesa won the customer. For example, Safaricom effectively leveraged its extensive network of airtime resellers to build a reliable, consistent store network that served customers' needs.
Contributing to Safaricom's success:
One single message. Safaricom set a very clear message behind M-Pesa. It was not invented to replace cash which people use in their daily lives, but to provide a means to solve the distant payment issue. The tagline "send money home" was really effective in promoting M-Pesa. Focusing on one tagline helped Safaricom in delivering its core message about M-Pesa, thereby leading to a successful new product promotion.
Large scale launch through all media channels. Safaricom chose to launch M-Pesa nationwide. Safaricom had around 750 stores at the time, which needed to collaborate effectively. There were indeed errors across the stores. However, it was comprehended by customers as the product was new and it took time for them to become familiar with it.
Customer experiences and services. In building up a new brand and selling a new product, the customer experience would become the key success factor. What Safaricom did to achieve the best outcome was to provide consistent storing and staff training so that every store was able to provide necessary and quality customer services. Specifically, the store clerk was able to explain all the details of M-Pesa and to answer questions that both new and returning customers would have.
An easy to use application. Safaricom designed the M-Pesa in an easy to use way. Considering customers used very basic phones without advanced features or capacity, M-Pesa was designed to cater to such a requirement so that it could be installed in almost all phones. For M-Pesa to be accepted by customers, Safaricom provided the sim card for free. Despite the cost, this helped give Safaricom a chance to meet customers and to sell a new product.
Overall, Safaricom sets a great example of innovation in the design and launch of a new product in an emerging market.