Searching for Unicorns in the Land of the Phoenix: The Lebanese startup ecosystem
The Lebanese capital of Beirut has become home to a growing startup ecosystem. With the right kind of support, it's only a matter of time until a highly valuable and innovative company emerges, attracts international attention.
---
The Lebanese capital of Beirut has become home to a growing startup ecosystem. With the right kind of support, it's only a matter of time until a highly valuable and innovative company emerges, attracts international attention.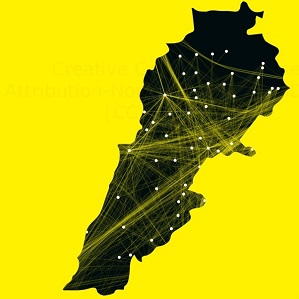 by Sam Assaf and Abhiram Muddu
When one mentions the middle eastern startup scene, it is almost impossible not to think of the nearly constant flow of successful Israeli startups including two unicorns (private companies valued at $1B or more) [1]. In fact, Israel is the eponym of Dan Senor and Saul Singer's book "Startup Nation: The Story of Israel's Economic Miracle." However, just 132 miles North along the Mediterranean coast from Israel's financial and tech hub of Tel Aviv-Yafo, across an indefinitely closed border, a figurative new kid on the block has appeared. Commonly associated with the myth of the Phoenix due to its seven cycles of destruction and rebuilding according to local folklore, the Lebanese capital of Beirut has become home to a growing startup ecosystem.
This article describes the Lebanese startup ecosystem according to 4 broad factors: education, talent pool, government incentives, and incubators/accelerators & events.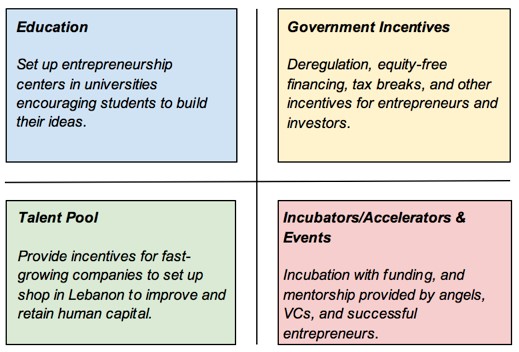 Education
Lebanon boasts what is widely considered the best university in the Arab world, the American University of Beirut (AUB), as well as many other educational institutions with engineering and other technical programs. The country, however, still lacks programs focusing on innovation and entrepreneurship. While AUB does have a research center dedicated to the study of entrepreneurship and innovation [2], besides the sporadic sponsored competitions and "innovation days," it does little to stimulate entrepreneurialism. In fact, the only real hands-on program dedicated to entrepreneurship in Lebanon is not offered by a university or school, but rather by AMIDEAST, a non-profit organization promoting cooperation between American and Middle Eastern educational institutions. The AMIDEAST Entrepreneur Institute, started by Cisco in 2010, trains aspiring entrepreneurs on various aspects of starting and growing a business [3].
Talent Pool
With abundant technical and business schools, one would expect a top-notch talent pool. Unfortunately, Lebanon suffers from an emigration problem as the country's human capital is continuously leaving the country in search of better opportunities due to low salaries, limited career advancement, and government instability. A recent study has shown that about 34% of Lebanese are actively seeking to leave the country [4]. Unless incentives are put in place to halt the exodus of Lebanese youth, Lebanon can expect to keep forfeiting its brightest human capital.
When it comes to tech entrepreneurship, it would be beneficial for young rapidly growing tech firms to set up shop in Beirut and engage with ambitious graduates. After all, the entrepreneurial journey is not exclusive to founders, but also belongs to early employees who take the risk to build something big.
Government Incentives
Starting a business in Lebanon is not an easy process. There is a long list of regulations that are unconducive for entrepreneurs. For instance, 25% of the board of directors of a corporation must be composed of Lebanese citizens which is restrictive for international entrepreneurs or locals seeking experienced foreigners. The minimum cost of starting such a company in Lebanon runs upward of $25,000 which is prohibitive for most entrepreneurs without a grant of some sort. [5] Comparing these costs to those in the US, which can be as low $1,000, the problem becomes much more obvious. [6]
Relaxing regulations for Lebanese startups may be in order and it wouldn't be the first time a startup ecosystem flourished from deregulating. India's economy, too, once suffered from stringent regulations under the infamous License Raj, which once required firms to register with nearly 80 government agencies and adhere to a complex set of rules to operate in the market. Since 1990, the Indian government has undergone several rounds of reforms, effectively dismantling the License Raj and paving the way for domestic and foreign companies to grow and thrive in the emerging economy. More recently, the Indian government under Narendra Modi's leadership has adopted several startup-friendly policies. One such policy exempts some startups from paying government taxes for a period of 3 to 5 years along with drastically reduced patenting fees. Moreover, under the "Startup India" campaign, a $1.5 billion fund has been created to invest in startups, incubators, and ecosystem drivers. [7]
Although the government has yet to take adequate measures to support Lebanese startups, the Banque du Liban (BDL), Lebanon's central bank, has been playing an important role in increasing startup funding. Under a 2013 policy titled "Circular No. 331", Lebanese commercial banks' investments in Lebanese startups are guaranteed at 75% by BDL. This guarantee is subject to several constraints including the following:
Investments may not exceed 3% of the bank's total capital.
Investments in a single startup may not exceed 0.3% of the bank's total capital.
The bank may not hold more than 80% of the startup's capital.
Investments must be exited within 7 years.
BDL receives 50% of any profits realized from the investment. [8]
To maximize its benefit from Circular No. 331, a commercial bank would have to invest in at least 10 startups. Due to the relatively low number of promising startups, this guarantee presents a moral hazard from banks due to their limited exposure to loss, possibly overvaluing the startups they invest in.
Since 2013, Lebanon has seen a rise in venture capital and angel investment activity. While ecosystem building and encouragement may be rewards in-and-of themselves, investors eventually need to cash-in on their investments. Thus far, transactions have been heavily concentrated in middle-stage funding. Seed funding is still difficult to obtain and exit opportunities are rare with low returns. In 2016, Berytech's venture fund announced a 14.4% total return on 3 exits out of the 15 companies in its portfolio. Out of these 3 exits, two were share buybacks with only one exit via acquisition, albeit at no profit. [9]
Another factor limiting returns on investments is the unlikelihood of any of these startups becoming highly valuable public companies. Although Lebanon does have a stock exchange, the Beirut Stock Exchange (BSE), it is not nearly as accessible as other prominent exchanges such as Nasdaq or the London Stock Exchange (LSE). BSE currently lists 31 securities by 10 companies across 4 industries and is dominated by large Lebanese banks. [10] For companies to consider listing on foreign stock exchanges, they would need to find a way to reach these markets which is difficult with the heavy visa restrictions placed on Lebanese passports. The best founders and investors can hope for is an acquisition at a reasonable valuation.
Incubators, Accelerators, & Events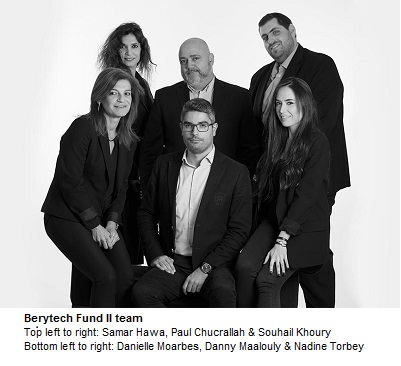 Since the release of Circular 331, the startup market required appropriate facilities in the form of incubators, accelerators and working spaces. Berytech, an initiative by the Université Saint-Joseph de Beyrouth (USJ), provides support for startups—from incubation, all the way to business development and funding and one of the most prominent accelerators in Lebanon today is Speed@BDD. Housed in the Beirut Digital District, a shared facility and co-working space, Speed@BDD provides startups with a network of international mentors and all the help they can get to become successful ventures.
While incubators and accelerators provide facilities and resources, the ecosystem also needs the involvement of successful entrepreneurs to complete the loop through success stories, mentorship, and angel funding. This has been made possible thanks to BDL and its annual BDL Accelerate convention aimed at connecting entrepreneurs with investors and accelerators as well as promoting the growing ecosystem. Over the last 3 years, this event has brought big names to engage with Lebanese entrepreneurs. BDL Accelerate 2016 included prominent panelists and keynote speakers such as Steve Wozniak, co-founder of Apple. Other celebrity entrepreneurs making highly-publicized appearances were Tony Fadell, formerly of Apple and founder of Nest, who also happens to be of Lebanese descent, and Mark Haidar, a Lebanese entrepreneur who now invests in Lebanese startups after succeeding as an entrepreneur in the US. [11]
Conclusion
Despite growing pains, the morale in the Lebanese startup scene is high and according the 4 factors, the right ingredients are all present to some extent. Perhaps no phrase states the sentiment better than Geoffrey King quoting people in the Lebanese startup industry: "All we need is one big exit." [12] With the right kind of support, it's only a matter of time until a highly valuable and innovative company emerges, attracts international attention, and proves that there are unicorns in the Land of the Phoenix.
[1] https://www.cbinsights.com/research-unicorn-companies
[2] https://www.aub.edu.lb/osb/darwazah/Pages/about.aspx
[3] http://www.amideast.org/lebanon/professional-development/amideast-entrepreneur-institute
[4] http://www.al-monitor.com/pulse/originals/2016/01/lebanon-immigrate-career-opportunities.html
[5] http://2015.bdlaccelerate.com/startup-registration-in-lebanon-sal-vs-sarl/
[6] https://www.sba.gov/blogs/how-estimate-cost-starting-business-scratch
[7] http://pmjandhanyojana.co.in/start-up-india-stand-up-india-scheme/
[8] http://www.bdl.gov.lb/circulars/intermediary/5/37/0/Intermediate-Circulars.html
[9] https://www.pressreader.com/lebanon/the-daily-star-lebanon/20161026/281642484714411
[10] http://www.bse.com.lb/ListedSecurities/ListedSecurities/tabid/86/Default.aspx
[11] http://bdlaccelerate.com/2016/speakers/
[12] https://saisobserver.org/2015/10/20/lebanons-accelerating-startup-ecosystem/