Why I Chose the Corporate Finance Immersion
by Derek D. Laclair, MBA '14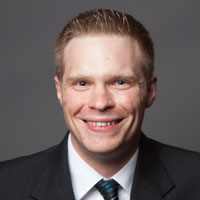 It was one of my first days in Ithaca and my roommate Cullen Murphy (MBA'14) and I were discussing which immersions we planned on taking during the upcoming school year. While he seemed to be vacillating, my mind was made up: the Corporate Finance Immersion (CFI). As he continued his search, Cullen wondered what made me so drawn to CFI. To me the answer was simple: Corporate Finance brings all of the fun and excitement of Investment Banking and Capital Markets and houses them under one roof. Furthermore, perhaps more philosophically, working for one entity affords a graduate the opportunity to point to one logo, mission statement, or company flag and say "That's mine. I'm responsible for that."
The Samuel Curtis Johnson Graduate School of Management's Corporate Finance Immersion provides students with a world-class experience in professional finance. Before an MBA's first year is even half over, Johnson begins the process with a corporate tour that would be the envy of other business school students. Whether it was hearing a lecture from a Fortune 500 CFO on his company's attempt at a hostile takeover of a rival, asking direct questions to the Treasurer of J.P. Morgan, or simply having cocktails with Johnson alums overlooking Times Square, the CFI Winter Trek is an invaluable and unforgettable way to begin the experience.
Nonetheless, the immersion itself is where I found the most tangible value. As a true career switcher on his second master's degree, these experiences have been transformative. Teamwork is the hallmark of any business school, but Johnson affords the unique opportunity to work on high-level financial analysis in teams of leaders. To put this in more colloquial terms, the immersion puts many big fish into a small pond; to me, this is precisely the atmosphere we will encounter upon leaving Johnson, and learning to navigate these situations is tremendous practical experience. These exercises are only more satisfying when you have unique rewards like having the CFO of Procter & Gamble come to your class to discuss the case you and your teammates have put in countless hours preparing.
Still, I would be remiss if I did not speak to the camaraderie that is built during all of these experiences; to my mind, this is Johnson's greatest strength. This is a business school with just over 250 students per class and our immersion routinely represents about a quarter of these aspiring professionals; any way you state this, at Johnson you will be part of a small, tight-knit community. There are neither cavernous lecture halls nor a faceless student body. Poignantly stated, the unmistakable fact is that in the Corporate Finance Immersion, and at Johnson on the whole, there is a family-like atmosphere. Each member honestly cares about your success as they do their own. Above all, this is the true value of our esteemed institution and this immersion.