Building Real World Skills in a Classroom Setting
by Sharleyne Silcott, MBA '14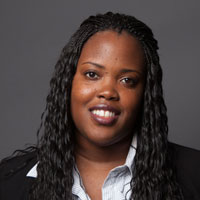 I decided to attend Johnson for several reasons, one of which was the Corporate Finance Immersion (CFI). With an accounting background, I knew I wanted to stay within a similar field and felt that the MFI would provide me with the tools I needed to round out my skillset and be effective in a new role within finance.
One of the main aspects of the Immersion that I have enjoyed thus far is the case studies. We work in groups to crack real life finance cases. This gives us the opportunity to act as the CFO of a company and give recommendations based on both quantitative as well as qualitative analysis. My previous work experiences did not allow me to work on these types of business decisions, so I appreciate the opportunity to do so now as this is helping me prepare to face these situations when I enter the workforce again.
On top of cracking cases, we also have the opportunity to hear from industry leaders. We recently had the occasion to meet the CFO of Procter and Gamble to walk us through a case regarding the Pringles brand. We were able to learn about how companies make divestiture decisions and how the process works – from identifying a segment to divest, to determining selling price and how to structure the transaction.
My goal at the end of business school is to land a corporate finance role in a top company and be an integral part of its decision making process. The lessons learned in the MFI will help me to be successful not only in my internship and first full-time role but also for a lifetime in finance.