Managing the Transition from a Career in Manufacturing to One in Finance
by Emily Forsythe, MBA '14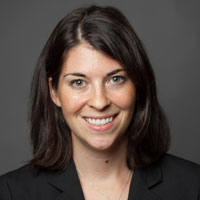 Prior to Johnson, I managed several manufacturing projects including working on S-80 submarines and massive bulk mail sorting systems. I was more comfortable working around heavy machinery than I was in a corporate office. I came to Johnson looking to transition from operations and to acquire more finance-focused skills. The Managerial Finance Immersion (MFI) is perfect for that, and it kicks off each spring semester with a trek to Wall Street in New York City.
Our recent trek to Wall Street allowed me to experience something new and different while pushing me out of my comfort zone. Before Johnson, I hadn't seriously considered a corporate finance career, and the trek provided a great overview of the various options.
What made the trek so wonderful was not only the high caliber of companies visited, but also the opportunity to share the experience with my fellow classmates in MFI. Everyone in this Immersion and at Johnson, in general, really care about how you are doing and how they can help. You feel like part of a team that supports and values you, which makes any career switch or transition easier.
During the trek, we had a great time visiting with leading companies and an even better time as a cohort sharing the experience. I recommend this Immersion to anyone looking to transition to or further a finance-focused skillset.