Learning to Structure and Solve Challenges through Johnson's Immersion Projects
by Sasha Abraham, MBA '13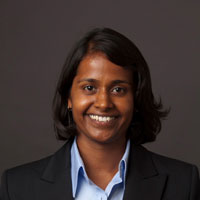 The Strategic Marketing Immersion provided me with a good foundation to succeed in my summer internship. The Immersion's in-class lectures and case studies taught me a lot, and the semester-long team Immersion Project taught me even more.
Interestingly the best part of the project was also the toughest: the freedom to approach the project in whatever way we wanted. Except for our final deadline, we did not have many deadlines, which meant the onus was on us to decide how we wanted to tackle the problem, what resources we needed, and what our internal deadlines should be.
After discussing our business challenge within our team we consulted our professors and other marketing advisors to get their feedback on our proposed strategy. We then discussed our approach with our client to understand if she had any issues with it and if she had any other suggestions. After getting her approval, we started our work.
Our project involved secondary research, qualitative research in the form of online focus groups, quantitative research, discussions with different departments that worked with our client, and rigorous analysis of our research results. It was based on all of this that our team arrived at our recommendations, which was well-received by our client and professors. It is important to note that this project is also a fantastic learning experience on how to work best with a small team on a big project over a long period.
This process was very similar to my summer internship experience. After being briefed on my projects and given a final deadline, it was up to me to decide how I wanted to approach them. I also had to determine which cross-functional teams I needed to leverage, while keeping my manager up-to-date on my progress. I think the Immersion Project experience played a big role in helping me manage expectations and perform well over the summer in my internship.