Joining a Powerful Female Network
by Carolyn Chen, MBA '14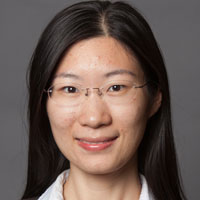 The Women in Investing (WIN) Conference was founded in 2010 by Johnson's Director of the Parker Center for Investment Research, Lakshmi Bhojraj. The Boston-based conference helps educate women about the rewarding career opportunities in investment management – a field in which women are underrepresented. At this year's conference, more than 70 female investment management professionals from nine distinguished firms and 64 female students from top-ranked business schools attended.
The event was well attended and fruitful. In less than a day and a half, I participated in the following components of the conference: the welcoming keynote; the stock pitch showcase; a speed networking session; and panel discussions.
I also served as a member of Johnson's team to pitch the stock Coach Inc. in front of five senior analysts from different companies. It was a great experience to showcase our stock-picking skills. We also learned how to examine a stock from different angles, and with feedback from analysts.
I was particularly impressed by the speed networking session. Student participants rotated in groups through nine tables every nine minutes, talking to company representatives from asset management firms. It was thrilling and exciting for me, as I had never talked to so many recruiters and gathered so much useful information in such a short time. Everyone tried their best to ask thoughtful questions and internalize information shared by the professionals.
During the panel discussions, I got valuable insights about the economic environment, industry knowledge, and investment management career paths. Panelists not only explored the latest market trends, but also provided views from a woman's prospective. Many of the speakers shared their personal experiences to address particular questions from students.
I think every female student who is interested in investment management and taking the Capital Markets and Asset Management Immersion at Johnson should try to participate in the WIN conference. It is a terrific opportunity to connect with distinguished female professionals and benefit from networking and mentoring opportunities.
It is also a special channel for us to learn from many extraordinary female role models who have taken similar paths and achieved great successes. I hope more and more female students can seize this tremendous opportunity to network with senior analysts as well as outstanding peers from other schools.