Should you consider Sustainable Global Enterprise if you want to go into Brand Management?
Should you consider Sustainable Global Enterprise if you want to go into Brand Management?
by Joseph Barber, MBA '17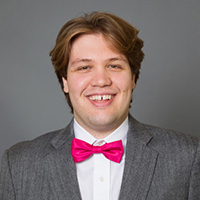 Being a Brand Management Intern for the world's biggest board game brand was the highlight of my professional experience so far, but how much did the SGE Immersion really help in contributing to a successful summer internship?
Working at Hasbro was a dream come true for someone who had owned a board game company before coming to business school. At Hasbro, people play board games in the common spaces at 10 am to help produce a competitive analysis of the industry. It was a very supportive work environment; Hasbro employees wanted to invest in me and helped me to become a better marketer. Plus, there is a toy store right next to the café with some significant employee discounts.
While I couldn't imagine a better culture fit, the best part of my summer internship with Hasbro was the feeling of having contributed something of value to my team. By studying sustainability during my first year at Johnson through the Sustainable Global Enterprise (SGE) Immersion, I developed the skills needed to be a better Brand Manager for Monopoly, Hasbro's most valuable board game product. If you too are considering Cornell Johnson's Sustainable Global Enterprise Immersion, then there are some things I would like you to know about my time in the program:
The Sustainable Global Enterprise Immersion curriculum provides you with an opportunity to complete a consulting project with a real company. If you enroll in the SGE immersion, you will be assigned to a team with fellow MBAs and non-MBA graduate students and asked to delve into the client's context — its capabilities, its industry, its challenges, and its competitors — in order to put yourself in a position to present a series of strategic recommendations. Throughout the semester, you'll learn about how to apply frameworks, use design thinking tools, and deal with a lot of ambiguity. And at the end of the semester you present your findings in both a report and a massive PowerPoint deck.
Looking back on it, I really wish that our SGE Immersion team had crushed our consulting project, producing a groundbreaking analysis or a transformative solution. But we did not. We were beset by challenges at every turn, some so insurmountable that we had to change our client deliverable several times. It was a difficult semester, and our team struggled through it. Even though we did just fine, I felt like I had failed.
When the summer started, I was apprehensive. Did my first year at Johnson provide me with the tools I needed to succeed in my internship? I quickly learned that an internship in Brand Management means that you have to ramp up really fast into an extremely nuanced section of an industry. It means that you need to be able to think about your product's strategic position within a complex system. In Brand Management, you have to work with a truly cross-functional team to produce results. And you end up making a LOT of PowerPoint slides. Every skill that I had refined over the course of my semester studying sustainability with Johnson's Center for Sustainable Global Enterprise was directly applicable to my Brand Management internship at Hasbro.
Yes, the Immersion is challenging – but it is challenging because it provides the opportunity to work with a real company on a very real problem. Experiential learning is a powerful teacher because it gives you the opportunity to learn from both your mistakes and your successes. Studying sustainability is about analyzing complex systems and creating solutions that successfully navigate this systemic context. I can't imagine a better way to prepare for an internship summer than participating in this kind of experiential sustainability curriculum alongside an interdisciplinary cohort of dedicated and supportive peers.