Brian Balduzzi, MBA '18 Student Profile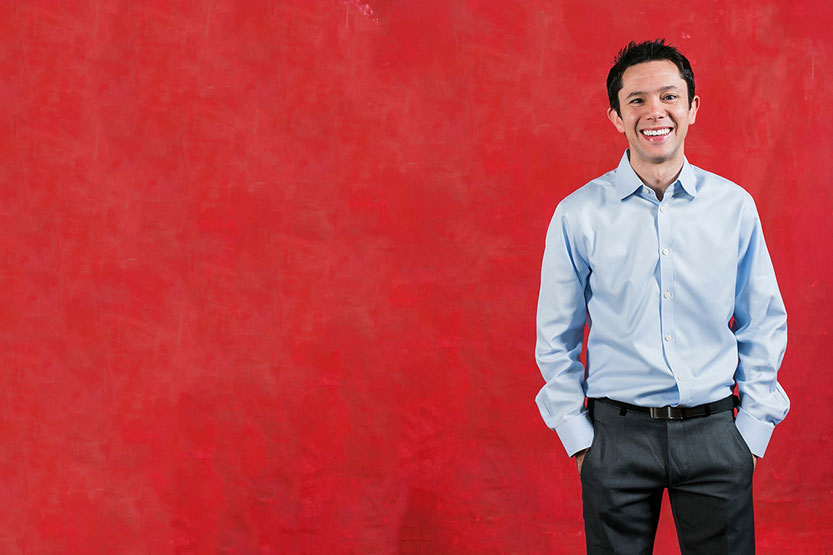 Hometown: Oswego, NY
Undergraduate School: SUNY Geneseo followed by Law School at Boston University of Law
Minor: Real Estate
Concentration: Financial analysis, Financial investing, Sustainable global enterprise
Cornell's MBA program offered me multiple opportunities to engage with leadership, advocacy, service, and collaboration through its student activities, clubs, and programs. These opportunities might be available at other schools, but few programs have as many student-led initiatives as Johnson at Cornell.
What has surprised you most about Cornell?
I am consistently surprised by the diversity of prior experiences—and current and future interests—of my classmates within the MBA program. This diversity of perspectives creates the unique community that allows us the opportunity to learn from each other and challenge our preconceived opinions about the world and business. The learning continues throughout Sage Hall and across the Cornell campus, stretching from Ithaca to New York City, and beyond on international trips.
I knew that Cornell supported "…any student … any study," but I did not anticipate the unwavering support from the administration, faculty, and other students for you to pursue your interests and passions. The resources and support have made me more willing to step outside of my comfort zone and prior experiences to engage more fully with my classmates and the opportunities at Cornell.
What did you do prior to coming to Cornell?
Prior to coming to Cornell, I worked as a tax and estate planning attorney for a mid-sized Boston firm while serving as a tax and business law adjunct professor. I enjoyed the ability to blend my love of theory and practice both inside the classroom and in my meetings with clients. I learned legal best practices and client-service techniques from experts in tax, estate planning, corporate, and real estate law.
In addition, I founded and managed a non-profit focused on reviewing and consulting for Greater Boston-area theatres, from community to university to professional. I served on the boards of directors for multiple LGBTQ and arts non-profits, which helped me continue a life of service and advocacy and use my legal and finance skills towards improving our communities.
I am a former actor, director, and producer, and proud former member of the Boston Gay Men's Chorus. My passion for engaging with my local community allowed me to be a better lawyer, advisor, and advocate for my clients.
What makes your program unique?
Cornell's MBA program is a unique residential program that is focused on student learning. Unlike at many other schools, we have a lot of autonomy over the learning process and curriculum. From the second semester of your first year, you can choose from an expansive list of Cornell courses to shape your MBA and learning experience. The program's support for students to customize their degrees at Cornell is incredible. As a lifelong learner—and after previously completing my JD degree—I wanted a program that allowed me to explore and strengthen my finance skills.
However, I shaped my learning as much outside the classroom as within it. Cornell's MBA program offered me multiple opportunities to engage with leadership, advocacy, service, and collaboration through its student activities, clubs, and programs. These opportunities might be available at other schools, but few programs have as many student-led initiatives as Johnson at Cornell. They have made me a more reflective leader, more respectful team member, and more passionate and well-rounded individual.
What activities are you involved in?
I participate in many different clubs and activities at Cornell that allow me to strengthen my leadership and professional skills. For instance, I knew that I wanted the opportunity to engage and serve Old Ezra Finance Club, our largest finance club at Johnson, by supporting our capital markets and asset management vertical. I appreciate the opportunity to mentor and teach first-year students about how to think about the global markets, industries, and companies, in preparation for their interviews and summer internships. However, the best part is engaging with my classmates who approach finance with a different focus and experiences.
This diversity is also found within Out For Business, our LGBTQ student advocacy and social group, where I support corporate relations and alumni affairs. Educating and supporting students in their pursuit of their professional experiences as a member of a minority group allows me to consider my own experiences and leadership within this community. It has allowed me to see how I can be a better mentor and leader for others.
The ability to participate in multiple fellowships, such as the Environmental Finance and Impact Investing, Emerging Markets Institute, Roy H. Park Leadership, and Graduate Teaching Assistant fellowship programs, has allowed me to consider the intersectionality of business, finance, and leadership. I also appreciate the opportunity to engage with cohorts of like-minded students across multiple disciplines. These diverse experiences better prepare me for interacting, communicating, and collaborating with diverse communities.
Finally, the opportunity to engage in service allows me to reflect upon and show gratitude for the multitude of opportunities in my life. By helping to organize our Destination Johnson event for close to 200 incoming MBA students, Johnson Means Business for minority MBA candidates, and Reaching Out MBA for LGBTQ candidates around the world, I have been able to step outside of my own experiences and consider the needs and interests of others. The exercise of practicing empathy, collaborating and compromising with others on a team, and delivering a successful program and event are unparalleled pursuits for becoming a better leader.
What is your favorite class or elective?
I loved Behavioral Finance with Professor Matt Baron. The class allowed me to explore my interests in the capital markets, finance, and psychology. We explored investing as it actually applies to individuals and families, complete with irrationality and change.
Professor Baron allowed us to explore our own ideas, and challenge our perceptions and expectations. The class inspired me to continue to read from experts within the field and consider my future clients' investing needs. The class was an excellent mix of theory and practice, which is just one example of how Johnson and other Cornell professors blend ideas with execution and research, both within the field and as objective observers.
Professor Baron's passion and interest in the topic encouraged me to integrate a more analytical and reflective practice in my investing and financial-planning considerations.
What is your favorite place on campus and off campus?
I adore the Kitchen Theatre. I am so thankful to have such a passionate and inclusive professional theatre. As a former theatre reviewer in Boston, I miss the opportunity to engage with challenging theatre and people who enjoy similar theatre.
I look forward to the chance to become more involved with the theatre in the future and support their outstanding mission, while encouraging my classmates to attend and appreciate the Kitchen's productions. I really love their willingness to tackle complex topics with empathy, curiosity, and passion. Their mission and practices reflect many of the same values that I hope to display in my own career and community engagements.
How would you describe your dream job?
My dream job allows me to blend my financial and legal knowledge and interests with my passion for serving and educating others. I appreciate a career in which I can support others in pursuing their business and financial goals and passions.
My ideal career will allow me to work collaboratively with entrepreneurs, lawyers, families, and students to create sustainable financial practices, value-oriented goals, and empowered decision making.
By using my MBA with its focus in finance, real estate, and leadership, along with my prior experience and degrees in law and tax, I hope to engage individuals, families, and communities in more reflective, purposeful, and supportive communication and decision making regarding financial and legal practices.