Student Profiles: Preet Jassi, MBA '18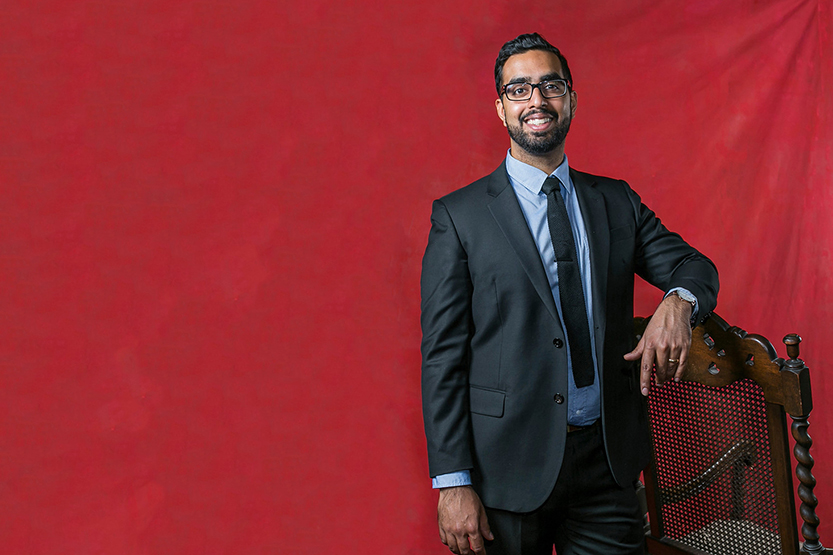 Hometown: Vernon, British Columbia, Canada
Undergraduate School: Simon Fraser University
Immersions give you an opportunity to learn about an industry that you are passionate about. I was surprised that I was able to acquire an extremely deep level of knowledge in such a short time to help my client solve their specific problem.
What has surprised you most about Cornell?
I have been the most surprised by the people. Johnson truly is a tight-knit community filled with genuine and nice people. I have made friendships—that I will have for the rest of my life—with some really cool people.
What did you do prior to coming to Cornell?
I was a lead user interface engineer at Electronic Arts, specializing in building responsive (mobile and desktop) web applications. I started my career at Yahoo! as a user interface engineer after receiving my BS degree. After Yahoo!, I joined a startup called Indochino, where I created one of the first-ever responsive e-commerce websites. At Electronic Arts, I led the UI team to build their e-commerce website and application used to download, install, and play PC games, Origin.
Why did you decide to go back to school for your MBA?
I worked at a startup where I had the opportunity to wear many different hats beyond my role as a developer. I collaborated directly with different stakeholders, such as operations, shipping, manufacturing, accounting, and marketing, to build out technologies based on their needs.
I started to look beyond the technical problem, to the business problem that we were trying to solve, and I became fascinated by the decisions that we needed to make as a company to become successful. I knew at that point that I wanted to transition from being a technical leader to a business leader, but given that my background was entirely technical, I didn't have the skillset to do so.
Many people in the tech industry discredit the usefulness of an MBA, but after doing significant research, I realized that an MBA would provide me with exactly the knowledge, skills, and experience that I wanted to be successful as a business leader. I have been very happy with my decision.
What makes your program unique?
I think the immersions truly are unique to Johnson. In the second half of our first year, we select an immersion. The immersion enables you to work with a business client to solve a problem that they are facing today.
These projects provide an avenue to apply all of the tools and skills that you have learned throughout the year and teach you how to interface with clients, and it gives you an opportunity to learn about an industry that you are passionate about. I was surprised that I was able to acquire an extremely deep level of knowledge in such a short time to help my client solve their specific problem.
What student groups, activities, or clubs are you a part of?
VP of strategy and operations for the Sustainable Global Enterprise (SGE) Club
Career working group leader, High Tech Club
Consulting Club
I play a lot of basketball with friends, too.
What has your trek experience been like?
New York trek: My highlight of the New York trek for SGE was chatting with the CEO of Distributed Sun for an hour. I spent the hour not only trying to make sense and keep up with the deep knowledge of solar that he was passing down, but also being fascinated by his extremely distinctive previous business ventures and journey to Distributed Sun.
Washington, D.C. trek: The highlight for me was walking around the White House with my friend. I am Canadian and had never been to DC before, so my exposure had been limited to whatever you see in movies or TV shows. Walking around the White House, I was stunned by the beauty and the symbolism.
What is your favorite class or elective?
Cases in Business Strategy. The class is taught by amazing professors with years of experience. The class discusses problems that every organization will face, and teaches you how to tackle those problems with the highest probability of success.
It utilizes theory from cases combined with many real-life examples, and the professors synthesize all of this in a very understandable way. I was able to utilize learnings from this class immediately in my immersion.
What is your favorite place on campus and off campus?
The gorge by CTB. It is unreal that I am only five minutes away from such a beautiful natural site. It's a great place to escape, get a breath of fresh air, and enjoy the moment.
How would you describe your dream job?
My dream is to join a small, product-driven company as an executive and help that organization scale. I want to utilize all of my passions, strengths, and skills to drive an organization to create great products that solve difficult problems for customers.
I have always been fascinated by technology, and even more fascinated by physical products that utilize technology in innovative ways. I would love to be at that intersection, as there is beauty in crafting physical products and yet so much opportunity with technology to solve problems in new ways.