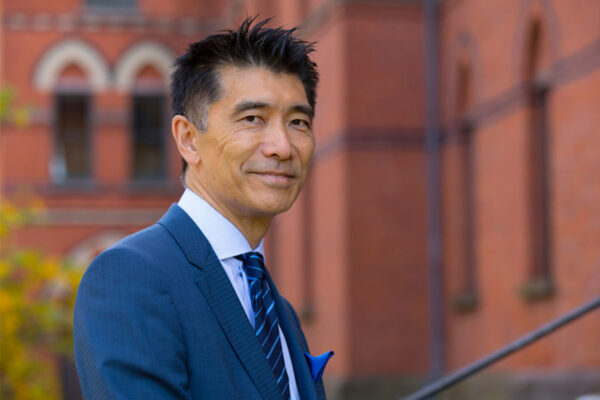 Amane Nakashima, MBA '89, P '22, P '25
Chairman of Kewpie Corporation and President of Nakashimato Co., Ltd.
Amane Nakashima earned his Johnson MBA in 1989. His children are in the classes of '22 and '25.
Mr. Nakashima is chairman of Kewpie Corporation and president of Nakashimato Co., Ltd., both based in Japan and focusing on fine food and beverage products. He is actively involved in nonprofit activities, including two family foundations, Human Rights Watch Tokyo and Save The Children Japan. He is a founder of the International School of Asia, Karuizawa (ISAK), which promotes diversity and understanding across cultures, which he says he grew to value personally as a direct result of his experience at Cornell.
Mr. Nakashima was appointed to the Cornell University Council in July 2017 and has also served in leadership roles and collaborations with other alumni leaders through the Johnson Club of Tokyo and the Cornell Club of Japan. He currently serves on Dean Mark Nelson's College Leadership Council.
AMANE NAKASHIMA'S RESPONSES TO ENGAGEMENT AND ADVICE QUESTIONS:
1. What is it about Johnson, and your time here, that drives you to stay engaged?
As a Japanese businessperson, it was an eye-opening experience to be with ambitious young MBA candidate students in the 1980s. Without that experience, I would not have a broader view to see the positives and negatives of American, European, and Asian cultures. I enjoy keeping in touch with and learning from faculty and alumni who I manage to catch up with day-to-day and year-by-year on environmental and social changes.
2. What's your advice for current students, who will soon be global business?
Remember the most important facts of life. You will die. You have only one life. You don't know when you will die. Knowing this, you should cherish your precious hours every day and help others to make a better future. (I have a few more wisdoms if you are interested!)
3. Regardless of culture, there are challenges to running multi-generational family businesses. What at Cornell helped you navigate that landscape in your own family's business?
Every day I struggle to have a better idea about how to run a family business. When I face any divisions, Cornell has shown me the value of open-mindedness to listen to different ideas and opinions, regardless of where they come from. It always reminds me of the necessity of having a broader mind to listen to histories and backgrounds.