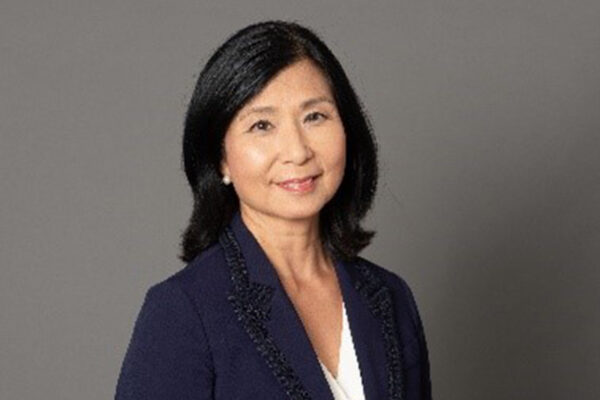 Angela Hwang, MBA '94, P '24
Group President, Pfizer Biopharmaceuticals Group
Angela Hwang received her Johnson MBA in 1994. Her daughter is a member of CALS class of 2024.
Ms. Hwang has been with Pfizer for over 24 years, working across all geographies and therapeutic areas to bring breakthroughs to patients. She is a member of Pfizer's executive team and serves as group president of the Pfizer Biopharmaceuticals Group, leading seven commercial business units delivering transformational medicines that address major global health priorities in cancer, rare disease, inflammation and immunology, primary care, infectious diseases, and preventative care with vaccines. In 2020, more than 420 million people benefited from a Pfizer Biopharma medicine or vaccine.
Growing up Asian and female in apartheid South Africa defined her worldview and underscored her commitment to equity in everything she does. In 2019, she launched "Diverse Perspectives," a podcast series in which she hosts global thought leaders pioneering change across a variety of industries. That year, she was also named in Crain's Notable Women in Healthcare list. In 2021, she was ranked #11 in Fortune's Top 50 Most Powerful Women list, and received the President's AwardTM from the National Diversity Council for her efforts to champion diversity, equity, and inclusion.
Ms. Hwang serves on Johnson's Advisory Council and delivered the university's annual Hatfield Lecture in 2022.
ANGELA HWANG'S RESPONSES TO ENGAGEMENT AND ADVICE QUESTIONS:
1. What is it about Johnson, and your time as a student here, that drives you to stay engaged?
My first job out of business school was through an alumnus. I think often about where I would be now if I didn't get that first chance. I also reflect on how I learn, and the incredibly powerful life experiences that have influenced me and the wisdom of so many people that have shaped me. I want to do the same for others and make a difference where I can.
2. What's your advice for current students, who will likely soon be global business leaders, taking on the world's big challenges?
Stay curious and stay agile! You can't predict where life will take you, but you can develop an agile mindset that keeps you open to all kinds of different pathways.
Examine what is important, and then be brave enough to go after it. You may be surprised where it leads you! Be fearless in going after what you want.
Don't be afraid of the challenges and even the occasional failures. Those are where I've gained the biggest and most valuable lessons that have made me who I am.
Don't forget to make room for joy, because even if it feels like there's so much pressure on what you do today, you have a whole lifetime to find your passion, and it's more fun if you see it as an adventure!
3. You're already so committed to creating opportunities for young people, a passion you've put to work with the Breakthrough Fellows and many other efforts through your career. What's your advice to the Johnson community, as we seek new and better ways to support our students?
Getting my MBA from Johnson was such an incredible experience. Support and empowerment are essential for students' future success! I believe the best thing Johnson can do is ensure that students have diverse experiences. Exposing them to Johnson's external network of inspiring and talented individuals, as well as different business practices, cultures, and points of view, will be pivotal in opening the door to new opportunities as students enter or re-enter the workforce.