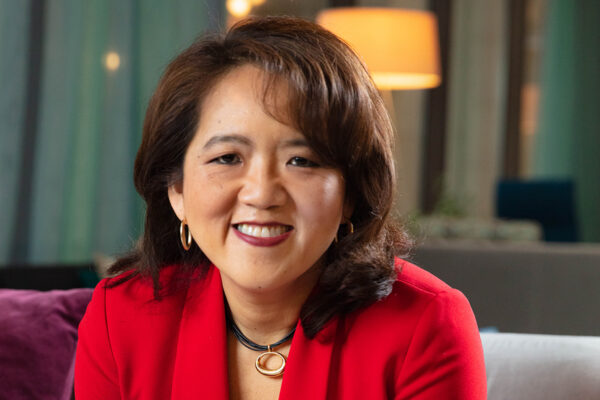 Anne Chow '88, MEng '89, MBA '90
CEO of AT&T Business
Anne Chow received her undergraduate degree from Cornell in 1988, her MEng in 1989, and her Johnson MBA in 1990. As an MBA student, Ms. Chow was a Lester B. Knight Scholar for Excellence in Engineering and Business.
Since 2019, Ms. Chow has served as CEO of AT&T Business. She is the first woman to hold this position, and the first AT&T CEO to be a woman of color. Passionate about education, diversity and inclusion, advancing women in tech, and cultivating next-generation leaders, she is the co-author of The Leader's Guide to Unconscious Bias: How to Reframe Bias, Cultivate Connection, and Create High-Performing Teams. She has received numerous honors, notably placement on Fortune's 2020 and 2021 Most Powerful Women in Business lists. She serves on many boards, including the FranklinCovey Company Board of Directors, Dallas Mavericks Advisory Council, the Committee of 100 Leadership organization of prominent Chinese Americans, and the President's Advisory Board at Georgia Tech.
Ms. Chow's many contributions to the Johnson community are widely recognized. She delivered the inaugural Mei-Wei '72 and Amy Cheng Distinguished Lecture in Technology in March 2021.
ANNE CHOW'S RESPONSES TO ENGAGEMENT AND ADVICE QUESTIONS:
1. What is it about Johnson, and your time here, that drives you to stay engaged?
During my time at Johnson, I learned the importance of getting outside of your comfort zone especially when it comes to working with people. At my core, I am an introverted engineer, but through my experiences at Johnson, I learned to appreciate and develop relationships and became interested in organizational dynamics and interpersonal influences. Ultimately it's always about the people—they're who compel me to stay engaged.
2. What's your advice for current students, who will soon be business leaders taking on the world's most important challenges?
Stay humble but hungry and hustle. Embrace the fact that life and all business is built on relationships. And that diversity of relationships and teams help catalyze innovation and progress. Seek every opportunity to learn and embrace the uncomfortable. When you're uncomfortable, it means you're challenging yourself, and ultimately you'll grow from that experience. Realize that in every situation, there is learning.
3. What do you see as the most useful of your unique talents within the context of your work life? 
As a second-generation American and multicultural woman, I've often been the first of something as well as the only in the room. As a result, I ultimately had to embrace my authenticity as part of my unique value proposition. As I honed my own development skills, I became determined to make it my mission to seek, help cultivate, and unleash the greatness in others—across individuals, teams, and organizations. I don't subscribe to the idea of failure anymore. Failure helps us learn and increase the probability of success. There are only two outcomes: success and learning.