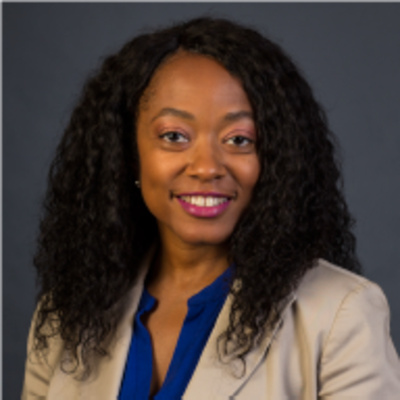 Hanifa Barnes
Graduating Year: 2019
Current Title/Employer: Chief of Staff & Operations, NJ Higher Education Student Assistance Authority
What attracted you to Cornell?
"I was attracted to Cornell mostly because of its commitment to maintaining connections between graduate students and the greater university community. As a busy professional, it was important for me to work in a collaborative and cohesive academic environment to ensure my success. Cornell offered that and more, as I have not only connected with cohorts in the EMBA program but also alumni across the global network."
What skills are necessary to possess to be a leader in global business and how did the program help you to develop or hone those specific skills?
"There are three words that come to mind when I think about leadership success: aspiration, pragmatism and knowledge. A leader should have the ability to see beyond the current circumstance and inspire her team to do the same toward a common goal.  At the same time, a steady pragmatism is necessary to ensure that the targets are met within a given time period. To balance the two, a leader must understand the prior, immediate and future circumstances that can impact the overall goal. I learned a lot about each of these skills during my time in the EMBA program through my engagement with professors who offered real world experience and advice; through anecdotal exchanges with classmates who work at major companies; and through the coursework which provided the rigor to elevate my understanding of the leadership life cycle."
In what ways did your experience in the program impact your career growth?
"The program provided immediate impact to my career growth. When I entered, I was serving as a Chief of Staff with a non-profit and became introduced to new aspects of business and financing. While in my first year of the program, I was promoted to Chief Operations Officer, and in my second year I received a job offer to work in higher education finance. This degree has also opened the door for other opportunities, including my first Board appointment."
How did you leverage career coaching?
"Career coaching in the EMBA program was the cherry on top of my experience. My goals upon entering the program were to take advantage of opportunities to engage with guests, alumni, classmates and professors. When I learned about the career coaching program, I met with Liz Colodny who was super helpful and resourceful in my quest to clarify my goals after graduation."
What class had the biggest impact on you as a professional and in what ways?
"The Innovation course had a monumental impact on me as a professional. I never considered myself to be entrepreneurial. But after completing the course and learning about customer discovery and the full life cycle of creating a business, I was hooked. In fact, immediately after graduation I connected with Cornell's Women in Entrepreneurship program and enrolled in e-Cornell's Women in Entrepreneurship certificate program. Since graduation, I have launched the first phase of the business – a podcast – with the goal of understanding my market segment and building brand awareness."