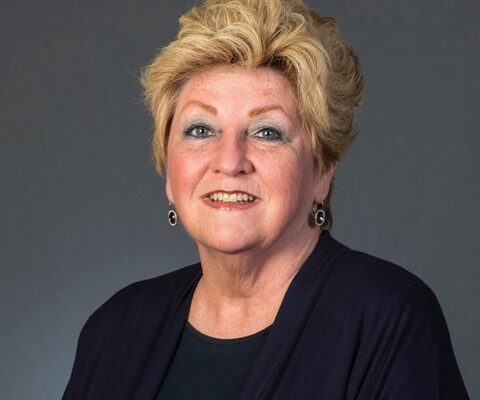 Mary Jane O'Connell
Graduation year: 2019
Current title: CEO
Employer: Fullerene Therapeutics
---
What attracted you to Cornell?
"The Cornell dual degree program conferring the MBA and M.S. in Healthcare Leadership offered the exact combination of business skills and healthcare training that I was seeking to advance my career and corporate goals. In addition to the top-ranked Cornell Johnson School of Management MBA degree, the healthcare leadership focus via Weill Cornell Graduate School of Medical Sciences provides a deep dive into the challenges facing mid-career professionals in the healthcare industry exploring multiple paradigms addressing models of medical services delivery, cost containment in fee-for-service and value-based care insurance models, hands-on team building and leadership, real world problem-solving, data analytics and informatics, healthcare policy, economics and regulation. The opportunity to interact with an expert faculty and a diverse cohort of highly accomplished professionals encompassing clinicians, hospital administrators, research scientists, pharmaceutical executives and biotech entrepreneurs intensely focused on a common learning goal for two years established strong bonds within an invaluable Cornell network."
What was the catalyst for you to return to school for additional advanced degrees?
"Although I am a patent attorney with a Ph.D. in immunology/chemistry, I felt that Cornell's concentrated business curriculum as well as the focus on healthcare policy and leadership skills would be instrumental in my current role as a healthcare executive and CEO of a startup pharmaceutical company. The background in science and legal training have provided an essential background in healthcare but full immersion as an entrepreneur in the healthcare industry requires focused preparation in leadership, team building, policy, economics and knowledge of the intricacies of the payer/provider landscape specific to the U.S. healthcare industry in order to successfully navigate challenges in the current environment."
How did the team components of the program impact you as a professional?
"The team components of the program impacted me significantly as a professional by forcing me to critically examine my leadership style and experience to evaluate whether I was in fact succeeding as a team-builder and effective communicator and to move outside my comfort zone and learn to engage colleagues' buy-in and employ their strengths to the advantage of the whole group. It was also invaluable to learn to be a member of a team as well as a team leader and to focus on what one can bring to the group that will synergize with its overall goals. The team components were perhaps the most challenging part of the whole EMBA/MS in Healthcare Leadership experience, the most uncomfortable at times, but also the most fruitful and rewarding for the sense of camaraderie, trust and long-term friendships forged as well as the ultimate benefit of real-time preparation to become the most effective healthcare leader possible."
What specific course or experience were you able to directly and immediately apply to your everyday work and how?
"Healthcare Negotiations was directly and immediately applicable to my everyday work environment in providing frameworks for changing the dynamics to shift from adversarial and contentious interactions to mutually beneficial strategies where both parties benefit and achieve their respective goals. This course provided practical solutions and role-playing opportunities to practice the methodology. Because we are indoctrinated into a mentality in which there must be winners and losers in most of our business and personal interactions, the proposed strategy is not intuitive nor does it feel natural at first but becomes much more comfortable and familiar as it is practiced and ultimately much more productive in achieving business and personal goals to the benefit and satisfaction of all parties involved."
In what ways did your experience in the Executive MBA/MS in Healthcare Leadership impact your career growth?
"My experience in the EMBA/MS in Healthcare Leadership program has had a direct impact on my career growth: My transition into an executive position as CEO of a healthcare startup pharmaceutical company was aspirational at the outset of the program but became reality during the first year in significant part because of the Board's perception of the quality of training and level of skills I was acquiring through the program that would translate into direct relevance for the company. Furthermore, I was able to achieve additional executive leadership advancement as acting Executive Chairman predicated on the same premise. My completion of the program with conferral of the MBA and M.S. in Healthcare Leadership degrees has further equipped me to respond to additional opportunities and move into new executive roles in healthcare and pharmaceutical administration. Connections with colleagues in the cohort have been significant in providing support and leveraging new opportunities."