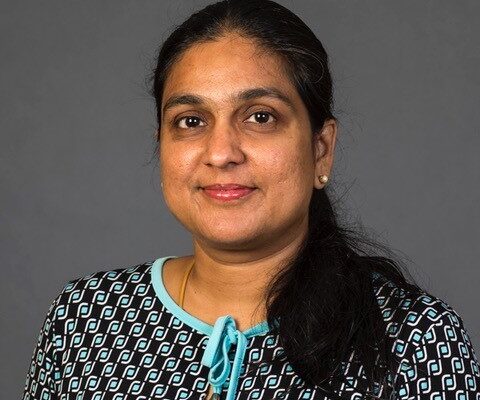 Padma Ayodhimani
Graduation year: 2019
Current title: Product Manager
Current employer: Bayer
---
Why did you choose a dual degree program?
"Healthcare is complex. To be an effective problem solver it wasn't enough to just get an MBA. I was looking for a deep-dive into the healthcare system to understand the complexity from multiple perspectives: provider, pharma, patient … The dual degree program, even though it meant more work, was providing that depth through the lens of the Business program. That's why I chose this program."
What skills are necessary to possess to be a leader in the healthcare industry and how did the program help you to develop or hone those specific skills?
"A problem in healthcare is rarely self-contained to one area – it requires an interdisciplinary approach involving, clinical knowledge, technology knowledge, process knowledge, social awareness, economic awareness. A successful leader needs to be a visionary, a great communicator, a bridge-builder who can bring disparate people with different incentives together to solve systemic problems innovatively. The program helped me hone these skills by starting with a self/colleague assessment process to understand strengths and areas of improvement. Then providing the frameworks to use to build the strengths and useful feedback to address areas of growth. The leadership classes laced throughout the program helped reinforce these leadership skills through different formats and working sessions."
How did you leverage the network and industry focused opportunities?
"The networking opportunities have helped me connect with industry leaders and learn from them directly and indirectly. Each interaction has helped me build confidence and now I have a much larger network with whom I have something in common to reach out to explore mutual career interests."
In what ways did your experience in the Executive MBA/MS in Healthcare Leadership impact your career growth?
"I wanted to transition to a strategic product management role outside the traditional health insurance industry. The EMBA/MS program helped me achieve that goal. For a recent interview, I had to create a product presentation. I drew on the knowledge from almost every class to make that presentation."