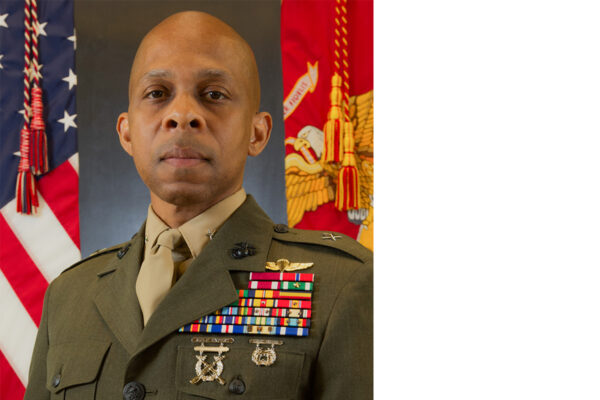 Sean Day, MBA '04
Chief of Staff of Intel Federal LLC; Brigadier General in the US Marine Corps Reserve
Sean N. Day graduated with a Bachelor of Science from the US Naval Academy in 1994 and earned his Johnson MBA with the class of 2004. He also holds a Master of Strategic Studies from the US Army War College.
For over two decades, Mr. Day has balanced his career in technology and finance with serving our country.  In his civilian career, he is the chief of staff of Intel Federal LLC, which is Intel Corporation's subsidiary focused on the US public sector market. His diverse experience at Intel includes roles as a division CFO, strategy director, factory operations manager, and roles in corporate finance, manufacturing strategy, product engineering, and HR. Additionally, Mr. Day previously held corporate finance, investment banking, and business development roles at MBNA Bank, Merrill Lynch, and Nanosys, Inc.
Mr. Day is also a brigadier general in the US Marine Corps Reserve, where he currently serves as the commanding general of Force Headquarters Group, a 4,000-person organization with locations from Alaska to Florida that deploys Marines worldwide.  He is a veteran of the wars in Iraq and Afghanistan. His military awards include the Legion of Merit, Bronze Star, Combat Action Ribbon, Presidential Unit Citation as well as other personal, campaign, and service awards. He is a past recipient of the US Navy League's Holland M. Smith Award for Operational Excellence as well as the Civil Affairs Association's John H. Hildring Award.
While at Johnson, he was a Park Leadership Fellow and Toigo Finance Fellow.
SEAN DAY'S RESPONSES TO ENGAGEMENT AND ADVICE QUESTIONS: 
1. What is it about Johnson, and your time here, that drives you to stay engaged?
The culture at Johnson really set it apart and continues to serve as a touchstone for me. The incredibly inclusive environment which valued the contribution of every individual was ahead of its time. The persona of the "The Friendly School" was only a small aspect of this culture. Producing exceptional results while placing a premium on the idea that every member of the Johnson community, from faculty to students to staff, are all part of one big family provides an exemplar of what a truly world-class organization should represent.
2. What's your advice for current students, who will soon be global business leaders taking on the world's most important challenges?
I would ask the next generation of leaders to combine the ideals espoused by theologian James Wesley and poet James Elroy Flecker. Flecker encouraged us to "go always a little farther," no matter the obstacle or danger.
Wesley charged us to "Do as much as you can, for as many as you can, for as long as you can" and reminded us to take advantage of the incredible gifts we have been afforded by making a difference.
These two ideals of moving ever forward, while always seeking to make our world better, fit exceptionally well with Johnson's ethos. Our community has a well-deserved reputation of doing the right things, the right way, for the right reasons, and that model is one which current students can take forward into all their future leadership endeavors.
3. How do you blend your professional strengths with your military service? How do you think they fit together?
Blending my civilian career and military service has been both rewarding and incredibly challenging. In many ways, it is a manifestation of the ancient Greek ideal that citizens were as equally responsible for building up a society as they were in protecting it. Our country is certainly not without fault. However, it has furthered the cause of freedom and furthered human advancement in ways that few others have in history.