Lead the transformation of the healthcare industry
The Executive MBA/MS in Healthcare Leadership dual-degree program in New York City prepares healthcare professionals to facilitate change and drive innovation—from inside organizations and throughout the industry at large.
What makes the Executive MBA/MS in Healthcare Leadership program different?
It's the only program of its kind in the Ivy League. You'll graduate with two prestigious degrees from Cornell University: an MBA and an MS in healthcare leadership.
Two powerhouses in graduate education—the Samuel Curtis Johnson Graduate School of Management and the Weill Cornell Graduate School of Medical Sciences—have partnered to create a dual-degree program that focuses on building general management skills and developing a deeper understanding of the healthcare industry. This two-year executive program will advance your career and strengthen your ability to drive meaningful change in healthcare.

Faculty who are leaders in business and healthcare
The Executive MBA/MS in Healthcare Leadership program is delivered by faculty from Johnson and Weill Cornell Graduate School. Some are healthcare industry leaders, physicians and nonphysicians, and others are well-known business leaders. Throughout the program, faculty help students apply management and business skills to the quickly evolving healthcare landscape through case studies and simulations.
"Preparing the healthcare leaders of the future with the tools they need is critically important, and we've constructed an educational experience that is both rigorous and relevant. Also, healthcare is best executed as a team effort, and diverse teams are stronger and more effective. We're delighted that our executive MBA/MS classes are diverse in both gender, ethnicity, and experience."

Dr. Geraldine McGinty, Assistant Professor of Healthcare Policy & Research, Weill Cornell, and Chief Strategy and Contracting Officer, Weill Cornell Medicine Physicians Organization Course taught: Healthcare Practice
"The students make this an exceptional program. Their professional caliber and experiences allow for a fun and effective learning environment. I think one of the best things about this program is the conscious effort to balance incoming classes between practitioners and nonpractitioners in the healthcare industry. The depth and breadth of the students' backgrounds makes for great class discussion and allows them to consider different perspectives when examining issues."

Doug Stayman, Associate Professor of Marketing, Samuel Curtis Johnson Graduate School of Management Course taught: Marketing
Peers who are diverse, seasoned professionals
Incoming classes are typically composed of 50 percent clinical practitioners and 50 percent nonpractitioners in the healthcare field, therefore, representing stakeholders from across the healthcare ecosystem. The exchange of diverse perspectives among seasoned healthcare professionals creates a dynamic learning community.
The Future of Healthcare
Class representatives Nick Gavin, MBA/MS '19, emergency department physician, and Neiger Green, MBA/MS '19, PMP, and program analyst at the CDC, share insights about the Executive MBA/MS in Healthcare Leadership program.
Curriculum that you can immediately apply to your work
The curriculum integrates business acumen and healthcare expertise to give you the tools and knowledge needed to lead complex organizations. Learn how to engage with stakeholders, including physicians, technologists, insurance companies, and policy makers. After you attend courses on Saturdays and Sundays, you'll return to work on Monday with insights that are immediately transferable.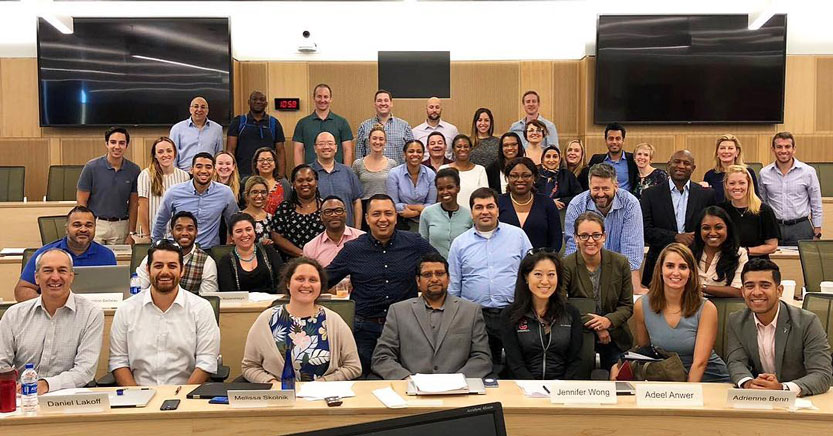 Community that supports ambitious students who work full time
The Executive MBA/MS in Healthcare Leadership program offers a delivery format that works for full-time professionals: a combination of weekend classes and residential sessions. You'll complete courses on alternating Saturday and Sunday sessions each semester at the Tata Innovation Center on the Cornell Tech campus in New York City. The remaining classes are completed during residential sessions, which are held twice per year on Cornell's Ithaca campus and in the Metro-NYC area.
Executive MBA/MS in Healthcare Leadership BusinessFeed
May 14, 2019
Dr. Geraldine McGinty, MD, MBA, FACR, discusses the benefits of an MBA for healthcare professionals with the Radiology Leadership Institute.
February 27, 2019
Chelsea Clinton recently spoke as part of the Luminaries in Healthcare Leadership series presented by the Executive MBA/MS in Healthcare Leadership program.
October 19, 2018
With consumers demanding more from healthcare and the industry struggling to contain costs, professionals with entrepreneurial mindsets will shape the future.
Are you ready to take the next step in your career?
Executive MBA/MS in Healthcare Leadership Class of 2020 Profile
Demographics
Enrolled: 47
Average age: 38
Women students: 51%
Underrepresented minorities: 21%
(Black/African American, Native American, and Hispanic American)
U.S. minorities: 43%
(Asian American, Black/African American, Native American, and Hispanic American)
Average years of work experience: 12
Students with advanced degrees: 61%
Industry profile
Academic hospital: 47%
Community hospital/health center: 15%
Pharmaceutical: 13%
Professional services firm: 9%
Technology: 6%
Insurance: 6%
Academic research institution: 2%
Other: 2%
Geographic representation
New York: 71%
Connecticut: 6%
New Jersey: 6%
Massachusetts: 4%
California: 2%
Florida: 2%
Indiana: 2%
Ohio: 2%
Pennsylvania: 2%
Washington, DC: 2%