Demonetization and its Discontents
02/09/2017
EMI speaker and Humphrey Fellow Gopalakrishnan Veilumuthusamy detailed what happened when India, one of the world's most cash-dependent countries, decided to get rid of its most valuable currency notes.

by Giorgi Tsintsadze '17
---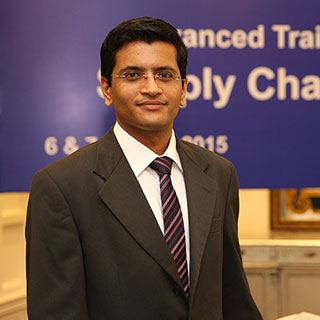 On the night of Nov. 8, just as voters across the United States were casting their ballots in the presidential election, India's economy was rocked by a seismic shift in its fiscal policy. Virtually overnight, and with no prior warning, the government announced that it was taking the two most valuable currency bills — the 500 and 1,000 rupee notes — out of circulation.
Gopalakrishnan Veilumuthusamy, who specializes in supply chain management, green business practices, and logistics, shared his analysis of India's experience with demonetization in Sage Hall's Ramin Parlor on Feb. 2, at a lunch lecture hosted by Johnson's Emerging Markets Institute. Veilumuthusamy serves as a counselor at the Confederation of Indian Industry, where he provides training and consultancy services for organizations and businesses in India and internationally. Veilumuthusamy is also a Humphrey Fellow at Cornell's College of Agriculture and Life Sciences.
Veilumuthusamy began by discussing "India's love of cash," which is discernible in many social customs, cultural practices, and even religious rites. "From birth to death," he observed, "cash plays an important role in a person's life." Newborns are welcomed by garlands of money, blank spaces on the currency notes are used to record notes and to communicate — some notes even display love letters. And, in many parts of India, a one-rupee coin is placed on the deceased person's forehead.
India's economy is notoriously cash dependent: Only 35 percent of the population has a bank account and 98 percent of transactions (by volume) are carried out in cash. In fact, India is so dependent on cash, Veilumuthusamy emphasized, that even Amazon and Uber accept it as a form of payment from their customers.
Demonetization was intended as an emergency measure against India's shadow economy. Hoarding of black money, informal transactions, and a lack of banking and accounting practices blight India's economy, says Veilumuthusamy. By requiring proof of tax payments in order to exchange large sums of money, Prime Minister Nerendra Modi's government hoped to corner hoarders of illegal cash. Since they would not have paid income tax for their undeclared cash, hoarders would find themselves unable to convert it. They expected one-fifth of the total cash in circulation, roughly equal to the estimated total amount of black money on the market, to disappear.
But the execution of the policy was far from smooth, and the unintended consequences deeply disturbing.
In a special televised address that aired on 8:00 pm, Prime Minister Modi delivered the news himself. The targeted currency notes were declared unusable starting the next morning. People were given a three-month window during which the notes retained exchange value – they could be swapped, in banks, for lower denomination notes – but it was unlawful, even during the initial window, to use the notes to pay for goods.
The announcement sent hundreds of thousands of citizens into the streets. Some people only owned 500 and 1,000 rupee notes (worth approximately $7 and $14 U.S., respectively) and were now virtually deprived of cash. Queues lined up in front of banks all around the country. Those with bank accounts rushed to ATMs. Even though less than half of the population owns an account, the demand proved too much for the financial infrastructure. India has one of the lowest number of ATMs per 100 people in the world and the machines went dry within an hour. By some estimates, 90 people died in the queues.
Only six percent, instead of the expected 20 percent, of the value held in 500 and 1,000 rupee notes was eliminated from the economy. Hoarders found creative ways of getting rid of illegal cash, distributing it among their employees as advance salary or recruiting people to exchange it in small chunks that did not require proof of tax compliance.
Nevertheless, the decision did produce some positive reverberations. From now on, without the high denomination currency notes, it will be harder to stash large amounts of black money; more Indians opened up bank accounts to store their savings; and counterfeit currency notes, a ubiquitous problem that afflicts India's economy, will also be reduced.
As the world watches India's experiment, and more countries consider similar measures in their own domestic economies, the benefits and unintended consequences of India's demonetization policy will be closely scrutinized by scholars and policymakers alike.
Upcoming events offered by the Emerging Markets Institute include two Feb. 23 events: a lunch lecture with Lev Perelman, MBA '13, director of business partnerships and corporate and foundations relations at Cornell's College of Agriculture and Life Sciences, and a 4 p.m. book talkby Eswar Prasad, Tolani Senior Professor of Trade Policy at the Charles H. Dyson School of Applied Economics and Management, whose latest book is Gaining Currency: The Rise of the Renminbi (Oxford University Press, October 2016).