2017 Emerging Markets Institute Fellows Graduation Celebration
On Friday, May 26th the Emerging Markets Institute welcomed the families and friends of graduates to Ithaca for the Fellows Graduation Celebration to honor the achievements and success of the 42 EMI Fellows.

---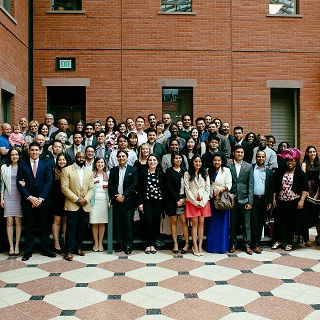 On Friday, May 26th the Emerging Markets Institute welcomed parents, family and friends of graduates as well as staff and deans to the S.C. Johnson School of Management for the Fellows Graduation Celebration to honor the achievements and success of the 42 EMI Fellows.
In its 6th year at the SC Johnson School of Management the EMI holds the celebration on Friday afternoon of Commencement weekend when many academic departments host receptions. At the heart of EMI are the students and staff that provide their knowledge of and enthusiasm for subject matters focused on the emerging markets and international business. The celebration gives the EMI staff an opportunity to thank the students for their hardwork and dedication to the knowledge and growth of EMI as well as provides a moment for students to take in their Johnson and EMI journey and memories and mark their next milestone to graduation at Cornell University.At the start of the celebration EMI Director Lourdes Casanova welcomed everyone to Johnson, followed by remarks from Cornell Tech Associate Dean Doug Stayman, Associate Dean for MBA Programs Vishal Gaur, Associate Dean for Academic Affairs Andrew Karolyi and Anne and Elmer Lindseth Dean Mark Nelson at Samuel Curtis Johnson Graduate School of Management at Cornell. Lourdes Casanova introduced 3 student speakers: Max Kaye, Cornell Tech MBA '17; Ross Brown, MBA 17 and Vincent Kapur, MBA '17, followed by keynote speaker, Sandiip Bhammer, MBA '04.
During his talk, Sandiip Bhammer spoke about his own journey and experience at Johnson and challenged the students to take risk and seek opportunities not only in the emerging markets but also in life. As he spoke a quote from Paulo Coelho, "Be brave. Take risks. Nothing can substitute experience" played in the background which added support to his words of encouragement.
Max Kaye, Cornell Tech MBA ,'17; Ross Brown, MBA '17, Vincent Kapur, MBA '17 and Max Spivek, MBA '14 addressed students and expressed gratitude for their experiences with the EMI Fellows program. Each student's speech echoed much of Sandiip's sentiments in addition to the importance of collaboration to drive social change, advance shared objectives and creating new opportunities. Vincent Kapur reminded his classmates of the important role that they played as EMI Fellows and Johnson graduates and alumnus and appealed to everyone to stay in touch and connected with the institute. Ross Brown urged everyone to never allow fear and failure to keep them from reaching their full potential as it is the learning experiences that build great leaders. Max Kaye's remarks tied in his close connection with Cornell Tech classmates, watch the full speech here.
As part of the celebration Lourdes presented the EMI research assistants certificates for their contribution to the institute and Fellows with certificates of achievement. The celebration concluded with a champagne toast and reception.
The quality, relevance and student make-up of the Emerging Markets Institute is what sets the program apart from similar programs. Here are some of the 2016 – 2017 numbers and highlights:
42 EMI Fellows (35% are women), see complete list of EMI Fellows
14 countries represented (China, Brazil, , Colombia, India, Indonesia, Lebanon, Mexico, Peru, Nigeria, Russia, South Korea, Thailand, US and Viet Nam)
5 Cornell University programs associated with the EMI: Johnson Two Year MBA (14 students), One Year MBA (14 students), Cornell Tech MBA (11 students) and Cornell Executive MBA Metro NY (1 student); Cornell Institute for Public Affairs MPA (1 student) and Cornell Baker Program in Real Estate (1 student)
The institute is looking to increase its reach and recruit more students from the various degree programs across campus.
As part of their EMI requirements the Cornell Tech cohort produced several research projects. Here are a few of the projects:
o Jumia Case Study – Group members: Tosin Adeniji, Asya Bashina, Rebecca Kim and Nikhil Swaminathan
o Digital Security and Privacy in Emerging Markets – Martin Chan
o Greater China B Movement Opportunities – Max Kaye
o Synkers Speed BDD – Group member: Sam Assaf and Abhiram Muddu
o Protecting Farmers in Emerging Markets with Blockchain – Group Members: Sam Haveson, Alan Lau and Vince Wong