Why the Consulting Program Made Johnson my Top Business School Choice
By Jennifer Le, MBA '13, Consulting Club President, Teaching Assistant for Management Cases Course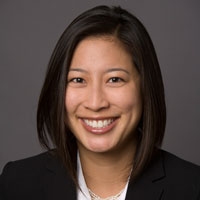 One major factor that drew me to Johnson when I was deciding between MBA Programs was the high level of structure the Consulting Program offers. Consulting appeals to a large population of Johnson students, and it necessitates extensive support and an organized process. The consulting track can be combined with almost every Immersion Program at Johnson. I found that the Consulting Program perfectly complemented my Immersion experience in Sustainable Global Enterprise (SGE).
The Consulting Program is embedded throughout Johnson in various channels, including professional clubs, Career Management Center (CMC) programs, and coursework. The following are what I found to be the most useful aspects of the Consulting Program across all of these channels.
1: Formalized support from second-year students
I was pleasantly surprised to find that aspects of the Program are managed by second-year students who went through the process the prior year. They volunteer their time extensively to pay it forward and lead the Consulting Club activities, the CMC's Career Work Group Program, and other components of the Program.
Through these channels, second-year students teach interview prep curriculum, lead weekly small group sessions, and hold one-on-one mock interviews. The strong network of second-year students allows for a direct knowledge transfer from those who went through the consulting interview and internship process to those who are beginning the process.
2: Curriculum for both interview prep and internship success
The Consulting Passport, as taught through the Consulting Club, is a structured curriculum that helps prepare students for the rigorous case interview process required for consulting. Nate Peck's Management Cases course is unique in that it focuses on preparing students for real world application and succeeding in your internship from day one. The course helped me focus on how to structure a compelling argument and present it in a way that would appeal to top level management and win over even the most skeptical managers.
3: Connection to alumni at key firms
The extensive consulting prep support goes beyond just the walls of Sage Hall. The Consulting Club, CMC, and Management Cases course provide avenues to connect students with alumni at key consulting firms. I was delighted to learn how engaged Johnson alumni are and how much they are willing to help. Going to NYC to visit consulting firms can be stressful, but having friendly alumni there makes a world of difference.
Johnson's extensive Consulting Program was a critical factor in making Johnson my top choice. It helped me succeed in my internship and has positioned me well to crack any future business problems and think like a CEO. You can read about my internship experience in the SGE Immersion's "Center at Work".