Transforming an Aspiring Consultant with a Holistic Approach
by Cara Petonic, MBA '13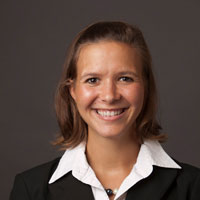 Prior to Johnson, I worked for a middle-market financial institution in Investment Banking and Sell-Side Equity Research where I focused on eCommerce stocks. While these experiences gave me a fantastic foundation in understanding finance, I found myself desiring to dig deeper into and be a part of developing strategies for our clients. I knew that Management Consulting was where I wanted to go next in my career path and that an MBA was going to get me there, but I did not realize how well Johnson would prepare me to get there and to succeed once I arrived.
I chose a Johnson MBA for many reasons, but one main reason was because of the school's excellent track record of placing students with top-notch consulting firms. I, too, was fortunate to intern with and receive a full-time offer from a top consulting firm. But how did Johnson help me accomplish my goals?
Consulting Club, BR Consulting, and the CMC
Johnson leverages the leadership of its second-year students and the relationships built by the Career Management Center (CMC) to help first-year students before they even step foot on campus: providing case practice materials, interview tips, and opportunities to meet alumni, current students, and practitioners over the summer. Once we arrive on campus, we have the opportunity to join the Consulting Club where we meet weekly to learn about second-year students' experiences from the summer and practice our interviewing and case practice skills.
The CMC also helps us refine our resumes, cover letters, and firm searches with tailored approaches for each student.
Big Red Consulting (BRC) also aided gave me by giving me the opportunity to become a consultant for a real client. My team worked together to produce a market entry strategy for an organic foods company. Having no consulting experience in my previous career, I found this opportunity to be extremely valuable.
Rigorous and Rewarding Consulting Coursework
One of the greatest assets the Johnson Consulting Program has is its unique consulting coursework. Johnson's Management Cases and Problem Solving Courses lets students take the "CEO's point-of-view" by creating a mock consulting project, complete with project proposal presentations, interim updates, CEO interviews, and final recommendations.
Additionally, each week, students practice their individual presentation skills by tackling a new case and providing a corresponding presentation with recommendations for the management teams and corporate boards. Not only was I able to benefit from taking both of these courses, but I also continued to learn more as a Teaching Assistant in my second year for the Problem Solving class. Coming back fresh from my internship, not only was I able to provide students with insight from my experiences, but I continued to learn from the viewpoint each student brought to his or her presentation.
Immersion Program – Deep-Dive into Marketing with a Consulting Client
The Immersion Program is the icing on the cake. While Johnson does not have an Immersion dedicated to consulting, both the Strategic Marketing (SMI) and the Sustainable Global Enterprise (SGE) Immersions have real-life consulting clients for each student team. My SMI team was fortunate to work with Godiva Chocolate on optimizing the company's loyalty program. This was a fantastic opportunity to utilize all that I had learned from practice with the Consulting Club and consulting courses while also deep-diving into the field of marketing.
Overall, I could not have asked for better preparation and support for obtaining a summer internship in consulting and for performing at the highest level when I arrived the first day. The holistic approach Johnson takes from career, academic, and extracurricular aspects sets students up for absolute success in the consulting world. I know I have benefited greatly from my experiences and will continue to use them as I continue in my career in strategy consulting.