The Benefits of Combining Theoretical Knowledge and Practical Experience
by Anvar Jay Varadaraj, MBA '13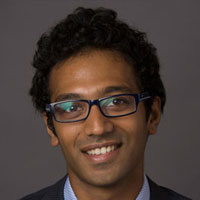 As I reflect on my general MBA experience, my summer internship at Mars will always hold a special place. I thoroughly enjoyed my summer as an intern on Mars' seasonal business, and I owe much of my success to the strong marketing skills that I received during the Strategic Marketing Immersion. Specifically, the combination of theoretical knowledge and practical experience helped me deliver meaningful recommendations for the seasonal business.
As a career switcher, the marketing learning curve was steep. While it was intimidating to sit in on brand general meetings, I found myself following along with ease, especially with respect to the terminology and the general strategies that were discussed. I credit my fast onboarding onto the general Mars marketing platform to the Immersion.
My Mars marketing internship was atypical of CPG internships in that I had one large project that required strategic, analytical, and creative skills as opposed to smaller projects that focused on each one of these skills. As a result, I essentially had to play the role of a marketing consultant in the organization to determine the scope of the project. I found myself well prepared for this challenge as I had worked on a similar, semester-long project for GE healthcare during the Strategic Marketing Immersion.
The biggest challenge within the GE project during the Immersion was narrowing down the scope of the project. Going through that process during my time as a first-year student, instilled a logical thought process to go about solving my internship challenge. In addition, in my role as an internal consultant, my manager and her leadership team were essentially my clients. I had to ensure that I was making the best use of their time in terms of addressing questions and providing project updates. Given that I had managed our client relationship on the GE project, I felt well equipped to handle this task, and, ultimately, received positive feedback for my interactions with the leadership team.
In brief, this Immersion was critical to my internship success, especially given that I had limited prior experience in marketing. The Program's emphasis on marketing application distinguishes it from its peer programs, ultimately resulting in better prepared marketing students.