Exploring Johnson's Marketing Association for SMI Students
by Michael Hendrix, MBA '13, Marketing Association President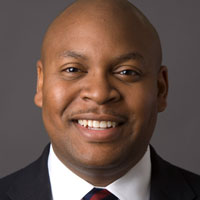 I often get asked why I ran for president of the Marketing Association (MA). Would it look good on my resume? Would it be an easy way to connect with recruiters? While in some eyes these would be valid reasons to run, mine were different. In fact, I had one reason: to help improve the marketing leadership of first-year MBA students, many who would also be taking the Strategic Marketing Immersion (SMI) in the spring. As a career changer previously in manufacturing engineering at Ford Motor Company, who had the help of others early on, I wanted to give back. With a strong, enthusiastic executive board, the MA has made some strides this year to make that happen.
Each year, the MA makes it a point to enhance its offerings to students to build their skills and marketing leadership. With our vision "At the forefront of Marketing Leadership!" we set a plan to enrich the support, resources, and engagement of marketing students at Johnson. We added events such as the "Super Bowl Viewing Party" to coincide with our annual "Super Bowl Ad Review" to drive even more excitement and participation from the community. We revamped the MA's website, added online videos of key panels, and implemented summer guidance and support for incoming Two-Year and Accelerated MBA students – all with the hope of driving strong success in recruiting, education, and community engagement.
This fall, we worked collaboratively with the Career Management Center (CMC) and the Strategic Marketing Immersion to ensure our MBA students are successful. With the CMC, we worked to help drive Career Work Groups (CWGs) and the Marketing Passport. CWGs are small groups of marketing-focused first-year students led by two second-year students who will pursue strategic marketing upon graduation. CWGs help students hone successful interview and recruiting skills and prep for educational meetings and corporate networking events sponsored by the MA.
The Marketing Passport, led by Warren Ellish, visiting senior lecturer of marketing and founder of the Ellish Marketing Group, consists of a carefully planned and structured series of lectures, presentations, and case interview preparation events. It culminates with one of two major signature events co-sponsored by the MA: Marketing Executive Coaching Weekend, an event unlike any other. Senior level executives come to Cornell from all over the nation to provide free marketing expertise and guidance on career paths, interviews, companies, and more.
In parallel, our famous "Battle of the Brands" marketing competition builds upon Johnson's pillars of experiential leadership and performance learning. Sponsored by corporate leaders this year, American Express, Johnson & Johnson, Reckitt Benckiser, Colgate-Palmolive, Mars, and Unilever, students create real sales and marketing plans, in hopes to manage a successful P&L. They then advertise and sell their respective products (one company for one team) to Johnson students, faculty, and staff in a competitive (yet collaborative) environment to see who sells the most, with the highest profit.
The only other way to gain such robust experience as this is through the Strategic Marketing Immersion. Beyond the coursework, you gain marketing expertise, working with real companies on real marketing problems. It's the best way to understand the true aspects of successful marketing, while strengthening your conversation in the marketing world. It helped me navigate my internship successfully, especially as a career changer, at SC Johnson this past summer. It's also given me a clear eye on what's needed for our MBA students to be most successful as we pursue our careers to be marketing leaders.