Consortium Application
Johnson is a member of The Consortium for Graduate Study in Management, an alliance of leading American business schools and some of our country's top corporations. The mission is to enhance diversity in business education and leadership by helping to reduce the serious underrepresentation of African Americans, Hispanic Americans, and Native Americans in both our member schools' enrollments and the ranks of management. We believe this mission can be achieved by recruiting qualified U.S. citizens and U.S. permanent residents who can demonstrate a commitment to The Consortium's mission and can best assist The Consortium in pursuing this mission.
We strongly recommend that eligible candidates apply for admission to Johnson by using The Consortium application. Applicants who apply using The Consortium application undergo the same evaluation process as applicants who apply directly to Johnson. Please refer to The Consortium's application instructions before beginning your application.
---
Applying through The Consortium provides four key benefits:
Consortium Membership: Consortium members gain many benefits, including access to over 70 corporate partners, a mandatory Annual Orientation Program & Career Forum (OP) prior to beginning the MBA program, and access to nearly 6,000 Consortium alumni across member schools. Please refer to the Membership Guidelines for more information.
The Consortium Fellowship: Last year, Consortium member schools offered more than 400 fellowships covering tuition and mandatory fees for two years of full-time study. Applicants who are admitted through The Consortium process and become Consortium members are considered for these prestigious fellowships. Individual schools may also award other merit based scholarships and financial aid.
Common Application: One application allows you to apply to up to six Consortium schools.
Tiered Application Fee: Using The Consortium common application significantly reduces your application fee costs versus applying to each Consortium member school individually.
2021 Johnson Consortium Liaisons:
If you have questions about applying to Johnson through The Consortium, please email mba@johnson.cornell.edu
---
Consortium 2021-22 Deadlines
Round
Application Deadline
Deposit & Official
Documentation Deadline*
Consortium Early Application
October 15, 2021
April 29, 2022
Consortium Traditional Application
January 5, 2022
April 29, 2022
Deposit Deadline: Candidates who accept their offer of admission must submit a non-refundable $1,500 enrollment deposit by April 29, 2022. A second deposit of $1,500 is required and should be made by June 15, 2022.
*Consortium candidates selected to receive the Park Fellowship will be required to submit a $4,500 enrollment deposit; $3,000 by the Consortium's April 29, 2022 deposit deadline and a second deposit ($1,500) by June 15, 2022.
Consortium Super Day (Virtual) – TBD: Our Consortium Super Day is an immersive experience designed to further introduce you to our Cornell MBA program and community. In addition to completing your virtual interview, you will have the opportunity to engage with our Consortium students and MBA Programs team. We want you to understand and experience first-hand what it means to be a student at Cornell.
Invitations to attend our Consortium Super Day are issued by invitation only and will be released on a rolling basis. Space is limited.
Consortium Super Day (Virtual)
February 13, 2021
Schedule of Events
---
9:00 AM
Super Day Welcome
---
9:15 AM
Dean Welcome
---
9:30 AM
Student Welcome
---
9:50 AM
Transition
---
Session A – includes interview, Career Management Center Overview (CMC), Office of Diversity and Inclusion (ODI), and Leadership Programs Overview
---
10:00 AM
Interviews | CMC Overview
---
10:45 AM
Interviews | CMC Overview
---
11:30 AM
ODI and Leadership Programs Overview
---
Session B – includes interview, Career Management Center Overview (CMC), Office of Diversity and Inclusion (ODI), and Leadership Programs Overview
---
10:00 AM
ODI and Leadership Programs Overview
---
11:30 AM
Interviews | CMC Overview
---
12:15 PM
Interviews | CMC Overview
---
1:00 PM
Break
---
1:30 PM
Ask Me Anything Session
---
2:00 PM
Closing
"I chose Johnson because I wanted to be a part of a community that reflected me. A community that genuinely cares for one another and as a result supports one another..."

Catianne Ngante, MBA '18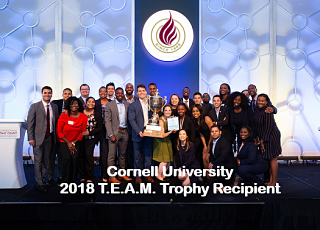 Cornell University claims the trophy for the 2018 T.E.A.M. award
Cornell University SC Johnson Graduate School of Management claimed the honor and took home the trophy for the T.E.A.M. award – "together, everyone achieves more."
Read More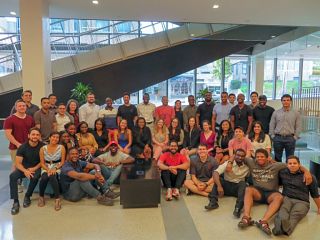 Johnson represents: MBA students win Consortium T.E.A.M. Award
T.E.A.M. stands for Together Everyone Achieves More, and the annual award was created to encourage engagement and collaboration among the Consortium community. The Johnson Consortium class claimed the honor at the Consortium's annual conference, held in June in Orlando, Florida, by showing impressive commitment to the organization and its goals.
Read More