A rising force: Emerging economies are gaining ground in wealth and influence
11/10/2016
The Emerging Markets Institute's 2016 conference and inaugural Emerging Multinationals Report convey powerful evidence of "a new global landscape" showing a sharp increase in emerging economies as foreign investors and a "blossoming of some of their firms as world champions."

by Janice Endresen
---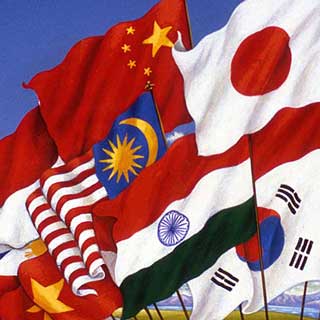 The global economic landscape is experiencing a sea change as the wealth of emerging economies shows a rapid, steady escalation since the beginning of the 21st century — and especially since the Global Financial Crisis of 2008-09. Clear indicators of this trend include outward foreign direct investment (OFDI), a significant increase in the number of emerging market multinational corporations in the Fortune Global 500, and outbound M&A transactions.
While South-South trade (shorthand for trade among countries in the Southern hemisphere) is escalating as never before, emerging market countries (illustrated here by the E20, a group of 20 emerging economies) are simultaneously becoming bigger players and stakeholders in global investment flows.

The E20 refers to the top 20 emerging economies, selected by authors of the Emerging Multinationals Report 2016 based on the size of their GDP, population, and significant influence in global and regional trade and investment.
These key messages were presented, discussed, and reinforced both with data and with company narratives by many speakers who are industry leaders at the sixth annual Emerging Markets Institute Conference,"Emerging Multinationals: Innovating to Compete." Lourdes Casanova, Emerging Markets Institute senior lecturer and academic director, organized the conference in collaboration with Ravi Ramamurti, Distinguished Professor of International Business and Strategy and director of the Center for Emerging Markets at Northeastern University. Held on Oct. 14 at the School of Industrial and Labor Relations' New York City Conference Center, this year's conference drew 80 participants and 20 speakers.
Launch of the first EMI Emerging Multinationals Report
Lourdes Casanova and Anne Miroux, Emerging Markets Institute faculty fellow, presented their work, Emerging Market Multinationals Report 2016: The China Surge. Several colleagues joined in a panel discussion focused on the report, including Ramamurti, moderator; Marcos Bonturi, director of global relations at the Organization for Economic Cooperation and Development (OECD); and Moacir de Miranda Oliveira Jr., professor and coordinator of the Graduate Program in Business Administration at the Universidad de São Paulo.
When introducing co-authors Casanova and Miroux, Ramamurti said of their report: "The great contribution being made today is an attempt to tell an annual story about these companies in a way that has not yet been done. I attempted something similar myself a few years back, and I know the difficulties of getting good data to compare across countries — [it] is very hard; I gave up. You have to start somewhere, and I commend Lourdes Casanova and Anne Miroux for the courage to take on this very difficult task." He also spoke of how highly qualified both authors are to put together this report.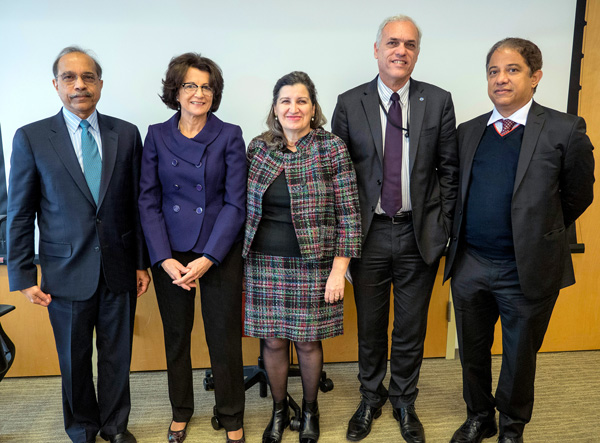 (left to right) Ravi Ramamurti, Anne Miroux, Lourdes Casanova, Marcos Bonturi, and Moacir de Miranda Oliveira Jr.
What is the E20?
Miroux began by discussing the challenge of defining what constitutes an emerging economy and explained that for this study, she and Casanova culled the top 20 emerging economies — which they dubbed the E20 — from lists published by the IMF, the UN, and Morgan Stanley, among others, and weighted them based on their gross domestic product (GDP), demographics and their significance in global and regional trade and investment.
"Demographics is a key parameter" Miroux said."It's not only the number of people [in the E20], but the characteristics of this population," she added. This large population of young, working-age people is creating a rise and a shift in consumer demand, for instance. Miroux referred to a report published by the OECD a couple of years ago that said in 2009, two thirds of the global consumer spending was in North America and Europe, and that by 2030, it will be 10 percent. "So it's a massive shift," she said.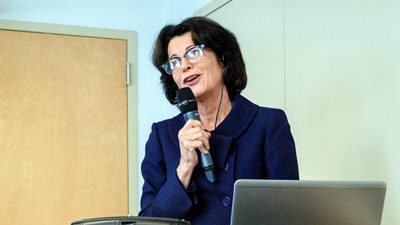 Anne Miroux
Miroux shared further evidence of this shift via a chart that is included in the Emerging Multinationals Report: Share of Global GDP (at PPP), E20 and G7. This shows that the E20 has about half of the global GDP right now. "You see the line change is right around the time of the global financial crisis, 2008-2009, she said. The E20 has surpassed the G7 and continues to rise. It's a whole new landscape, a coming of age for these economies."
Miroux said there is also a shift in the geography of innovation. "Things are changing every week. Think about supercomputers: China now has the largest number of supercomputers in the world."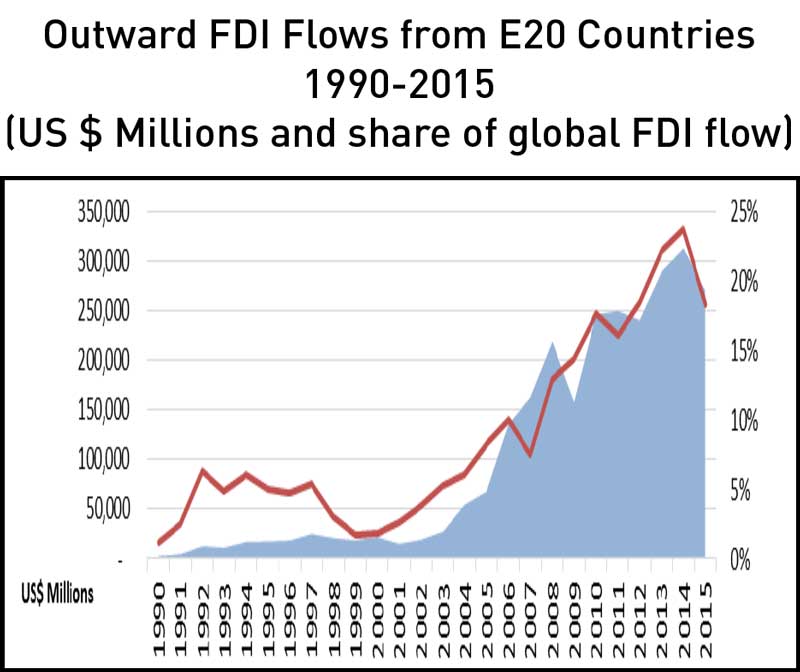 Note: Red line — share I Global OFDI flows. Source: EMI Report 2016 authors' analysis based on data from UNCTAD, World Investment Report 2016.
The E20 also shows a sharp increase in outward foreign direct investment (OFDI) beginning in 2000, Miroux noted "Asia has way outpaced Latin America in outward financial investments, she said. "The biggest players are China and Korea; they are extremely proactive in multinational expansion."
"Twenty or even 15 years ago, I don't think we could have imagined the expansion, not only of the Chinese multinationals, but the multinationals of Turkey and a number of other countries," said Miroux. "It's quite fascinating to see how fast the change has taken place. It has a lot of economic implications, but also perhaps as important … it has major political implications."
China is the winner
"If we look at the Fortune Global 500, the winner is China," said Casanova, pointing to a bar chart, Ranking of Countries Listed in the 2015 Fortune Global 500. "China now has 98 companies in the Global 500 compared to the U.S., the country with the biggest private sector and the most dynamic innovation in the world, which has 128 companies." China's representation far exceeds the other emerging markets countries listed: Korea has 17 companies; India and Brazil each have 7; Russia has 5; Mexico, 3; and Indonesia, 2.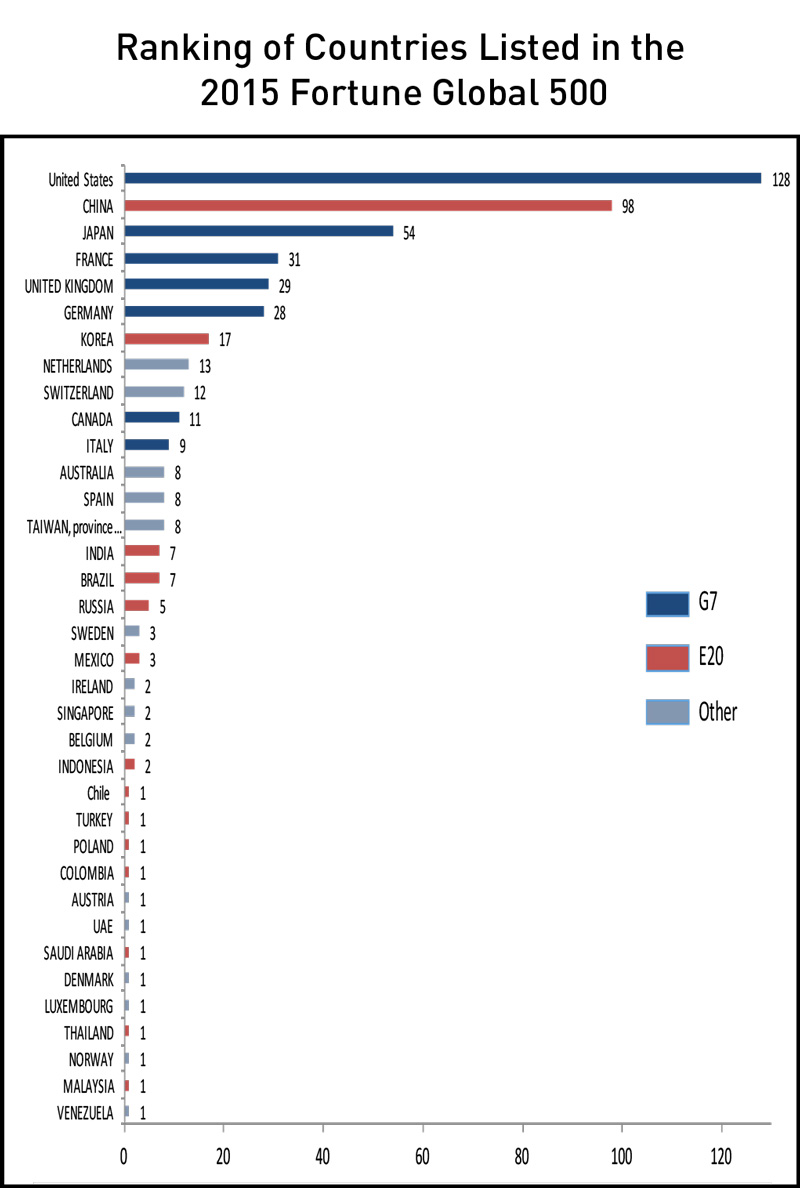 Source: EMI Report 2016 authors' analysis based on data from Fortune 500 Directory, accessed May 2016.
What has also happened, said Casanova, is that 16 emerging markets companies out of a total of 40 have become top-5 leaders in eight key industries (banking, logistics, automobile, telecom, engineering and construction, petroleum refining, mining and crude oil production, and metals). .
"In 2004, there was not a single leader in those industries from emerging markets," Casanova said. "In 2015, the five biggest companies in engineering and construction are all Chinese. So a tremendous change has taken place in just 12 years.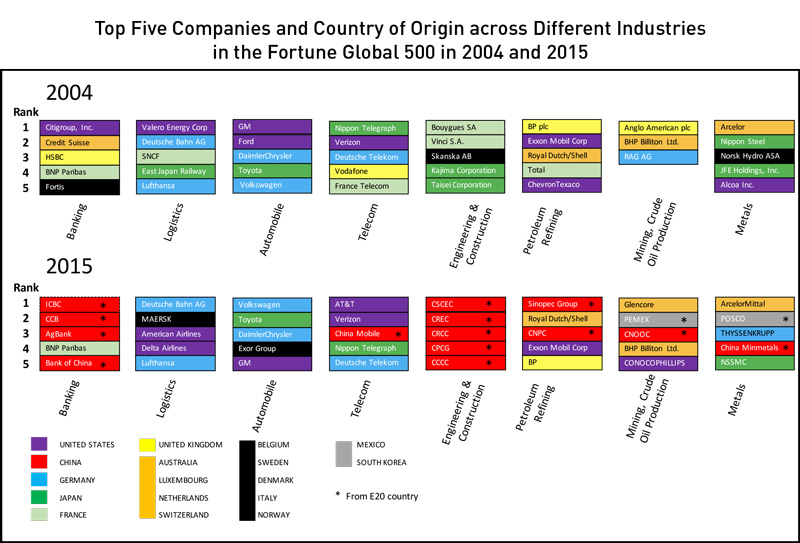 Source: EMI Report 2016 authors' analysis based on data from Fortune 500 Directory, accessed May 2016.
"The inflection point has been the global financial crisis for China," Casanova noted. "China had a policy to go abroad, and after that they grew tremendously."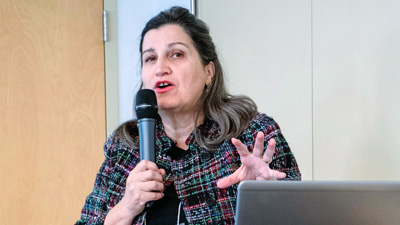 Lourdes Casanova
Chinese outbound M&A activity offers further evidence of this. "China started from nothing, but has become, in the year 2015, the fifth most important country in terms of outbound M&A activity," Casanova said. "Again, a very rapid development. The tendency we see here is that Chinese companies have taken tremendous advantage of the European crisis; Europe has become the target of tremendous acquisitions in recent years, followed by Asia, then the U.S., and then Latin America. Brazil, in its crisis, has seen a tremendous surge in Chinese acquisitions."
As the data in Casanova's and Miroux's "Emerging Market Multinationals Report 2016: The China Surge" shows so palpably, Chinese multinationals's tremendous expansion is a remarkable phenomenon. And it demands further study and attention.
"In U.S. business schools, we do not teach much about Chinese companies," Casanova said. "We always use the examples of the most competitive, most innovative, most aggressive American companies. We need to know much more about these new players — about their competitive dynamics, and also how they expand and why they expand."
In his remarks about the report, Moacir Miranda de Oliveira Jr., Professor of FEA, Universidad de São Paulo, said: "There is so much important information and data in this report, I'm sure it will be quoted and referred to for many years to come."
Marcos Bonturi, OECD special representative to the United States, spoke of the effects on public policy due to the rise of multinationals. While the OECD has 35 member countries, including some emerging markets, and plays an important role in setting international standards, the organization also realizes that "you can't set standards for the global economy with just 35 members," Bonturi said. Emerging multinationals will be a driving force in getting governments in non-OECD countries to participate. "All countries in the world need to abide by the same standards or you don't have a level playing field," he said.
Corporate governance constitutes a huge pipeline of intergovernmental agreements. Bonturi said. "Watch that space. There will be a lot of activity and new developments in this area."
A brave — and innovative — new world
A host of speakers representing myriad industries involved in the surge in influence of emerging multinationals shared their stories and perspectives at the conference, including representatives of the banking, venture capital, private equity, mining, chemical, and petroleum and gas industries. In broad terms, every speaker contributed a chapter to the story of the immense changes occurring in a global redistribution of wealth, including changes in access to financial services and the flow of capital.
Many spoke of innovation, especially in fintech — the convergence of finance and digital technology — and in other aspects of the digital economy. For instance, Yuqiang Xiao, U.S. management committee chairman for the Industrial and Commercial Bank of China (ICBC), spoke of WeChat, now the largest app in the world, and of ICBC, which, with 210 million mobile users, now has the largest e-banking platform and the largest online mall in China, second only to Alibaba. Adalberto Flores, founder and CEO of Kueski in Mexico, a company that can underwrite and approve loans online in minutes, spoke of his company's tremendous growth in a country where 85 percent of the population has no credit card. As ICBC's Xiao said: "Innovation is the future of banking."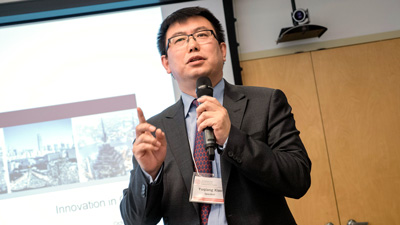 Yuqiang Xiao
Speakers who have special expertise in Africa, Latin America, and India spoke of the political and economic dynamics and the prospects for growth they see in those areas. Many commented on Brazil's current instability, and no one shied away from challenges, such as illiquidity for private equity in some emerging market investments.
But overall, speakers painted a picture aligned with the data showing that prosperity in emerging market countries is steadily rising – as Flores did when he said: "Latin America has strong fundamentals, and we are starting to see this virtual cycle. It's still early stage. But I believe that in the next couple of years, we're going to see companies that are super interesting. We're starting to see people who've worked or studied in the United States returning to Mexico and who are using that experience to start companies; that's becoming an interesting trend. I'm assuming that more and more U.S.-based funds are going to start making their way to Mexico and more funds are going to be built and created in Mexico as well."
Illustration credit: Mark Hess /Illustration Source
Photos by Shelley Kusnetz