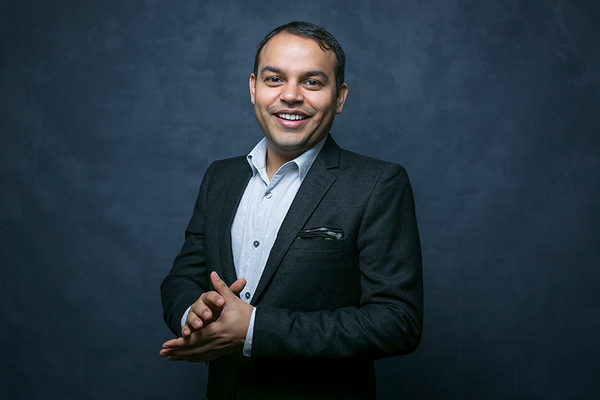 Karan Girotra
Charles H. Dyson Family Professor of Management
Department Editor, Management Science
Department Editor, Service Science
Faculty Area
Interdisciplinary Theme
Faculty Expertise
Operations and Global Supply Chains
Online Retail and Logistics
Electric Vehicles
Bike-share
Digital Transformation
Business Analytics
Innovation
Contact
Samuel Curtis Johnson Graduate School of Management
Website
Biography
Karan Girotra is Professor of Operations, Technology and Innovation at Cornell-Tech and the Samuel Curtis Johnson Graduate School of Management in the Cornell SC Johnson College of Business. Karan's research is focused on identifying and refining business models enabled by new technologies, and on the practices that enable the digital transformation of companies and industries. Karan has collaborated with companies building new business models in the areas of urban living, smart transportation and e-commerce, helping them build rigorous research-based solutions.

As one of the first business faculty at Cornell Tech, Karan is helping build a unique new educational institution that fuses technology with business and creative thinking. He is the academic lead for the flagship studio-based education programs at Cornell Tech and is applying his research on innovation to help build a new model for graduate education.

Karan's and his collaborators have been recognized with multiple best paper awards and his research contributions were recognized with prestigious Wickham Skinner Early Career Research Award. His research on new business models (at the time) was summarized in the best-selling book, "The Risk Driven Business Model". He has also won over 20 teaching awards for his teaching on entrepreneurship and new business models and was featured in the Poets and Quant's Best 40 under 40 business professors lists.

Karan is a regular contributor to the Harvard Business Review and a frequent TV and radio guest having appeared on CNBC, First Business News and many widely syndicated radio shows. His views on business models, innovation, green transportation, retail and global sourcing have been featured extensively in the business press including the Financial Times, The Wall Street Journal, Bloomberg BusinessWeek, Fortune, Forbes, San Francisco Chronicle, Seattle Times, South China Morning Post, Economic Times, MIT Sloan Management Review, etc. He has given Keynote addresses at the World Knowledge Forum and for corporations such as McKinsey, Johnson and Johnson, Medtronic, ABB, Bayer, amongst others.

In addition to his academic work, Karan was one of the founders of TerraPass Inc., which the New York Times identified as one of the most noteworthy ideas of 2005. Since then, TerraPass has helped businesses and individuals reduce over hundred million tons of carbon dioxide emissions. He continues to actively engage with startups as a technical advisor and mentor.

Prior to joining Cornell Tech, Karan held the Paul Dubrule Chair at INSEAD, earned a doctorate at the Wharton School and a bachelors degree from the Indian Institute of Technology, Delhi.
Selected Publications
Girotra, Karan; Netessine, Serguei. The Risk-Driven Business Model: Four Questions That Will Define Your Company. Harvard Business Review Press. (2014): 256pp
Kabra, Ashish; Belavina, Elena; Girotra, Karan. "Bike-Share Systems: Accessibility and Availability"Management Science. 66.9 (2020)
Momot, Ruslan; Belavina, Elena; Girotra, Karan. "The Use and Value of Social Information in Selective Selling of Exclusive Products"Management Science. 66.6 (2020)
Kabra, Ashish; Belavina, Elena; Girotra, Karan. "Designing Promotions to Scale Marketplaces" (in preparation).
Marinesi, Simone; Girotra, Karan; Netessine, Serguei. "The Operational Advantages of Threshold Discounting Offers"Management Science. 64.6 (2018): 2473-2972
Avci, Buket; Girotra, Karan; Netessine, Serguei. "Electric Vehicles with a Battery Switching Station: Adoption and Environmental Impact"Management Science. 61.4 (2015): 772-794
Jain, Nitish; Girotra, Karan; Netessine, Serguei. "Managing Global Sourcing: Inventory Performance"Management Science. 60.5 (2014): 1202 - 1222
Girotra, Karan; Netessine, S. "Four Paths to Business Model Innovation"Harvard Business Review. (2014)
Girotra, Karan; Netessine, Serguei. "OM Forum—Business Model Innovation for Sustainability"Manufacturing and Service Operations Management. 15.4 (2013): 537-544
Recent Courses
NMI 5000 - Directed Reading & Research
NBAB 6750 - Leading Digital Transformation and Innovation
NBAE 6750 - Leading Digital Transformation and Innovation
NCCY 5080 - Operations Management
HADM 9980 - Operations of Digital Business Models and Marketplaces
Academic Degrees
PhD The Wharton School, University of Pennsylvania, 2007
MA The Wharton School, University of Pennsylvania, 2007
Btech Indian Institute of Technology, Delhi, 2002