Digital Technology
Digital Technology Immersion (DTI)
Immerse yourself in the most intense, business-relevant, digital technology experience available, ready to tackle your employer's challenges the moment you begin your internship.
Overview
Students in the digital technology immersion develop firsthand experience and technical knowledge critical for success in high tech. In this cross-disciplinary immersion, students learn to leverage the power of analytics to solve business problems.
Career Paths
Consulting in digital technology
Product management in the technology industry
Analytics
Data science
A Sample of Companies Recruiting Here
From small startups to Fortune 500 companies, recent digital technology immersion students secured MBA internships and full-time employment across a wide range of companies and industries such as:
Google
Amazon
McKinsey
Commonbond
Altman Vilandrie
KPMG
Procter & Gamble
IBM
Extreme Blue
Salesforce
Highlights
The digital technology immersion, teaming MBA candidates and MPS students from Cornell Computing and Information Science to address challenges facing leading-edge companies, is the only program to focus on digital technologies and build students' skill sets in coding, databases, and advanced analytics in support of business strategy.
Curriculum Details
From taking core courses to participating in cross-functional teams that tackle company challenges, students enrolled in the DTI immersion gain a deep understanding of the technology industry and learn how to effectively communicate and problem solve. DTI's dynamic curriculum includes:
Core courses focused on operations and analytics
Electives in strategy, analytics, marketing, and product management
DTI practicum
Actionable solutions for companies' projects
Key Skills Developed
The semester in digital technology immersion cultivates and strengthens your skillsets with a special focus on:
Coding
Advanced analytics
How to communicate effectively with technical and creative employees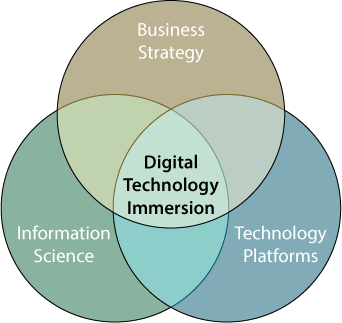 Clubs & Associations
Take advantage of clubs, associations, and networking opportunities related to the digital technology immersion, such as:
The High Tech Club
The High Tech Club or HTC supports and provides resources to Johnson students pursuing careers in the technology industry.
Digital Technology Immersion at Work