Johnson in Africa: Ghana Trek 2013
Johnson students with His Excellency John Kufuor, former President of the Republic of Ghana, at his home in Accra.
---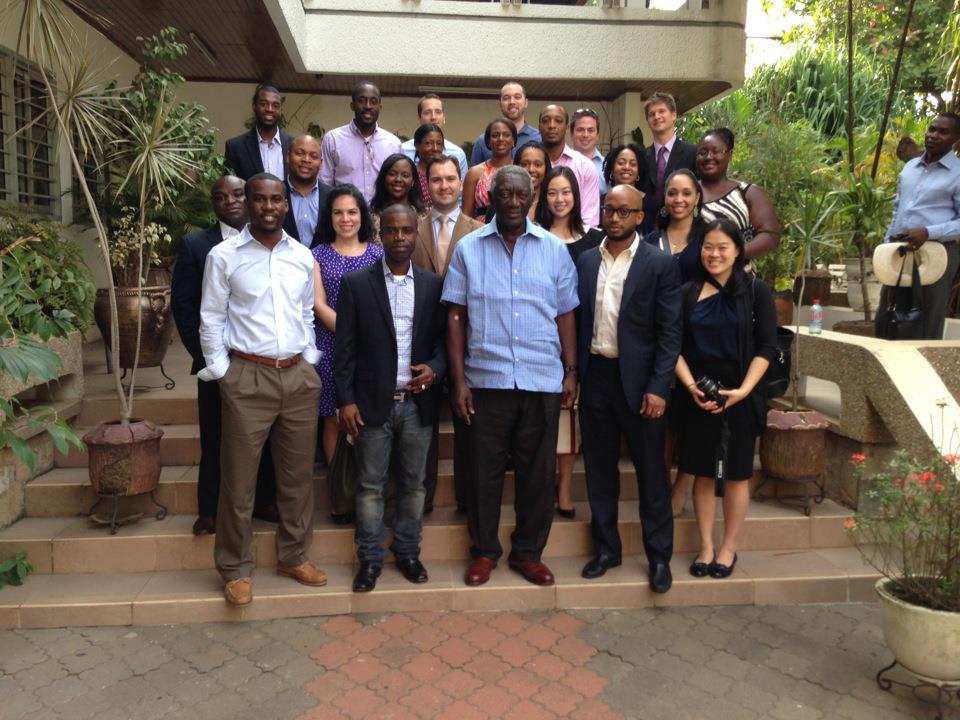 "Akwaaba, Welcome to Ghana," stated His Excellency John Kufuor, former President of the Republic of Ghana, as he hosted 25 Johnson students and staff at his home in Accra. Johnson's first study trip to Africa began on Jan 4, 2013, with an in-depth conversation with the former President about Ghana's history and future opportunities. President Kufuor highlighted Ghana's 14 percent GDP growth in 2011, supported by the country's rich resources of gold, cocoa, and oil. Afterwards, President Kufuor invited the Johnson group to join him at former UN Secretary General Kofi Annan's book launch at the University of Ghana, Legon campus.
Johnson's Ghana Trek was the vision of Ghana native and Emerging Markets Institute Fellow Derick Appia-Kubi, MBA '13. Appia-Kubi led the planning of this 10-day study trip in partnership with Erik Simanis, PhD '10 (Johnson), managing director of Market Creation Strategies at the Center for Sustainable Global Enterprise, and Nsombi B. Ricketts, senior executive director of the Office of Diversity and Inclusion. With a focus on the business opportunities in Ghana, Johnson students visited eleven companies within the mining, agriculture, finance, real-estate, infrastructure, and oil and gas sectors. The companies they visited included: Anglo Gold, Ghana Cocoa Board, Conti Group, Databank, General Electric, Ghana National Petroleum Corporation, Laurus Development Partners, Oasis Capital, SC Johnson, Tullow Oil, and Water Health International. The group also toured cultural sites — including Kakum National Park, the Elmina slave castle in Cape Coast, and the Kwame Nkrumah Mausoleum — and participated in community service at Rising Sun Montessori charter school.
During their final days in Accra, Johnson students had enough exposure to the Ghanaian economy and culture to reflect on their experiences. Cornell alumna Esther Cobbah, CEO of StratComm Africa, hosted a closing reception for the group and invited media outlets to interview Johnson students about their impressions of Accra and Ghana. As a result, Johnson was featured as a premier business school across Ghanaian newspapers, radio stations, and television networks. When Johnson students departed from Accra on January 13, 2013, Ghana had made its mark on Johnson and Johnson had made its mark on Ghana.
Video Link:
Johnson Students Featured on ETV Ghana
Johnson students were featured on ETV Ghana during their January 2013 visit to StratComm Africa, a communications consulting firm owned by Cornell alumna Esther Cobbah.