Businesses have a vital role to play in solving social and environmental issues through innovation, market development, and entrepreneurship.
Faculty who work with the Center for Sustainable Global Enterprise are at the forefront of research, teaching, and engagement related to helping businesses address these problems. We provide students distinctive experiential learning opportunities and collaborate with organizations to help to tackle the grand challenges of our time, such as climate change, ecosystem degradation, and poverty.
Center for Sustainable Global Enterprise BusinessFeed
October 23, 2023
Big Red Microenterprise students worked with BaldGoddess entrepreneur JewleKrystal Fischer to enhance her business acumen and expand her enterprise.
October 11, 2023
Nixon International Internship Fund recipient Sebastian Garcia interned at Orion Capital, where he focused on healthcare for Mexico's middle class.
October 10, 2023
Kehkashan Basu, MBA '24, founder of the Green Hope Foundation and a UN Human Rights Champion, led two events at Climate Week NYC 2023.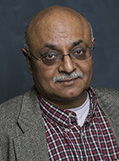 Ravi Kanbur, T.H. Lee Professor of World Affairs
Charles H. Dyson School of Applied Economics and Management
Measuring Unfair Inequality: Reconciling Equality of Opportunity and Freedom from Poverty
The Review of Economic Studies, 89, 6, November 2022
Summary 
Following the seminal 2003 work by Piketty and Saez, the literature has documented a continued increase of income inequality since the beginning of the 1980s in many Western societies, and this evidence has strongly influenced public discourse. However, empirical evidence on distributional preferences shows that people do not judge inequality as problematic per se but that they do take into account the fairness or unfairness of the outcome. In this article, Ravi Kanbur and co-authors propose a new measure of (unfair) inequality based on two widely held normative principles, namely equality of opportunity and freedom from poverty.
Developing a method for decomposing inequality and its trends into an unfair and a fair component, they bring this new measure to the data, and provide important insights about the fairness of inequality, both over time in the US and across countries. Their results document that unfair inequality matches the inequality growth in the US since 1980, a trend driven by decreases in social mobility, i.e., increasing importance of parental education and occupation for the income of their children. Among the 32 countries of their international comparison, the land of opportunity ranks among the most unfair societies in 2010.
There are no events to display.
Center Projects Spanning the Globe
The Center provides hands-on learning opportunities for graduate students interested in learning how businesses address environmental and social problems through innovation and enterprise. Click on the map to learn more about the diversity of companies and types of challenges we work on.
My best decision at Johnson was joining SGE. Hands down!

Mikey Arsnow, MBA '19
The SGE program is more than a class, it is a community building exercise. We worked hard but also played hard while learning about win-win solutions for business and the world.

Mercedes Moran Enriquez, MBA '20
Gayogo̱hó꞉nǫ' Land Acknowledgment for the Ithaca Campus
Cornell University is located on the traditional homelands of the Gayogo̱hó꞉nǫ' (the Cayuga Nation). The Gayogo̱hó꞉nǫ' are members of the Haudenosaunee Confederacy, an alliance of six sovereign Nations with a historic and contemporary presence on this land. The Confederacy precedes the establishment of Cornell University, New York state, and the United States of America. We acknowledge the painful history of Gayogo̱hó꞉nǫ' dispossession, and honor the ongoing connection of Gayogo̱hó꞉nǫ' people, past and present, to these lands and waters.