Andrew T. Rudd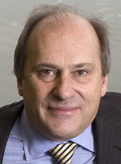 Andrew T. Rudd
Andrew Rudd is Chairman and CEO of Advisor Software, Inc., a market leader in providing solutions which enable financial institutions and investment advisors to improve the quality and delivery of investment advice.
Andrew founded Advisor Software (www.advisorsoftware.com) in 1995. Their most recent product, ASI Wealth Manager, is a goal-driven investment planning platform that couples institutional-caliber analytics and holistic management of the household balance sheet to deliver richer, more personalized advice to a wide range of investors.
He is also the founder and former Chairman and CEO of Barra Inc. (now MSCI Barra – NYSE:MXB). Under his guidance Barra developed risk management technologies, investment portfolio analysis methods, trading technologies and a vision for the modern management of large pools of assets that have subsequently become the professional standard on a global basis.
From 1977-1982, Andrew was a professor of Finance and Operations Research at Cornell University in Ithaca, New York.
Andrew gained recognition as the co-author of Modern Portfolio Theory: The Principles of Investment Management (1982) and of Option Pricing (1983). He has written numerous journal articles, monographs and research papers on a wide range of domestic and international investment practices and theories. He also acts as an Associate Editor of the Financial Analysts Journal, the Journal of Portfolio Management and the Journal of Investing.
Andrew received his B.Sc. with honors in Mathematics and Physics from Sussex University in England. He holds an MS in Operations Research, an MBA in Finance and International Business, and a Ph.D. in Finance and Operations Research from the University of California, Berkeley.