Luis Carlos Sarmiento, MBA '85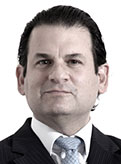 Luis Carlos Sarmiento, MBA '85
President and CEO
Luis Carlos Sarmiento, Jr. is President and CEO of Colombia's Grupo Aval S.A. since 2000. Grupo Aval is a financial holding company that owns controlling interests in six banks operating in 13 countries and also in Colombia's largest pension fund manager. Grupo Aval and its subsidiaries manage over US$140 billion and employ over 70,000 people. Aval is a recognized leader in social responsibility.
Prior to heading Grupo Aval, Sarmiento had been President of Cocelco (a green field cellular company that he reorganized and sold to Bell South) and had held various positions at First Bank of the Americas in New York, including Chief Operation Officer. He started his career at Procter & Gamble in Cincinnati, where he held several positions in finance and marketing.
In 2012, Sarmiento was one of four businessmen appointed by Colombia's President to organize the Summit of the Americas held in Cartagena. This Summit was attended by 24 Heads of State including President Barack Obama and over 100 top executives of companies around the world. Also by appointment of the President of Colombia, Sarmiento currently sits in the Ethics Committee of the Ministry of Defense in charge of overseeing the Country's military spending. Sarmiento is an avid private pilot who donates over 90 hours per year of his time to Colombia's Civil Air Patrol flying surgeons and nurses to places in the country that lack primary medical facilities.
Mr. Sarmiento holds a BS in Civil Engineering from University of Miami (Magna Cum Laude) and an MBA in finance from the Samuel Curtis Johnson Graduate School of Management at Cornell University.