William J. Restrepo, '80 BA, MBA '95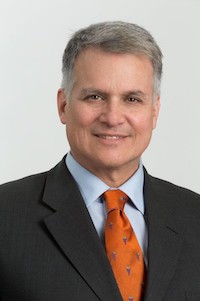 William J. Restrepo, '80 BA, MBA '95
Chief Financial Officer of Nabors Industries
William Restrepo serves as Chief Financial Officer of Nabors Industries. In this role, Mr. Restrepo has oversight for global finance and accounting as well as the treasury, tax, internal audit, risk management and supply chain groups. He also works closely on Nabors' strategy, corporate development and investor relations initiatives.
Mr. Restrepo has an extensive portfolio of proven domestic and international capabilities in operational management, capital market transactions, and mergers and acquisitions, as well as corporate planning and strategy.
Prior to joining Nabors in March 2014, Mr. Restrepo served as CFO at Pacific Drilling. He also previously served as CFO at Seitel and at Smith International until its acquisition by Schlumberger. Prior to that, he spent 20 years with Schlumberger in various senior financial and operational positions, including operational responsibility for all product lines in the Continental Europe and the Arabian Gulf regions, as well as senior financial executive roles in Corporate Treasury and worldwide controller positions with international postings in Europe, South America and the Middle East.
Mr. Restrepo is currently a member of the Board for Reelwell AS, a Norwegian provider of innovative drilling technologies and for SANAD, a Saudi Arabian drilling joint venture between Nabors and Saudi Aramco. In the past, Mr. Restrepo has served on the Boards of C&J Energy Services, Probe Technologies and Platinum Energy Solutions. He also currently serves on the Advisory Council for Cornell University's SC Johnson College of Business and on the Board of Trustees for Strake Jesuit College Preparatory.
Mr. Restrepo holds bachelor's degrees in economics and civil engineering, respectively, from Cornell University and the University of Miami. He also earned an MBA from Cornell University.