Career Coaching
Alumni Career Coaching
One-on-one career coaching is available to support alumni in career transition. All Johnson alumni are eligible to schedule an appointment with a Cornell career coach. Please contact Liz Colodny or Cynthia Saunders-Cheatham and they will connect you with the appropriate career coach.
Topics may include: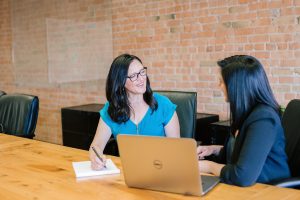 Advice about career-related resources, the alumni network, and online tools available
Guidance in researching potential careers, industries, and job markets
Advice on effective networking strategies
Resume and cover letter reviews and critique
Assistance with interview skills preparation and practice
Advice on salary negotiation
Additionally, access to a curated list of executive and career coaches is linked below.
Johnson Alumni Advisor Consultants:
The Cornell Alumni Career Development Office has curated a network of seasoned career advisors who are available to provide expert advice and guidance on a spectrum of career issues. These external advisors have an agreement with Johnson to provide coaching to alumni for a reduced fee.  Learn more and connect with the Johnson Alumni Advisor Consultants.
Career Action Groups
Virtual Career Action Groups brought to you by the career management team are designed to help alumni navigate their job search.  These six-session groups are run periodically and include job search strategy, branding, using LinkedIn effectively, relationship-building techniques, and maintaining momentum.
If you are interested in participating in future sessions, please email emba-cmc@cornell.edu